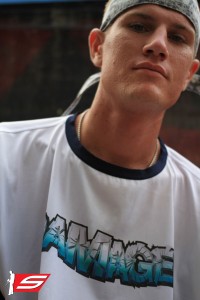 Gearing up today, from the start, felt different. I haven't been this nervous in a long time and was shaking on the inside, but I tried my hardest to appear calm on the outside. Most players know that when you are nervous before a match you always seem to have to pee (most players also know not to pick up the random pod in the corner for this reason also), and it's the first time I have gotten this feeling in a while. We were gearing up to play San Diego Dynasty, the most respected and most successful team in the history of paintball, and their roster is stacked this year. I knew we would play well, but I still could feel my heartbeat; and it was racing. As most of you probably know, I missed all of last season due to a run in with Leukemia. I had less than a 10% chance of survival on three separate occasions, had to learn how to walk due to temporary paralysis twice, and went into septic shock and a coma for two weeks. I came back this season and joined Sacramento Damage and started my journey to get back to the pro team and my family, Tampa Bay Damage. I pushed myself as hard as I could to get back here and knew that I was capable of doing what I needed to do on the field, but no matter how many times I reminded myself of that I was still a nervous wreck. This was my proving ground and my chance to show that I deserved
to be back, and the fact that I knew going into it that I would get a limited amount of playing time didn't help my nerves.
[pullquote_left]Think about what you love and fight for it.[/pullquote_left]Every second that we got closer to game time seemed to multiply my anxiety. Then, before I knew it, the match had started. I didn't get to play until the forth point, and at that point we were up 3-0, which made me more comfortable but not much. I knew Coach Richards and the rest of the team would have their eyes on me, judging. It felt like all the therapy, exercise, and training came boiling down to this next 2 minutes of my life. The point started and my job was to go to the second Dorito tower and help support Jacob and get him up the field. I made it to my prop and looked over at Jacob who was going to the Dorito corner and saw him walking off; he got laned of the break, so my role changed and now it was time to contain them and not let them run down the field. I had someone in my mirror and someone in the Dorito corner which forced me to battle both of them. The corner came out on the inside and put me in, so I dropped down low and came back out and just put two balls at him just to get him off of me. I looked back out at him one last time and he was walking off with a completely yellow mask, both shots connected. I started wrapping and shooting at my mirror while trying to figure out what was going on over on the snake side. Apparently they got a penalty over there and Jason was running through the middle forcing my mirror to play the outside of his bunker allowing me to catch him in the shoulder. That was it…the first point was over. The next point I played came, 2 points later, with the score being 6-0. Just like the first point, every second that clicked down to game time was even more nerve wrecking than the last. The game started and we had the same play, since it was working for us, but this time Jacob made it to the corner and bumped up to the 40 race bunker on the Dorito side. Once again, I came out and shot the Dorito corner and Jacob was able to trade out with his mirror after getting a few cross field kills allowing me to follow him up and shoot the last player in the snake corner to end the game.
After the match, Steve Rabackoff asked me to do a brief interview for the webcast, which I agreed to. He asked me what we focused on, how we did it, and how it felt. He then asked me a few questions about what I had been through and how I felt about getting back with my team. I answered the questions and then went over to shake Dynasty's hands and ran into Lane Wright, who told me congratulations and how happy he was for me. He also told me that his brother passed away due to skin cancer at the age of 34. This is what put me over the edge. We walked away and I had to go off in the corner. I started to think about what I had been through, where I am now, and how thankful I am to be here. I sat there thinking and couldn't hold back the tears of joy and relief.
This was the moment when I realized 100% that I am a survivor. It felt like the weight of the world just lifted off my shoulders in one short moment. I also thought about this:
No matter what happens in life, think about what you love and fight for it. For me it was my fiancé, family, paintball, and my team. If you can manage to focus on whatever it is you love and look past everything else, you can get through anything.
—
In 2010 Alex Spence was diagnosed with acute myeloid leukemia, a very aggressive form of cancer with a bleak mortality rate. Even with a successful bone marrow transplant, Spence had two infections that forced him to learn to walk again. Because of this, Alex sat out half of the 2010 season, and the full 2011 season, but he has since then made a full recovery and remade his professional debut at the 2012 Mid-Atlantic Open. Alex was gracious enough to write a quick blog about his experience getting back on the field against San Diego Dynasty, a traditional powerhouse.