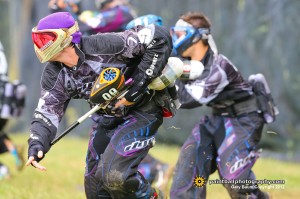 Thursday:
It is not always ideal when, as the GPS moans about the imminent arrival at the field of a paintball event, the only thing to be seen outside the windows are rows and rows of corn. Not every event can be on the Las Vegas strip or on the beach, but I guess it is nice to see corn still grows somewhere—record breaking summer heat in July leads many to speculate that the Midwest will have its worst corn harvest ever, crippling their already suffering economies further. Whatever Chesapeake City, Maryland is missing in outside entertainment is made up for by the field conditions and parking availability at OXCC, the host field for the Mid Atlantic Open.
OXCC certainly possesses the square footage and grass quality to put on a quality event, even if it is in the middle of nowhere. The vendors are arranged in a kind of cube made up of smaller local vendors, surrounded by some larger tents like CP's, leading to the massive spreads of DYE, KEE, and Eclipse that pave the way to the Pro field. Divisional fields surround the vendors, which gives the event a kind of intimate feel. Although games have not started at the time of writing, it seems like the spectator will get the sensation of being a part of something because the fields and their chaos is so close to the food and vendors. No one will have to walk far to watch games which is great for a tournament; it means more people will feel drawn to an exciting division 3 game that otherwise would have been ignored in some god forsaken corner of the venue. The proximity to the vendors also means that the divisional teams that have to scramble to the vendors to buy last minute pods or hoppers or paint will not have to scramble far regardless of what field they are on.
Still there are some things that never change no matter where the tournament takes place. There are always people walking around trying to look intimidating, as they engage in internal mind-wars, in the off chance they meet them on a field on Sunday afternoon. There are people far too pale, far too skinny, and far too fat to be walking around with their shirts off doing just that. Either they are incredibly confident individuals or they want their teammates to buy into their façade of confidence. "If I do not walk around with my shirt off, hanging from my back-pocket like a fucking boss, maybe they will doubt my confidence to play the sudden death overtime point like a boss."
Paintball is at once so brutishly physical and taxingly mental that the mind-games are played well before jerseys get put on. Those games start walking fields with shirts off.
Friday:
Is Dynasty Still a Top Team?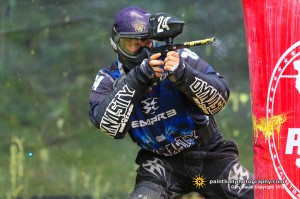 The fourth event of the year provides a key turning point during the paintball season for a lot of teams. The slumping team that makes their first Sunday of the year at MAO all of a sudden feels that a World Cup win is within their reach. On the other hand, the struggling team that gets blown out again moves one step closer to the point of implosion. The top teams need a solid showing at MAO to build a lead or keep pace in the season rankings. The late summer event is also the one where teams are the sharpest. No one is in school, no one is forced to suffer through indoor practices, every team should be displaying their best, most prepared game after grinding through the dog days of summer. As everyone knows, preparation and execution are two very different things so we have to wait until Sunday afternoon to see who brings the latter.
And then there is Dynasty. The most successful Professional team of all time with more than fifty professional wins—the number is so large it is difficult to even comprehend how one team could be so dominate—the team with a star studded, quite literally legendary roster has stumbled thus far in the 2012 season. Third Place at Galveston, Eighth at Phoenix, Sixth at Chicago. Those results are not horrible per se, they are just very un-Dynasty. In the 2011 PSP season they finished in the Top Four every time with one First place, two Second places, and one Third. What a difference a year makes. After getting blown apart 7-0 by Damage today, and then squeaking by 4-2 over the rookies 187 cRew, is it too soon to ask the question of whether or not Dynasty is still a top professional team?
The Damage game was ugly to watch. Both teams stayed in the back five bunkers off the break save a few exceptions, planning on winning through slow methodical play. The difference was Damage keyed out a Dynasty player off the break more often than not, and Dynasty struggled to do the same. Already playing a man down off the break Dynasty would try to tighten up and squeeze out points, but it seemed like right as they would hunker down someone would lose a gun fight and the hole would get deeper. The only penalty was a major on Dynasty with about eight minutes left down 4-0, and essentially ended the match then and there. The game was reminiscent of the 7-0 beat-down Dynasty suffered at the hands of Moscow Red Legion to start the event in Chicago in June. The fall from grace for Dynasty appears drastic, and, at this point in the season, does not seem to have any end in sight.
I think I am like a lot of other spectators in having the gut feeling that at some point, sooner or later, Dynasty is going to get back to their world-class form and win another event. Although that is my gut feeling, if you actually watch Dynasty play the doubts in their resurgence become undeniable. They have been playing a conservative game, but getting shot out of bunkers. Lord knows that combination will never work. It defies logic that Dynasty, with that roster, could be subpar in gun battling, break shooting, or anything at all. Yet watching Dynasty play these last two events, subpar is the only way to describe them. Is it just a practice issue? It seems doubtful that with Mike Hinman and Oliver Lang (#17, Front, 35th ranked player in Paintball Access rankings) at the helm that the team could be lacking in the motivation or structure to fix the deficiencies that seem tangible in nature. Then again, the core players of Dynasty are all pushing thirty years of age now. It is not unthinkable that these guys who have won literally everything there is to win could be growing tired of the relentless grind required to win a Pro event. Does Dynasty not practice like they used to, or not like the other top teams today?
It is still only Friday night, and Dynasty still has, debatably, the most stacked roster in Pro, and two events to prove they still got it. As they say, "that is why they play the games."
To view the PSP MAO Live webcast, visit our Webcast Hub page here: http://www.socialpaintball.com/psp.
You can view Gary Baum's preview gallery for Friday here: http://www.paintballphotography.com/index.php?option=com_jfusion&Itemid=167&g2_itemId=333462