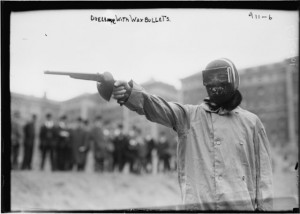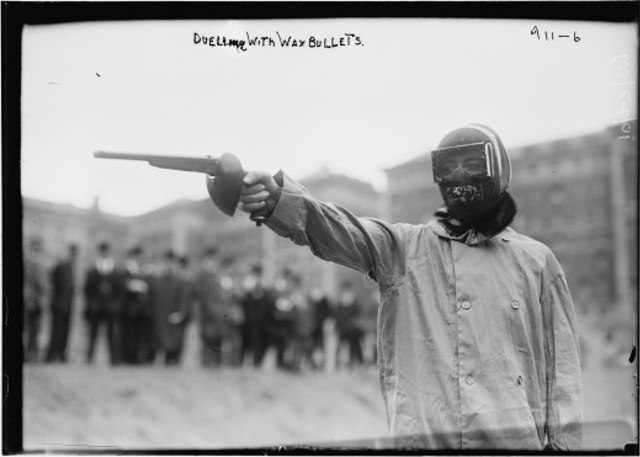 Go back in time with us for a few moments. Right now you are in the year 1921. F. Scott Fitzgerald is about to become famous because of his novel "The Great Gatsby", Art Deco and those loose  women known as "flappers" are all over the place, and automobiles are just starting to become part of every day life. The Harlem Renaissance is in full swing,  and women are attempting to gain political freedoms! Art is beginning to react to the Great War and the works of artist Salvador Dali and  Edvard Munch are all the rage (in the most brutal sense of the word) in intellectual circles. I personally don't care for them, but they do make for interesting conversation pieces. I'm sure that you heard about that new Russian ballet — Le sacre du printemps, or The Rite of Spring –by a young guy, Igor Stravinsky. In case you didn't: just a few years ago it caused a riot in Paris and is about to make its American premiere in Philadelphia. Yeah that's right, a riot. The music was so crazy that people started fist fights in the aisles. The Philadelphia Orchestra, led by that flamboyant conductor Leopold Stokowski, is going to perform it. I heard from a musician in the pit that following him is a complete disaster because he doesn't use a baton. Nope, no stick at all! Just his hands. Then again, they got through Mahler's 8th Symphony without a stick, so nothing could be too difficult I imagine. Did you hear about this new "prohibition" thing? It has caused quite a stir around my neighborhood watering-hole and honestly, I am in support of it. The last time there was free flowing alcohol in this city, it seemed that there was a wax duel on every corner of the damn street!
Pause. Anything catch your eye? How about the mentioning of a "wax duel" ? When we saw this story, from the Gothamist.com, we had to share it.
"Before there was paintball (which wasn't around until the 1980s), there was the much more painful game of wax bullet dueling! In the early 1900s, those who pined for the days of real duels decided to keep the practice alive, and this was their solution.
Wax bullet dueling started in Paris as a form of simulation training, then came to the States as a recreational sport, where the "bloodless duel" seemed to have established itself in New York City with the help of the Carnegie Sword and Pistol Club and the New York Athletic Club."
Yes, you read that right: Carnegie. The same Carnegie as the guy who built Carnegie hall, sponsored thousands of public buildings and created one of the most profitable enterprise in human history. We are always clamoring about how paintball needs "more funding." Well, it seems that at one point in time, we had it!
"According to Bartitsu, the sport wasn't always "bloodless," however, despite the leather protective garments and face masks the participants would wear — at least one man had a wax bullet go through his hand. The shooter was Walter Winans, who told the NY Times in 1908, "There is a very real danger in this wax, or rather composition bullet, shooting at each other. When I first tried it several years ago, I shot out the soft piece of flesh connecting the thumb and forefinger of the right hand of Mr. Gustave Vouiquin… he tells me it still pains him when he has a lot of writing to do." He also talked about being a believer in a the duel: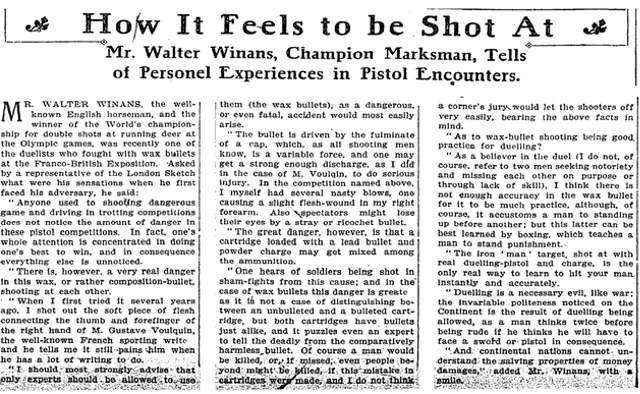 "Though Winans would say only experts should try their hand at the wax bullet dueling, the bullets were "widely available on the civilian market and by the early 1900s they were used for indoor practice and in shooting galleries," according to FireArmsTalk.com.
The photos in the above gallery were taken outside of Carnegie Hall, of "two gentlemen dueling with 44 caliber black powder percussion dueling pistols loaded with wax bullets." Those men were Dr. Graeme M. Hammond, President of the Amateur Fencing League of America and Mr. CB Miller of Columbia University's Sports Club. The duel ended in a draw.
Bartistu.com also comments on "Waxball."
"A French medical doctor named de Villers is credited with the invention of the first pistols and wax balls used in "bloodless duelling", a practice promoted circa 1905 by the Parisian Club de Pistolet: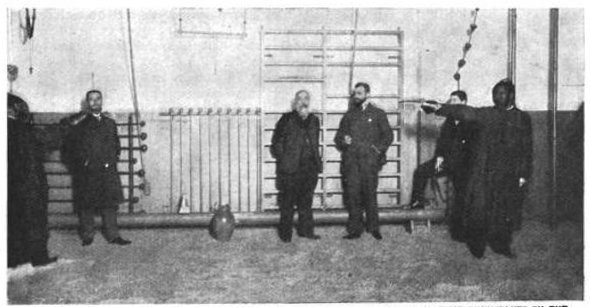 "THERE has been established in Paris a 'School of Duelling,' which is frequented only by the elite, one prominent member being ex-President Casimir Perier. This remarkable academy is conducted by Dr. de Villers, and combats frequently take place there by way of practice. In these mimic duels wire masks are worn to protect the face and bullets made of wax are used, so that no injury may be sustained by the combatants. In all other respects, however, the conduct of the affair is carried through as on the 'field of honour,' so that when the time comes — if it ever does come — for the scholars to take part in a serious duel they may acquit themselves with credit to themselves and disaster to their adversary — although this latter point is not of much importance."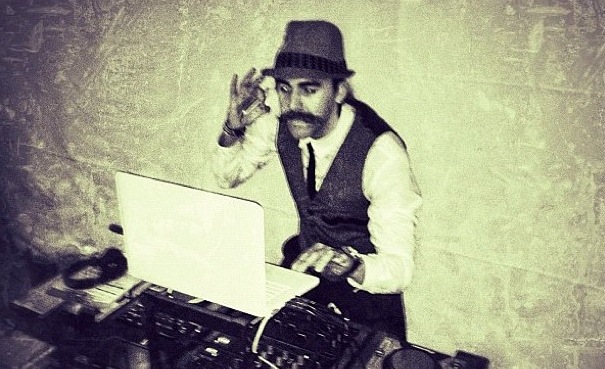 "Despite the leather protective garments, fencing masks with double-thick glass shields for the eyes and hand-guards built onto the pistols themselves, the new sport of "bloodless duelling" was not, in fact, invariably bloodless. Shooting enthusiast Walter Winans, an American resident in London, accidentally shot through the hand of fellow mock-duellist Gustave Voulquin while practicing the sport in Paris. Mr. Winan's own account of the dangers of the sport is available here, and here is a report by a journalist who faced Winans in a similar duel."
Bartitsu Club member Sir Cosmo Duff Gordon was seemingly attracted to a variety of eccentric pastimes, including wax bullet duelling. He is shown to the right in this picture, posing with duelling equipment alongside Mr W. Bean and Captain Captain MacDonnell: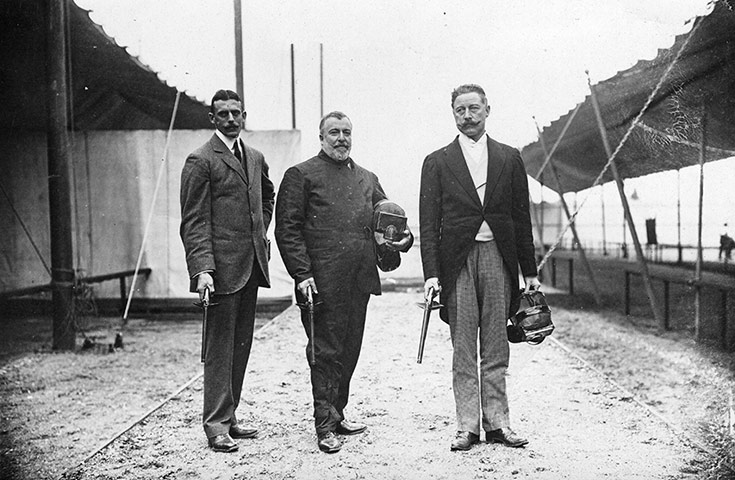 To conclude: while Heineken may be right in the fact that there is a specific time that calls for a handlebar mustache; it would appear that paintball is that perfect time. Upon this we leave you with a burning question. In lieu of these recent discoveries, is Mr. H a time traveler, or just years ahead of the time?
Sources:
http://gothamist.com/2012/07/17/flashback_the_original_paintball.php#photo-1
http://www.bartitsu.org/index.php/2011/12/paintball-edwardian-style-bloodless-duelling-with-wax-bullets-circa-1908/