Destiny Paintball is conducting a clinic that teaches the basic fundamentals of paintball on Saturday, May 5, starting at 830AM. The clinic will be instructed by well-known professional paintball players. On Sunday, May 6, a 2-on-2 Tournament will be held. Part of the proceeds from both days will go towards the MPS Society in Christian Lon's honor. Jackie Lon and her father, Tony Lon, will be participating during the charity, as well.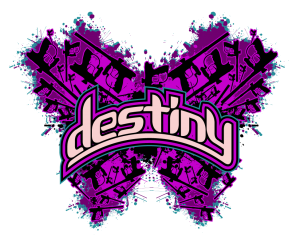 The event will be hosted in two parts at Extreme Rage Paintball Park of Fort Myers, Florida.

Day 1: May 5th, 9AM: Clinic, with the girls of Destiny and more! Los Angeles Ironmen Pro player Mike Paxson and Paintball Legend, Tampa Resident Rocky Cagnoni, Former Championship Pro Players, Billy Wing and Eric Dearman to instruct. Other surprise former pros to attend. $50 per person for the clinic and includes free entry into 2man tournament the following day.

Day 2: May 6th, 9AM: 2-on-2 tournament. $50 per 2man team. If participated in the previous day clinic, free entry into event.

Cases of paint will be available for purchase between the $42-45/case. Rental equipment is available for $10 per person.

Sponsors of the Event include (and more still being added this week):
DYE Paintball
SocialPaintball.com
Dead Man's Gear
PaintballPhotography.com
KEE
Guerilla Air
Extreme Rage Paintball Park of Fort Myers
Destiny Paintball
B103.9 SW FL Radio
Signature Threads
Allied Recycling
Gear Head Tattoo
Nightmare Crew Paintball Team
Red's Fresh Seafood House & Tavern
Sore Twins (with 4-5ft RC Cars)
Lil Primo's
Domino's
Purple Ringer
Cool Guy Graphics

For more information regarding Destiny Paintball and the Destiny Charity event, please visit
https://www.facebook.com/DestinyPaintball

About MPS Society – The Story of Christian Lon and why we want to help MPS Society by Jackie Lon

Christian is afflicted with a severe terminal illness called Hunter's Syndrome. Hunter's Syndrome is one of eight different forms of MPS (Mucopolysaccharide); Christian has MPS II. This disease is a genetic disorder, which lacks a specific enzyme that breaks down bodily sugars; as a result, the Mucopolysaccharide accumulates within the body and destroys the child's most vital organs. There is currently no cure, but there are enzyme replacement therapies that prevent the progression of the disease. Some children are affected both cognitively and bodily. For those who are affected cognitively, the enzyme replacement treatment does not penetrate the blood-brain barrier; therefore, the deterioration within the brain will ultimately end the lives of those children. For those not affected cognitively, they can prevent the disease from progressing at a significant level.

In my brother's case, he is affected both cognitively and bodily. He was diagnosed at the age of three. Like most three year olds he could walk, jump, and dance. After he hit the age of four up until age six, he could sing, talk, and laugh. After six he slowly started to lose his ability to comprehend simple concepts, his legs started to lose muscular tone, and his hands started to deform until they were clawed shut. At this point in his life (16 years old) the enzyme replacement treatment has kept him as healthy as can be achieved, but he has lost all muscle tone (he is unable to walk), he has the mental capacity of a newborn infant, and he is now on a permanent feeding tube.

The MPS Society's main mission is to raise money for further development in the search for a cure as well as developing the enzyme treatment. They also work to bring community to families with MPS children, providing annual conferences for families to receive healing through each others company. The MPS Society also works to raise awareness both nationally and internationally so that governments will be willing to cover the treatment for these children. The enzyme replacement treatment is around $60K to $100K a year and most health insurances have refused coverage due to the rarity of the disease. To raise money for the MPS Society's mission not only will help my brother but all past, present, and future families who will face the reality of this tragic disease. Thank you for your time and God Bless!! – Jackie Lon

Destiny Paintball will be hosting The Christian Lon Charity Paintball Event May 5-6, 2012, at Extreme Rage Paintball Park of Fort Myers, Florida. This charity is being held In an effort to raise money for the MPS Society, a charity that is near and dear to Jackie Lon's heart. Jackie Lon joined Destiny in 2008 and is back with Destiny the second time around and her little brother has a severe terminal illness, a form of MPS.