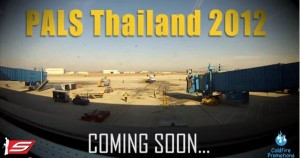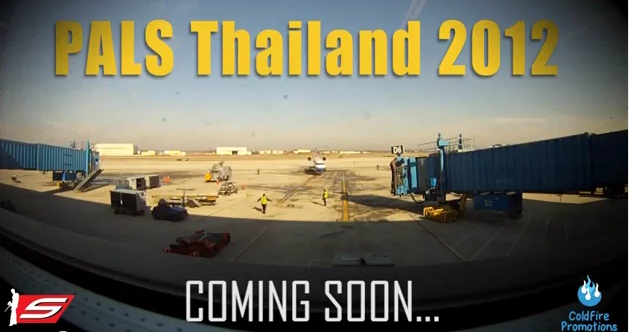 8 days, 56 hours of travel, 4 days of filming, 2,000 photos, and over 30 hours worth of footage later, I'm finally back home sitting at my desk. PALS Thailand 2012, what an experience, and every bit worth it.
First I'd like to thank everyone at PALS for their incredible hospitality, Ben from ProPaintball-Shop.com for the transportation, Gary Baum and Dez Foo for their guidance and support, Social Paintball for giving me this opportunity, and all of the players, refs, and staff that made this possible. This was definitely the best event I have attended to-date. While the first event of the Paintball-Asia League Series did not provide for a ~140 team turnout like you see at some events in the States, the league and the teams themselves made every moment count.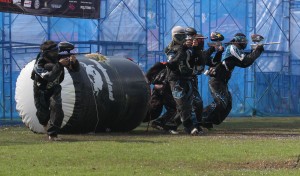 It took a sleepless 30 hours to make it from Detroit, Michigan to Bangkok, Thailand but there was almost no time to spare upon my arrival for the PALS Thailand 2012 event. The first day consisted of clinics including a player clinic hosted by pro Thomas Taylor, a photography clinic hosted by photographers Gary Baum and Dez "Resident Evil Chef" Foo, a technical clinic by Mac Dev, all followed by the captains meeting in the evening.
Finally on Friday (day 2), games kicked off bright and early at 8 am and went through to the evening. While I thought I was prepared for the intense heat I was going to experience, it probably wasn't a wise move to go snowboarding the weekend previous to this trip. It didn't help. Fortunately the folks at the league were prepared with plenty of water, juice, and various other beverages.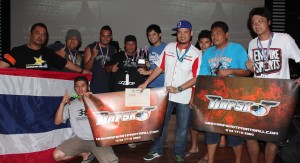 Saturday brought on more prelim games from the dozens of teams that filled the 3 divisions, and of course more hot Thai sun. We actually caught a break on Saturday with some clouds rolling through but the farmer tan had already set in by that point. Teams from all over the world including Canada, Iran, Japan, Thailand, Guam and many more battled for their spots in the following days' finals.
By the time Sunday rolled around teams had a pretty good idea where they would place, but that's what finals ultimately decide. After finishing up a few last games, teams prepared themselves to compete among the best for their chance at the #1 trophy. And, of course, the cash prizes. At the end of the day the top spots were names for each division:
D1 Results
Champ: Shockwave Canada
2nd: Destroyer from Thailand
3rd: Demonz (Malaysia/Iran)
4th: STK (Australia)
D2 Results
Champ: Rockstar Canada
2nd: GAS (Guam)
3rd: Arowana from Thailand
4th: Siam-X (Malaysia/Thailand)
D3 Results
Champ: Golden Dragons (Philippines*)
2nd: Sabil (Malaysia)
3rd: Satthahip Hunsa (Thailand)
4th: Tension (Australia)
Stay tuned for our full-length feature covering the PALS Thailand 2012 event from start to finish. Game footage, player party coverage, interviews, media shenanigans, and much more! Here's a little taste of what's to come:
PALS Thailand information: https://www.facebook.com/PALS.Thailand
Soundtrack: The Widdler – Manhunt (Kelly Dean Remix)
Soundcloud/Download: http://soundcloud.com/kellydean/the-widdler-manhunt-kelly-dean