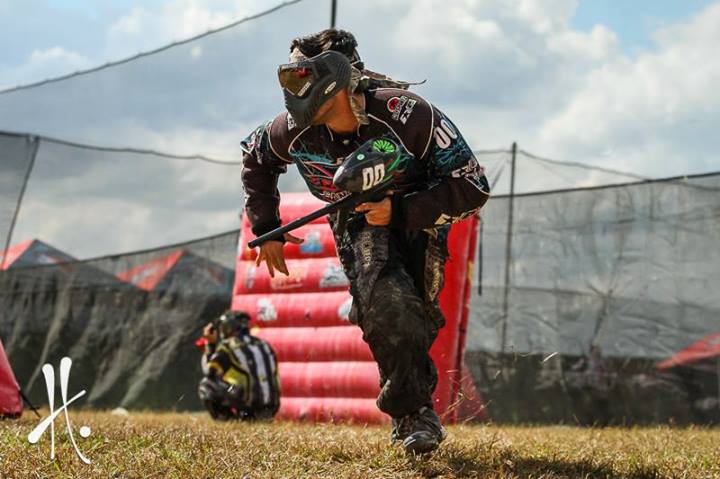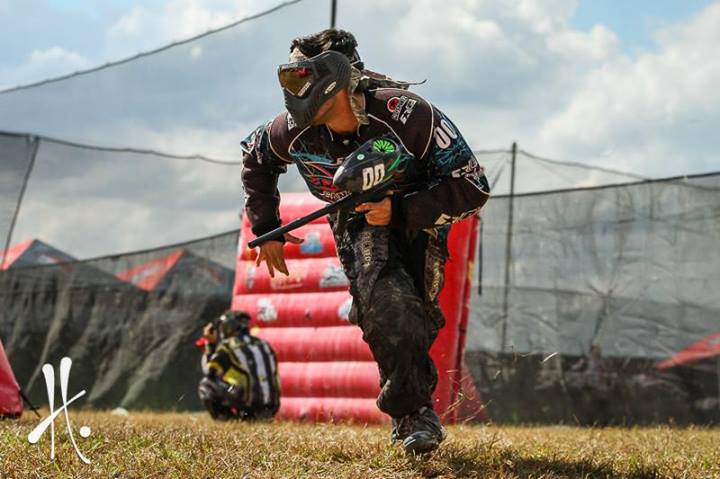 While San Antonio X-Factor didnt make it to the championship game, they were definitely one of the standout teams at the 2014 PSP Dallas Open in part to their not one, but two, epic comebacks against Tampa Bay Damage (7-6 final score), and Los Angeles Infamous (7-5 final score). Unfortunately, they lost to Omaha Vicious in the semi-finals. However, the tournament was one to remember for team veteran Archie Montemayor who logged an incredible 52 confirmed kills, making him the number one gun at the event. Behind him in the total kill count was teammate Colt Roberts who scored 48 eliminations. To put it in perspective, the next closest player: Oliver Lang of San Diego Dynasty with 37. We caught up with Archie and asked him a few questions about his event…Here's what he had to say:
Social Paintball Are you aware that you had 52 confirmed kills?
Montemayor: Yes, I was watching the finals game on the way home with our coach Ryan Brand, and I heard Matty Marshall go over the kill count leaders and player rankings. Going into Sunday I knew I had 42 kills already and I knew had I shot a few of the Omaha Vicious guys, so I figured that I would end up in the high 40's.
Social Paintball: What type of preparation did you do personally in the off season?
Montemayor: To be honest, I haven't really done much different this off season. I hit the gym a few times a week and try to have a clear mind going in to tournaments. For me that's extremely important.
Social Paintball: What about this field played into your strengths as a player?
Montemayor: The dorito side was a gun fighting side which is definitely one of my strengths, but the snake side was pretty much just a trade fest. Ryan decided to keep me away from that side most of the tournament.
Social Paintball: Did this event feel any different than any others, to you?
Archie Montemayor: I'd say so. I really felt super confident in our team as a whole. I also believe that we are the only team that got stronger in the off season after looking at the other teams pick ups.
Social Paintball: At what point in the game did you realize you guys had a shot at pulling the comeback victory against Tampa?
Montemayor: I never once thought we didn't have a shot at that game. No matter how bleak the outcome to everyone else, I refused to believe we would lose that match. We reeled off 7 points in a row against Edmonton Impact on Friday. Why couldn't we do it against Damage?
Social Paintball: On the last point of that game, what were you focused on?
Montemayor: After the breakout everything changes, but at least for the first 10 seconds I'm just trying to get as good a lane as possible on one of their runners.
Social Paintball: What about the Infamous game? Did it ever occur that a team could come from behind like this twice in one event?
Montemayor: We've come from behind twice in the same tournament before. Maybe not from behind so many points but I already knew it was possible.
Social Paintball: How was playing at 10bps again?
Montemayor: I play in the Millennium Series which is 10 bps, so I'm sort of used to it. I don't really have a strong opinion on which speed I prefer. I try not to get wrapped up in decisions the leagues make as its only a distraction.
Social Paintball: Did you all feel that you had a "home field advantage", as a Texas team?
Montemayor: It's really a double edged sword. Its nice to have friends and family out there supporting you. But at the same time it also brings extra pressure to perform with them watching. Either way I was happy to have a strong showing in our back yard.
Social Paintball: What are you putting in the water down there? You and Colt Roberts had 52 and 48 confirmed kills a piece, with the next best coming from Oliver Lang, with 37 confirmed. That's freaking nuts.
Montemayor: It's not the water for me. I can't speak for Colt but I like to carb up the night before our matches with a Dairy Queen Blizzard.
Social Paintball would like to thank Archie for his time answering our questions, and wish him and the X-Factor organization the best of luck in their preparation for the 2014 PSP Mid Atlantic Open.
Photo Courtesy of Helen Grose Photography