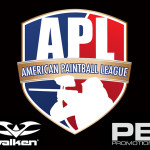 There is a new national league that will be debuting in 2014, named the American Paintball League. The people behind Paintball Promotions, Inc., and the latter part of the 2013 NPPL, have announced the formation of the league via a press release (you can read it below). We reached out to PB Promotions and heard back from its President, Shawn Walker. Here is a list of what you need to know about the new APL, followed by the full press release.
Answers from Shawn Walker:
Paintball Promotions Inc. had a license agreement to use the NPPL name last year. We operated the last 3 NPPL events in 2013 and I feel did a good job of being custodians for the brand. The APL will use all the same pieces and parts we used during those 3 events including Tony as our Commissioner, The pro refs, the sponsors, staff, webcast, etc.
I don't know what the owners of the NPPL trademark plan to do with the brand now.
Most of the Pro teams from NPPL last year will be in the league, a few that used to be involved are coming back as well. Specific names of teams will be released over the next few weeks.
Schedule will be out once all the other leagues release their schedule. We are the new kid in town and will be respectful to make sure dates and locations aren't on top of other dates. We have some deals in place with locations already but it wouldn't be prudent to release those until we have confirmed dates.
With the amount of changes necessary to bring the league more in line with what our customers were wanting we felt it best to start with a new name and new direction. It's hard to see 7-man go away, but it seemed necessary at this stage. Most events across the nation are some version of 5-man. Rather than trying to bring the water to the horse we thought it makes more sense to bring the horse to the water. Basically rather than try and change peoples mindset on what type of paintball to play it made more sense to provide an event and series that fits what people want.
American Paintball League Details:
5 Events in 2014 in USA.
5-player Millennium Style Race format. A Professional Division will be offered by invitation along with Semi-Pro through Division 4 levels open to all players and teams.
No sideline coaching.
Valken is main Sponsor.
Commissioner will be Tony Mineo, APL will be officiated by his reffing crew.
Live Webcast for each event.
Full APL Press Release:
Oceanside, Calif. – November 4, 2013 – After a successful 2013 tournament season, Paintball Promotions Inc. is proud to announce the formation of a new national paintball circuit, the American Paintball League (APL).

The APL will offer five events at sites across the United States with teams competing in a 5-player Millennium Style Race format. A Professional Division will be offered by invitation along with Semi-Pro through Division 4 levels open to all players and teams.

"Valken is strongly behind Shawn Walker and the Paintball Promotions staff. We are excited to build off our fantastic 2013 season and can't wait for 2014!", said Gino Postorivo, President and CEO of Valken Sports. "The American Paintball League brings all the best aspects of our sport together and Valken is proud to be the presenting sponsor."

Tony Mineo will serve as Commissioner for the APL and all events will be officiated by his professional crew of experienced referees.

PBPromotionslive.com will be broadcasting live at every event with the continued partnership with Universal Streaming Network.

More information will be released soon including venues, dates, prize packages, entry fees and Professional team names.

To contact Paintball Promotions call 877-752-4775 or email info@pbpromotions.com.