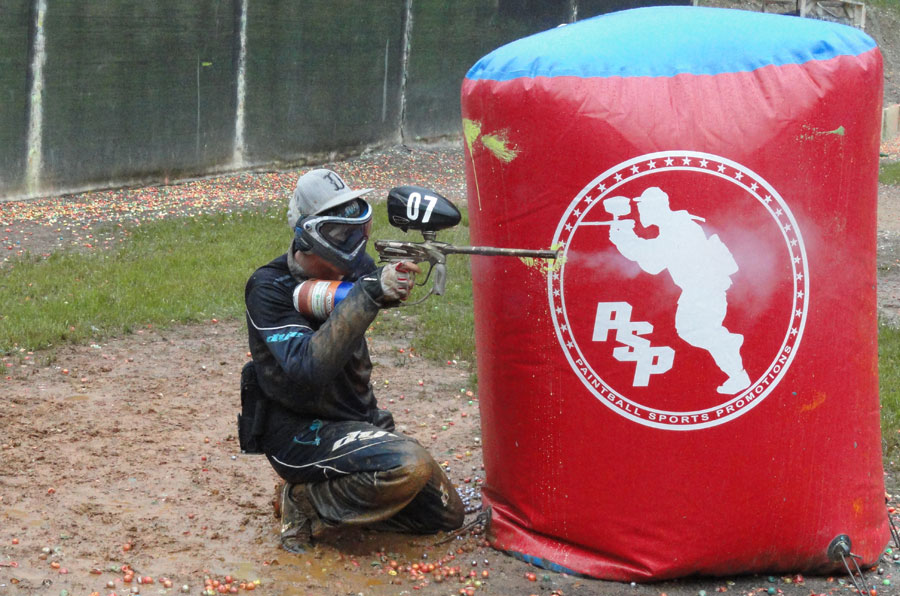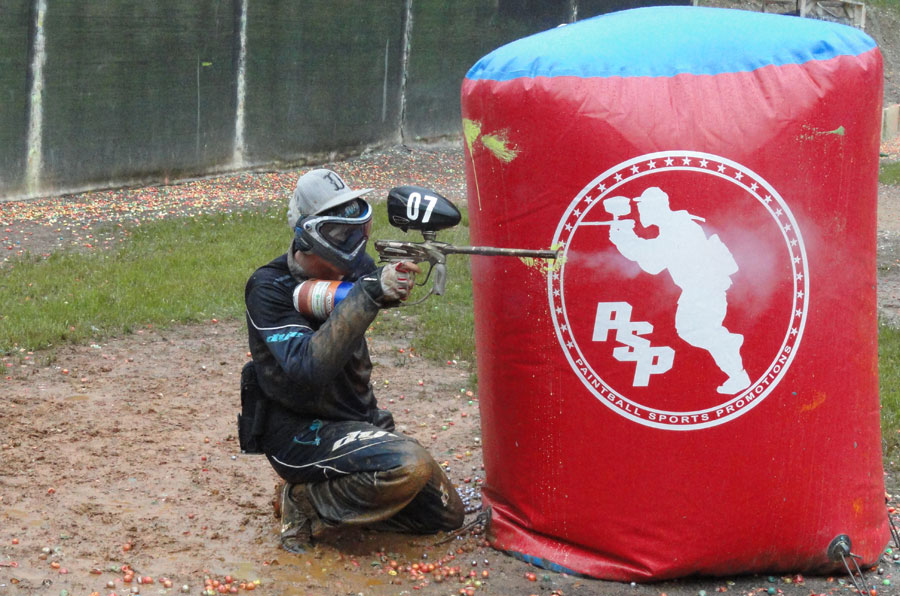 A few weekends ago we headed back to Canton, Georgia to Nitro Paintball Park. After having such a great time last year, Mario, the field owner, asked us to come up for the weekend, play a little paintball, and have a good time. This was a different "clinic" where normally we would play very little and focus on helping a group of about 20-30 people improve their individual skills instead. This clinic was aimed more towards whole teams coming out and playing against Tampa Bay Damage. It was a great way for teams to see where they stack up against some of the best players in the world. Also, it helped these teams recognize glaring team related issues such as you may have 5 great individual players but if you cannot play off each other it's never going to happen. This was more of a practice where 5 players from Tampa Bay Damage (Chad Busiere, Jason Edwards, Keith Brown, Alex Spence and myself) would play paintball all day from 10 a.m. to whenever the other teams no longer wanted to play. So, Damage took one side of the field and stayed on the field all day, taking no breaks except to fill air.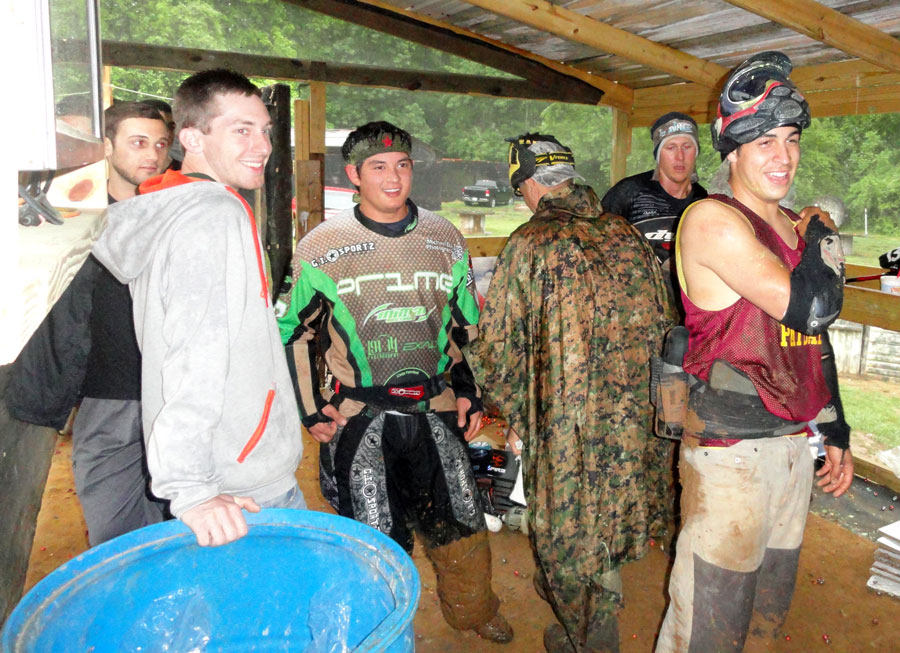 Saturday had perfect weather and the field itself was set up as close to a Pro PSP field as you can get. The MAO layout was used and was a constant reminder of what we lost and all the things we could have done differently, even though we all know none of the teams we were playing could come close to the caliber of team Dynasty is.
On Saturday night, Mario had invited us and all the players from the clinic to his home for a good ole fashioned cook out. This was great as we had very little time to interact with the other teams as we were always preparing to play the next point as quick as possible. Mario's family could not have been more accommodating. A nice little fun fact/curse for me is my diet. I'm very strict about my diet and have never in 20 something years changed the type of foods I eat. I only eat chicken and fish, so that means no pizza, no steak, no hamburgers, and no toppings of any kind. So Mario and his wife went out of their way to grill some fish for me. Everyone at the party was awesome and once the beer started flowing it got pretty funny too.
At 2 a.m. Sunday morning I woke up to the wonderful sound of pouring rain. This would've been great to hear if we hadn't already planned on playing paintball in the morning. Honestly, I had no idea what to expect when we woke up and headed to the field. It was still raining in all directions and didn't look like it was going to let up, but that's the great thing about paintball players that really want to get better and grind all day – they take the field. Teams still showed up, ready to play in the rain, ready to throw themselves into the mud if it meant getting to their spot alive. It made the day a little more interesting for us and gave us the opportunity to show other teams what we change to prepare for a rainy day. In Florida, we have no shortage of rain. We're used to it and have tried all sorts of tricks to help fight all the issues that arise.
So, the first issue was, everybody uses speed feeds, so the rain would be falling into our hoppers and getting our paintballs wet, making accuracy an issue. A lot of the guys changed from speed feeds to lids, I opted not to because I figured as long as I'm always shooting, then I wouldn't have any issues. I never really like to stop shooting anyways. I love the dye speed feeds and would hate to have go back to using a lid. Second issue while playing in the rain is that your visibility is affected, both from rain getting on your lens and from the smoke coming out of your barrel. When it rains, a lot of us will either choose the Billy Wing look, which is by far the classiest way to go, or we simply put on a hat, so that takes care of the lens. To fix the issue of rain falling into our barrels and smoke coming out the front, making it difficult to see where you're shooting, we simply tape the barrels to cover port holes. This stops all the rain from getting inside of the barrel so we can still continue to shoot accurately. The smoke coming out of the end of the barrel can be reduced by taking a dental pick or sharp pen and opening some the port holes that we just taped over, but only on the underside of the barrel as we still do not want water getting into the barrel. This will force a fair amount of smoke to come out of the bottom of the barrel and minimize the total amount of smoke coming out of the end.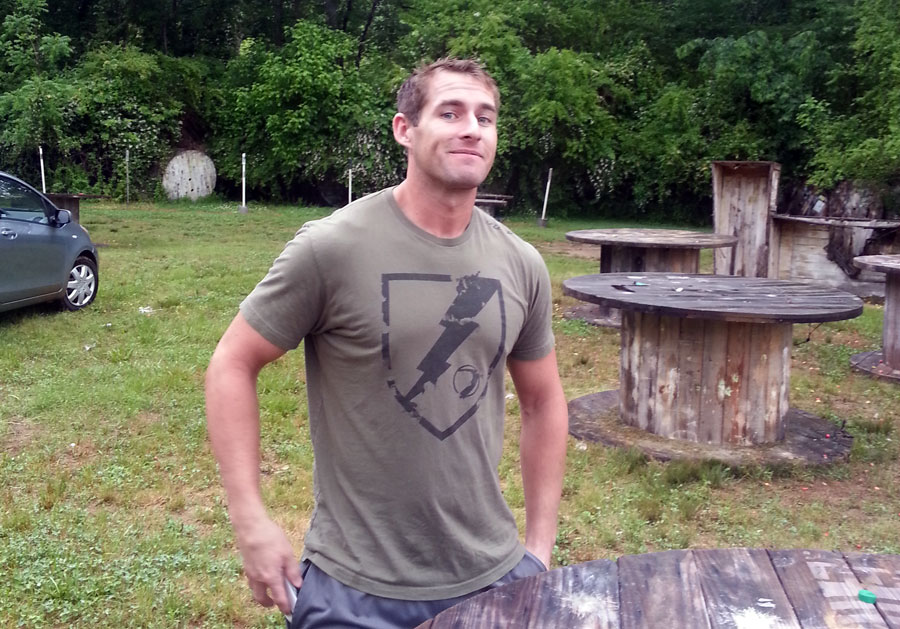 At the end of the day everyone was covered in mud and had a great time playing in the rain. We all said our goodbyes, except for Chad, because well, he's a dick.  No, Chad actually wasn't coming back with us, he made the decision to stay an extra week to help some of the teams that didn't make it out because of the rain.
Me, Jason Edwards, "Pops" Lofthouse, Alex Spence and my main man mayonnaise Keith Brown would like to thank Nitro Paintball, the teams that came out to play, (especially in the rain) and of course to Mario and his family for welcoming us back for the 2nd time. If you're in Georgia and are looking to play some of the better tournament players, then head out to Nitro Paintball in Canton Georgia. This is where you're going to get better.
One love,
HOLLIDAY