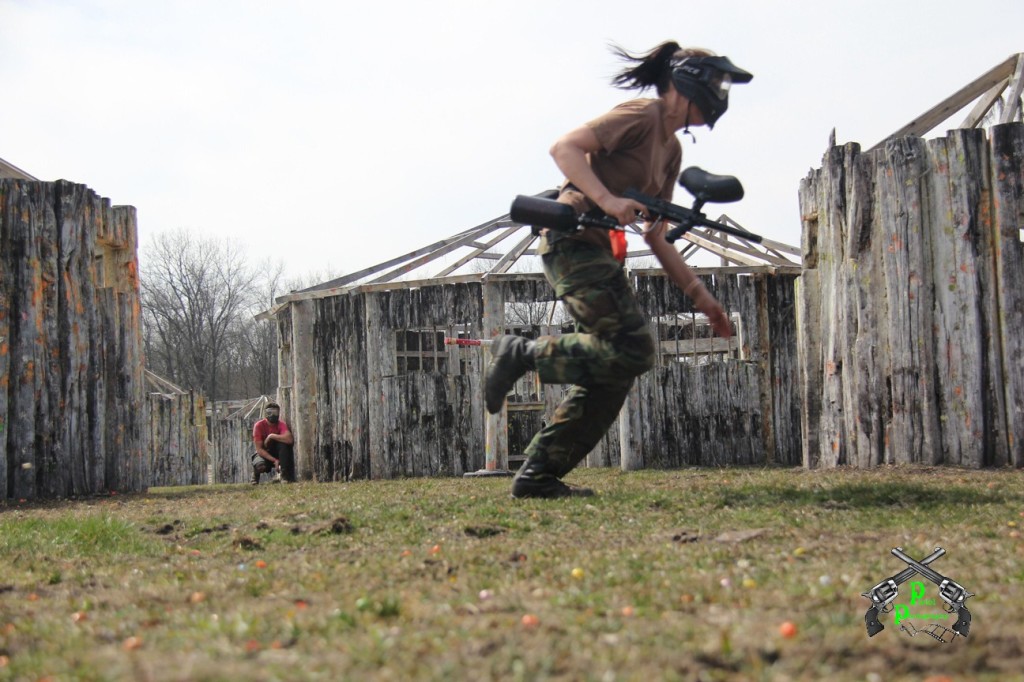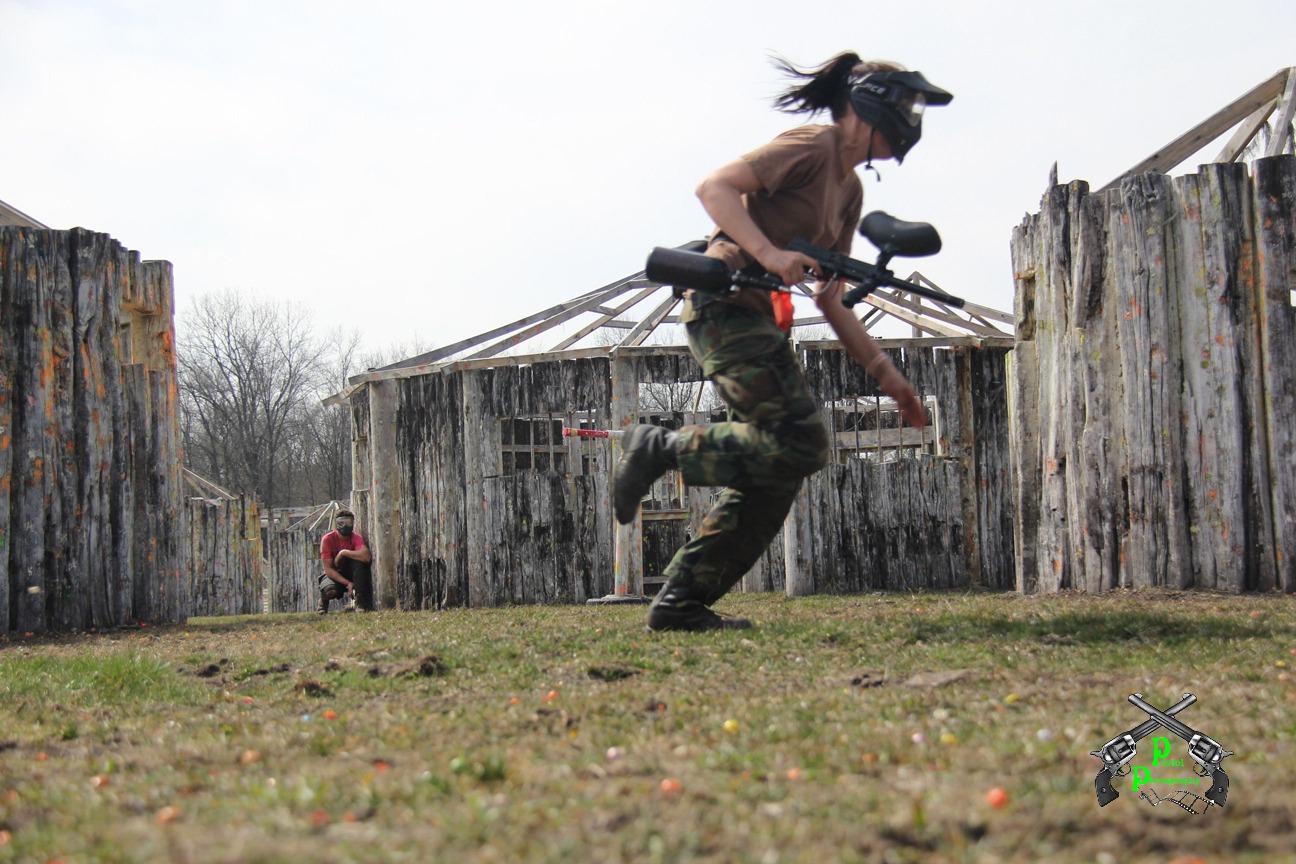 Over 410 players landed at Fort Knox Paintball in Winamac, Indiana for their Gold Rush big game during April 6th and 7th. Produced by Terry Cauffman of Must Play Scenario Productions and reffed by Ragin' Paint; this was Cauffman's first event as a Producer and even though there were a few hiccups (when isn't there at events) the game was a huge success and players had a great experience.
Festivities began Saturday morning as teams began rolling in as the sun rose to set camp, register, collect paint, and gear up. Weather that day was predicted to become extremely windy and boy did it! With winds picking up throughout the day it made shooting a straight ball very interesting for players and for the photographers, as you didn't know if players were shooting you or the wind was pelting you with balls.
Play was fierce, well placed, and continuous throughout the day; with most of the action occurring in the POW Camp and on the Deadwood field. The two bridges on field (one being Bridge on the River Kwai) were continuously blown each day, which required specific role players (miners and carpenters) to rebuild them. It also meant if you wanted to invade the other side you had to make your way through hostile territory. It definitely made for interesting play!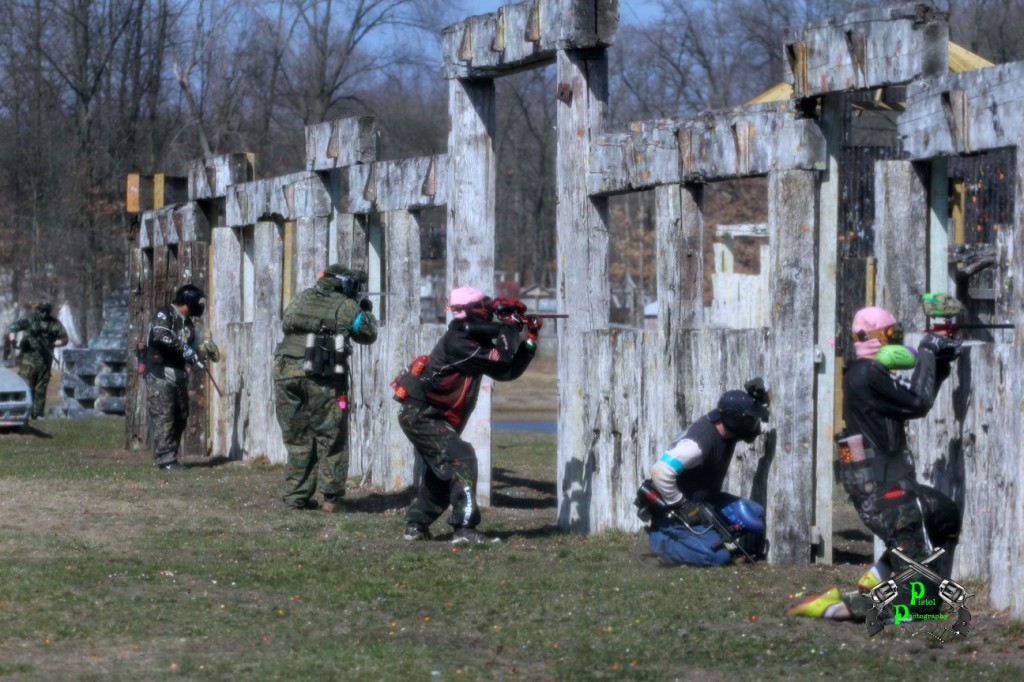 During the night, storms moved through with wind gusts up to 40mph – destroying some of the player compounds; but that didn't stop players from showing up to play on Sunday. Play was just as intense on Sunday with the X-ball field near Deadwood becoming a major hot zone. The X-ball field is located on a small strip of land between Warwick Castle and Deadwood, with a fence on one side and water on the other. This strip of land was fought for repeatedly all day as it was the shortest way to get to Deadwood since the bridges were blown for 90% of the day! It was that one location on the field you could go if you wanted to see a paint throw down. Of course this didn't stop the action in the POW Camp or Area 51, which were hot zones for missions and located closest to both insertion points.
As players left the field to prepare for final battle, you could feel the intensity in the air. Not a negative energy, but one of excitement and if you had been there you would've known why. This was by far one of the most intense final battles I've seen. With "runners" risking multiple welts to retrieve bars of gold mid-field to the girls showing up the guys by pushing the front lines forward on the red side. Watching the girls dominate, was definitely something I enjoyed seeing as I am constantly trying to get more women involved in the sport. Even better was to hear the guys around me saying things like "dang, we need her on our team" or "why isn't she on our team?" made this female baller proud.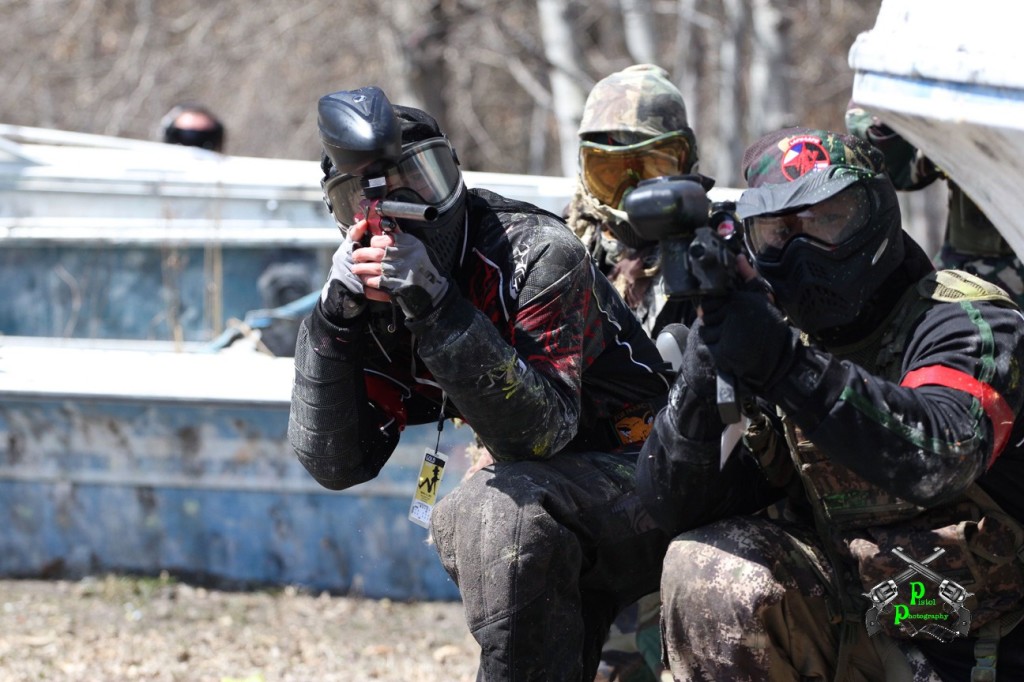 How did the game end? Per Terry Cauffman, "Going into the final battle, there was a 5 point difference. Green had 26 of the 40 pieces of gold that was out on the field for final battle. But, Red held the slapsticks, and that made the difference. The final score was close with a 17 point difference. It was Red with 543 to Green with 526."
Fort Knox Paintball is located approximately 2 hours NE of Indianapolis and 1.5 hours SE of Chicago. It offers 10 different field options, of these the most notable are: Bermuda Triangle (complete with a huge Pirate ship), Area 51 (with suspended life-size alien spaceship), Powhatan (woodsball), Town of Deadwood (with hotel, saloon, church, etc.), Warwick Castle (yes it's a real castle). The field offers a variety of paint at reasonable prices, but also allows you to bring your own paint. You can learn more about Fort Knox at fortknoxpaintball.com.
All pictures from the event can be seen and purchased at: pistolphotography.PhotoReflect.com
Thanks for reading and see you next time!
Next Up: Spring Pump Event and Living Legends 6