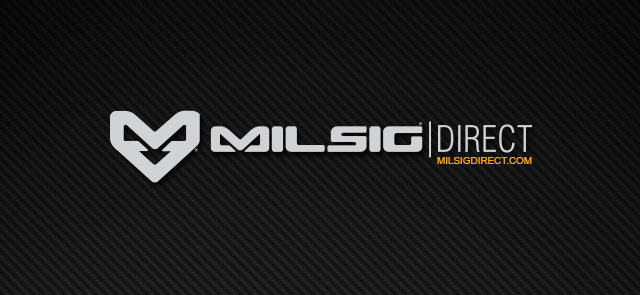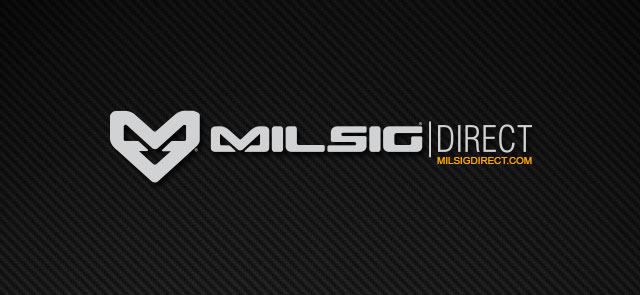 For Immediate Release – MILSIG is excited to announce TWO new EXCLUSIVE Licensed Distributors, MILSIG Direct USA – www.milsigdirect.com , and MILSIG Direct Europe – www.milsigdirect.eu. Based out of Greenville, South Carolina, USA, and operated by long time industry veterans Doug Brown and Aaron Yendall, MILSIG Direct USA will provide the entire USA with sales, marketing and technical support. Based out of Prague, Czech Republic, and operated by industry veteran Tom Novotny, MILSIG Direct Europe will provide all of Europe with sales and technical support. All MILSIG Direct Distributors are focused specifically around the MILSIG brand of MagFed Paintball products and are directly supported by the factory. Their level of customer service, technical knowledge, and selection of MILSIG products will be unparalleled.
MILSIG Director, Nelson Lau, "I've been friends and business partners with Doug, Tom, and Aaron for a long time, and they bring a tremendous amount of industry experience, technical knowledge, and exceptional professionalism to the MILSIG family. Aaron and Doug have worked together for several paintball companies in the past and developed some of the most recognized brands in the industry. We all share a passion for MagFed paintball, and have been working together to grow the MILSIG brand into the MagFed paintball industry leader. I'm extremely happy and honored to have these fine gentlemen involved with MILSIG as authorized factory representatives. I look forward to further growth of the MILSIG brand and the MagFed genre as a whole."
As part of the roll out of MILSIG Direct USA, PsiOps will become part of the MILSIG brand offering factory custom products, game support, and marketing. MILSIG Direct USA and MILSIG Direct Europe are fully operational as of the date of this release.
Tom Novotny says, "It's an honor to be the new European representative for MILSIG. I have had the pleasure of working with Nelson for many years now and its exciting to be part of the MILSIG Team. Having Doug on the team makes it even better as we have done business together for many years. I look forward towards growing the European mag fed community distributing the world's finest MagFed marker through MILSIG Direct. "
Doug Brown says, "The grass roots marketing PsiOps has done over the last 16 months have started to pay off as more and more players, stores and fields are recognizing the potential of the MagFed style of play. I look forward to working with Tom. He has always been a true professional in all my past business with him. I'm ecstatic to be working with my friend Aaron again on a day to day basis. He is the most talented marketing professional in the paintball industry. Nelson has assembled a great team to further expand the MILSIG brand and his vision of MagFed paintball."
Aaron Yendall says, "I've been watching the MagFed market evolve after creating the PsiOps logo for Doug. The level of enthusiasm I see in the MagFed community has convinced me that it has the potential to be a large segment of the paintball market. I'm looking forward to developing the MILSIG brand and expanding on its industry leading position."
Be sure to visit http://www.milsigdirect.com for all your MILSIG products in the U.S.A and for Europe, visit: http://www.milsigdirect.eu
Like MILSIG Direct on facebook at: http://www.facebook.com/MilsigDirect
In celebration of the grand opening for Milsig Direct, we're opening the doors with a sale! A MILSIG CQB with 3 extra magazines and FREE shipping. The perfect package for those just starting out in MagFed. The CQB features our new HEAT Core and comes with one mag as standard equipment. With 3 extra mags you are ready to start your MagFed career with the most trusted name in MagFed paintball, MILSIG.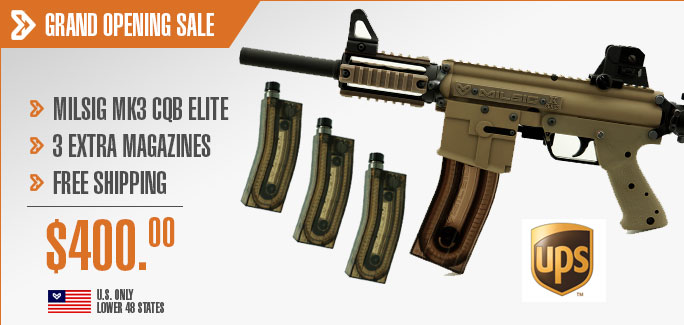 http://milsigdirect.com/milsig-magfed-paintball/sale-items/
MILSIG is known throughout the world as the premier manufacturer of MagFed products. MILSIG products are famous for their strength, durability, accuracy, and performance. When you purchase a MILSIG product you are assured of getting the highest quality, most reliable equipment in the MagFed paintball industry.