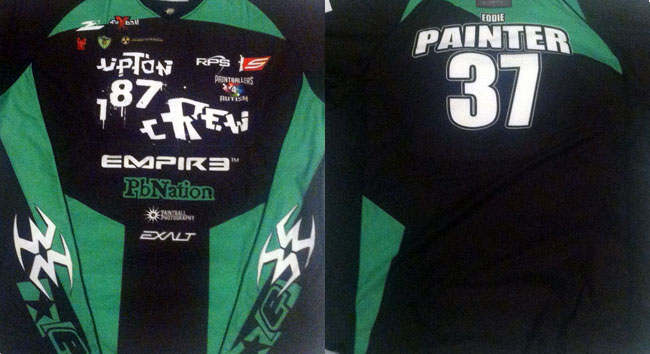 Excitement is in the air as teams proudly share news of their new rosters as well as their new sponsors and gear for the 2013 PSP season. This paintball fashionista has another inside look at one of the professional paintball team's new 100% custom Planet Eclipse jerseys for the season.  So, what's Upton 187 cRew going to be wearing on the field?  Let's find out.
This year, 187 is taking one step further out of the woods and getting back to the basics of tournament paintball.  If 187 fans remember, during one of the most successful seasons of the team in D1, the team proudly displaying the black and green Planet Eclipse jerseys, then they will appreciate this early season throwback.
This is another step forward for 187, giving homage to some of the first tournament jerseys in paintball, and also symbolizing the path to greatness taken by some of the greatest teams in paintball today – which 187 plans on following and changing in their own right.  If you were a fan of the 187 camo, don't worry, you haven't seen the last of it.