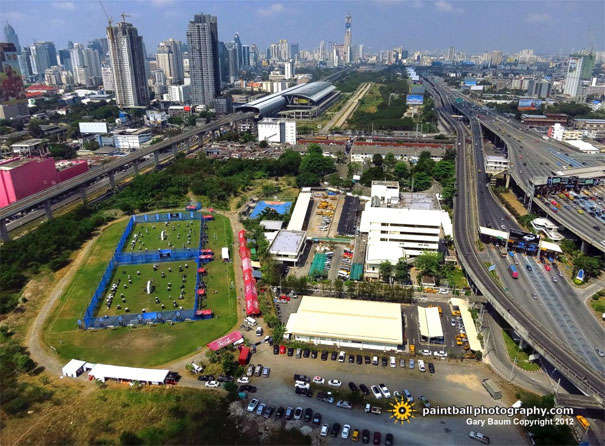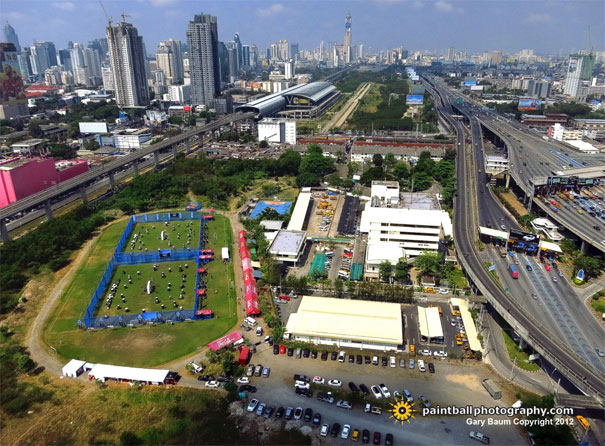 Sa-wa-dee-krap/ka! Or hello! As they say in the Land of Smiles, PALS' (Paintball-Asia League Series) first leg kicks off once again in Bangkok, Thailand for its 2013 season.
The location, Express Way Paintball Club in Jarun Burapharat smacked in the middle of busy Bangkok.
Mark your calendars from the 28th February, 1st to the 3rd of March to battle with the best in Asia, I'm talking about Thailand's Infernal, Australia's STK, Malaysia's Nemesis Legion, Xtioneers, Demonz and Iran's Datis.
Well, not only the best in Asia, Division 1 teams will be playing against the American Dream Team. A special team made of Dynasty's Oliver Lang and Yosh Rau, Infamous' Damian Ryan, Bobby Aviles and Jerry Desvarieux and Edmonton Impact's Tim Montressor.
Also joining on the fun, all girls' team Destiny of USA returns to Asia. Kat Secor, Linh Truong and Katie Kelly will play PALS Thailand with Cathy Villanueva (whom played with them for World Cup Asia 2012), Guia Salvador of the Philippines and Mexico's Karla Alvarez of team Heaven & Hell.
There to cover the tournament, rain or shine will be PaintballPhotography.com's Gary Baum, Social Paintball's Joel Pitra, Asia's renowned Desmond Foo of ResidentEvilChef.com and Mary Walker of ScaryMaryPhotos.
Those who want to play the official PALS Thailand field layout can drop by the Express Way Paintball Club which had the layout set up late January.
Definitely not to be missed so stock up on Thai Bahts, hold on tight while riding the tuk-tuks, learn the language and experience paintball in a whole new world.
For more info on this tournament head on over to PalsThailand.com or e-mail registration@palsthailand.com
PALS Thailand is the first leg of the PALS Series, for more info on the 2nd leg and World Cup Asia, head on over to facebook.com/paintballasia or e-mail registration@palseries.org
For more info on Express Way Paintball Club: facebook.com/pages/Express-Way-Paintball-Club/435284169845078