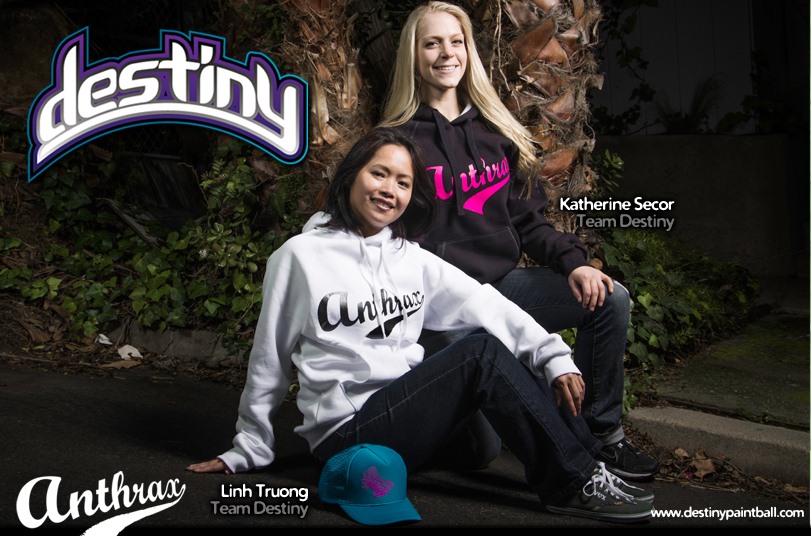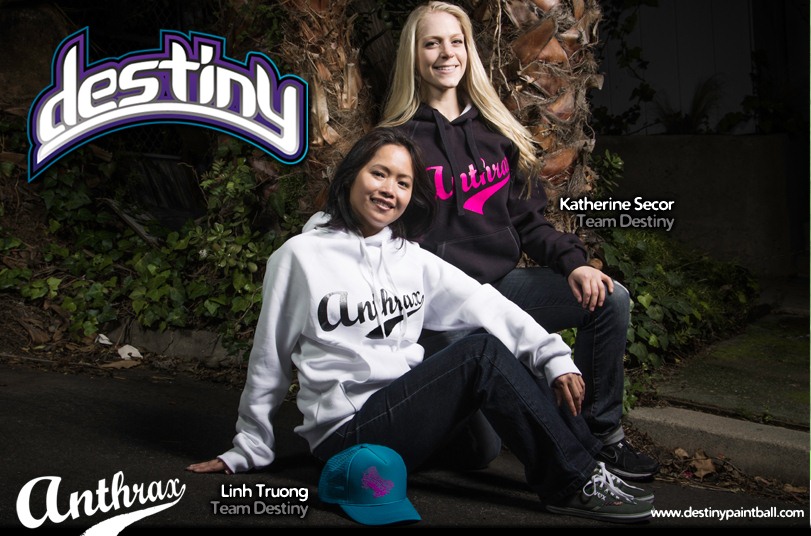 In the midst of Kat Secor's insatiable training schedule, she was able to catch up with us here at Social Paintball to give us the latest news about Team Destiny and their newest supporter Anthrax Sports.
Team Destiny will be wearing Anthrax Sports' top of the line Brigante Series Jerseys at all the events they play for the 2013 season and will be fully equipped with all of the latest Anthrax casual gear.  When asked about how she felt about this exceptional opportunity, Kat Secor, Captain of Team Destiny, had this to say:
"We are excited to be working with such a respectable company that puts so much emphasis on product quality, reliability, and consistency of excellent customer service."
Bea Youngs, one of the most well-known women in paintball, and Mike Paxson, the professional paintball player for the Los Angles Ironmen, formed Team Destiny in 2004.  Destiny is the first all-female team to make it to finals and achieve a 2nd place win at a national event on American turf.  Anthrax Paintball states, "Due to this and many more achievements, we at Anthrax Paintball feel that it is an honor for us to support the team in every way we can."
Anthrax Sports is based out of Greece and is owned and operated by Konstantinos Papanaglotou (Konsta for short).  Konsta started playing paintball in 1999 and in 2002 created and designed his first custom jersey.  This was the starting point of his career in the paintball clothing industry that later lead to the creation of Anthrax Sports.
According to Anthrax Sports, "Anthrax jerseys are manufactured on order, according to the need and demand of every team or player. We use the highest quality of materials and printing methods, in order to make your team look as cool as possible! When you contact us, we will send you a complete guide about choosing your jerseys, including options about padding, thumbholes and other features. Names and numbers on the back of the jersey are included in our prices. There is no minimum order; you can order even one jersey! Prices start from 38 euros per jersey!"
Visit www.anthraxpaintball.com  or www.facebook.com/AnthraxPaintball for more information.
Check out Team Destiny and follow them on Facebook to keep up with their many adventures this season.  The next event they will be attending is the first leg of the Paintball Asia League Series (PALS) located in Bangkok, Thailand.  Visit www.PALSThailand.com for information on how you can bring your team to one of these first-rate events.