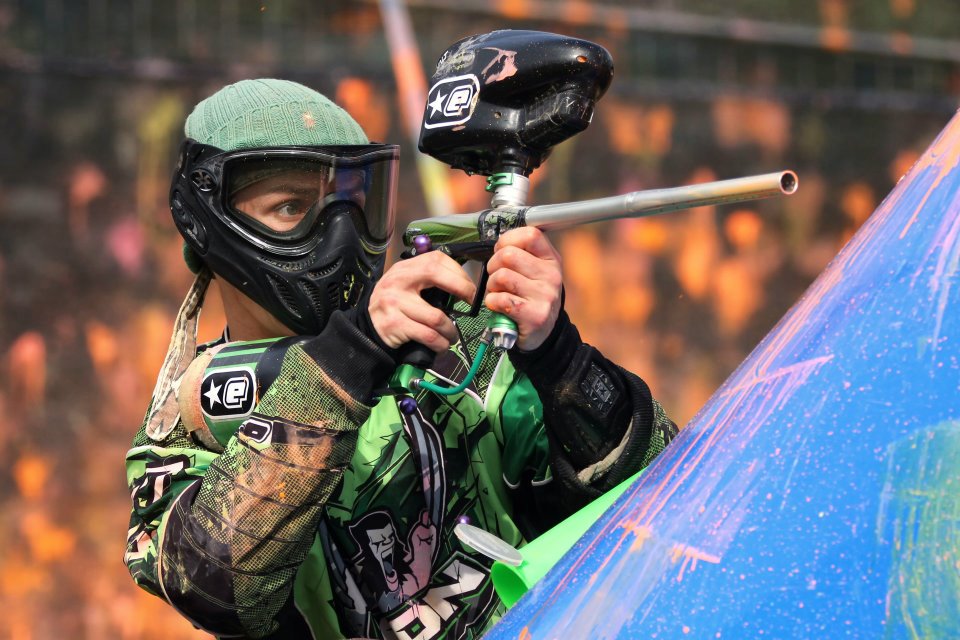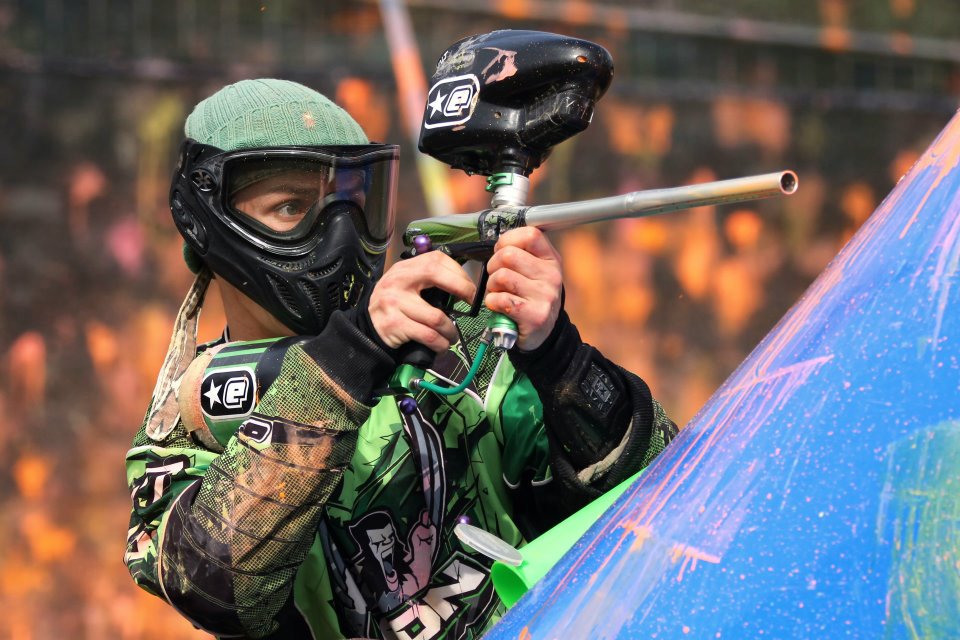 In the midst of all the roster changing madness that seems to fill the beginning of the PSP season, Russian Legion a.k.a. Moscow Red Legion announced the addition of two players to their 2013 PSP roster.  So, who's this twenty-two year old fast and aggressive dorito side player and what's he all about?  Let's find out together.
MC:  Hello Kevin.  Congratulations on signing with Russian Legion for the 2013 PSP season.  I'm very excited to see how you and the rest of the team take on the competition this season.  Thank you kindly for lending me a moment of your time to interview you.
Let's start with where paintball first entered your life.  From what I've read, you played in your first CPL tournament at the age of fifteen.  Only nine months before that tournament, you had started playing paintball.  What first attracted you to playing paintball and what did you do during those nine months to progress so quickly to a tournament level?
KC:  When I was fourteen, my older brother took me to World Cup in 2004 to watch Russian Legion play.  At the time, RL was not really supported by the American players, many fans would boo the team and shout USA, nevertheless there were a handful of French fans cheering for their favorite team; that was us.  Now, the way American players see Russian Legion is different in my opinion.  Most of them really respect this team and many of them love it.  We have always been big fans of RL.
When we came back to France, my brother launched an indoor paintball field where it was only reball.  From the day it opened, I went there every time I could.  Right after school, I would jump on my bike and get there during those nine months.  All I had done was practice and do what I had seen at World Cup.
Over the months, my ability in moving on the field, diving, gun fighting, running and shooting quickly became good.  Then, a CPL team gave me an early shot.  It went good and it all started from there.  In my case, this saying makes a lot of sense, "The good thing about being young is that you don't know that you cannot possibly do what you are doing."
MC:  That's incredible!  You're first exposure to paintball was seeing Russian Legion play at World Cup and now you're actually playing on the team.  Congratulations again.  It looks like all of that tenacity has paid off.
You've been competing in the Millennium Series with Marseille ICON.  What have you learned the most from being on that team and what strengths do you hope to bring to RL from your experiences with ICON?
KC:  ICON taught me a lot.  I joined the team when I was a kid; had good technical and physical skills, but I didn't know much about the game.  The "old" players have passed on their knowledge over the years.
Experience is something you learn in the long term, while making mistakes, while playing different teams, players, fields, and tournaments.  It is a very long and difficult process but it is clearly easier when you have those experienced players around you who are there for you.
Through ICON, I have also learned dedication.  I have been with the team for seven years now and I dedicated a lot to that team.  That is a logical return.  ICON gave me a lot, so I had to give it back.  Now I have grown up.  I have become more mature and I am now trying to take ICON to a higher level.  I intend to bring my dedication and my hardworking ability to Russian Legion.
MC:  I look forward to seeing you put that hard work and dedication to good use during the PSP 2013 season with RL.  What are your goals, including PSP, the Millennium Series, and more, for 2013?
KC:  My goal with Russian Legion is to fulfill their requirements and to get the job done.  I am really thankful to them for giving me this opportunity so I intend to do everything I possibly can to be a good pick up for them.
In regards to Marseille ICON, as I said before, I hope to get my original team to the higher level.  I brought a couple changes; I'm trying to get ever more involved in order to help the team to succeed.  The team goals are clear, finishing in the top three overall in the CPL and in the CPS.
Personally, in 2013 I am willing to become more professional, that is to say taking care of my environment, the way I eat, the way I stretch, and the way I mentally and physically prepare.  I hope to make a good 2013 year in the PSP and in Europe, playing at my level, without pressure.
MC:  Putting so much into your training, including good nutrition and fitness, will be well worth the effort.  So, what are you looking forward to the most about playing with RL in the PSP?
KC:  As I previously said, this is the team I have always dreamed to play with.  I'm really looking forward to competing in the Pro Division of PSP with my Russian Legion jersey and giving everything I've got for that jersey.  I am also looking forward to learning from all of the members of the RL squad, from the coaches and the players.  They all have a huge experience of the game and I really want to learn from them.
MC:  Yes, the players, coaches, and trainers of RL all have a vast amount of proficiencies and it sounds like you are the kind of athlete who is highly coachable so this should be a winning combination for everyone involved.
What was it like representing your country last year when you were selected among the ten best French paintball players to play for France?
KC:  It is always a big honor to "fight" for your country in many ways.  Moreover, being chosen among the ten best players in your country is also very honoring.  It was a great experience; despite not having taken first place.  I hope to be part of the group this year again and bring the gold piece home this time.  To bring gold home, we will have to defeat the Russian team mostly filled with players from Russian Legion.  An epic battle is coming.
MC:  Oh yes, it is.  Just think, you'll playing against your teammates from RL with the knowledge you've gained having played alongside them during the PSP season and RL's players who are given the honor to play for the Russian team will have learned about your style of play as well.  This will be an epic battle of both body and mind.
I've learned that you are the owner of Paintball Grinders.  Please tell me more about what Paintball Grinders is and why you started it.
KC:  Paintball Grinders is an online tool to improve your skills at paintball.  I started this because I had to complete a six month internship in order to graduate from my Bachelor in International Business.  Instead of doing an internship, I decided to launch Paintball Grinders.  Reconciling work and paintball was a great opportunity, so I just had to grab it.  It enables me to live my passion every day and that makes me a happy person.
MC:  That's a smart way to fulfill graduation requirements.  Well done.  Be sure to check out Paintball Grinders online at www.paintball-grinders.com to step up your game.
What's one of your favorite workouts for paintball?
KC:  I recently started doing some Crossfit in order to increase my fitness for Paintball.  Crossfit is a mix of exercises perfectly designed for paintball and I would recommend it to anyone.  One of my favorite paintball drills is called "Parcours".  It is merely a combination of actions (laning, running and shooting, snapshooting, and diving) in a predefined circuit; the aim is to shoot different targets.  That is the drill I use the most.
MC:  It certainly sounds like a great way to keep in shape for paintball and definitely would improve muscle memory.
Okay, time for my random question because there's always got to be at least one of them in my interviews.  Recently I saw a photograph on your Facebook page of a ridiculously huge plate of food.  Now I'm sure your metabolism, fitness level, and youth can handle it just fine but WOW!  So, my question is not about how you can pack that all away or what your idea of proper training nutrition is, it's about what you were eating.  I recognized the fries and the salad but what on earth was that thing hidden underneath a fried egg and crazy amounts of melted cheese?
KC:  Nothing else than two steaks and three potato galettes.
MC:  Nothing else?  Okay, I've made sure to include your photo of this monster burger with this interview so our readers can understand my pure amazement with that meal.  So readers, what's your take on that burger?  And now back to paintball.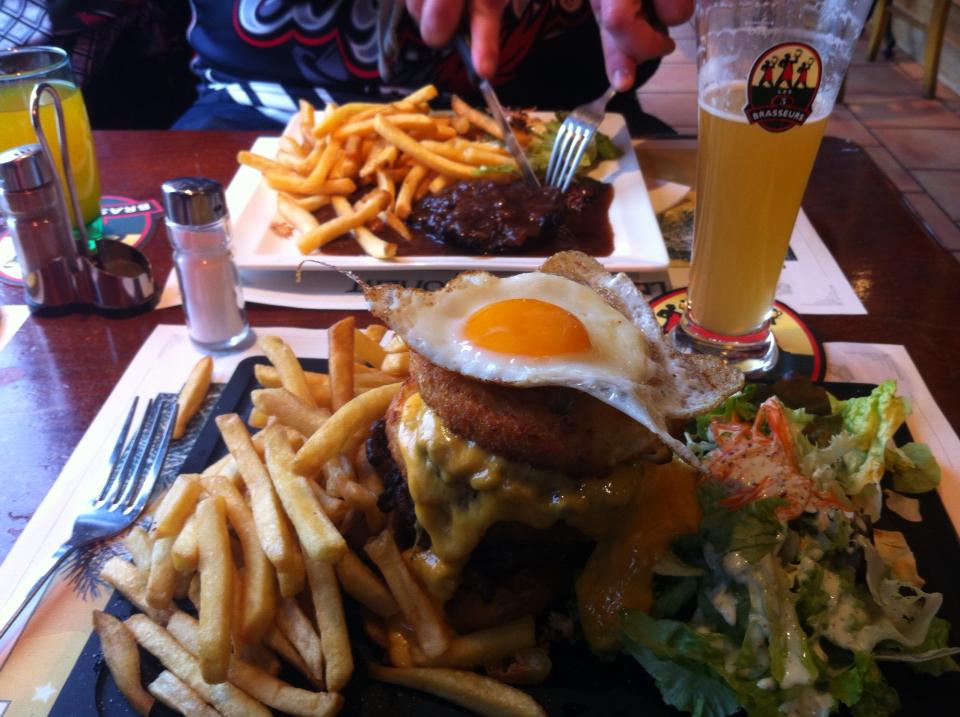 As with every sport, there are times when teams are victorious and times when victory slips through their fingertips and the team is faced with defeat.  How do you best handle the challenges of defeat?
KC:  Losing is learning.  Defeat is part of the game; you have to accept it and learn from it.  It has to boost your experience and motivation.  Life is tough.  You will fall again and again and you will have to step back up if you want to succeed someday.
MC:  You have a great perspective on winning, losing, and life.  Without struggles, our achievements would not have such great value.  Please tell me about one of your greatest achievements in paintball.
KC:  Being given the opportunity to show what I'm worth in the PSP Pro Division with the RL jersey has been my biggest achievement in paintball so far.  I don't plan to stop here.  I hope I will achieve more and more in the future.
MC:  Kevin Coulm…unstoppable!  With all of your other training, do you ever cross train in any other sports?
KC:  As I said before, I do some Crossfitting.  I also do some badminton.  I have always been a sports addict.  Before paintball, I played rugby for about seven years.
MC:  Rugby's a sport that some of my friends and I used to play a mini version of during lunch break at school when we were younger.  I highly doubt any of us really understood the rules and I know for a fact that we did not have the proper amount of players or the proper amount of time for a true rugby match but reflecting back on those days tells me that your seven years of "actually playing rugby" makes my "chasing down the ball just to pile on top of other players until someone is inevitably gasping for air" sound silly.  I still have no clue what the real rules are of rugby but I do enjoy watching a real rugby match from time to time.  Thanks for evoking that travel back in time for me.  Those were good times…now if only we knew how to really play.
How much more travel for competitive paintball are you anticipating this year compared to last year?
KC:  A lot!  But that is all I want.  Traveling and practicing is great.  According to my planning, it is going to be a busy year.
MC:  It's good that you know what you want and that travelling more will fulfill some of your desires.  What do you hope to achieve in the future?
KC:  In the future I hope to be part of ICON as the best European team.  Regarding the PSP, I hope to become one of the top players of the league.  I don't want to sound cocky, I'm just displaying my objectives, I'm not saying this is going to happen within two months.  I have always aimed at playing for Russian Legion and participating in the PSP Pro Division.  It might have seemed cocky or funny for some people, but in the end I made it.  One step is reached; I now have to look at the next one.
Cover Photo: Jani Andersson