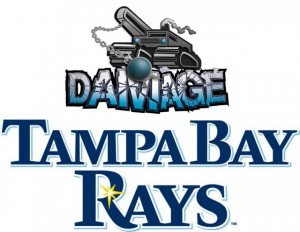 On February 16th, the Tampa Bay Rays and Tampa Bay Damage will be teaming up to provide their fans with a showcase of the best of both worlds, Major League Baseball and professional paintball. Players from the Tampa Bay Rays will be in attendance, as will the entire Damage squad. There will be no admissions cost for the event.
"Come join us at Tropicana Field. We will be providing free giveaways throughout the day. Lets show the world that paintball deserves to be held on such a high stage as Major League Baseball" -Tampa Bay Damage
The Damage franchise looks to use this showcase to raise awareness for the sport of paintball and introduce the 20,000 projected fans that will be in attendance, into the sport we have all grown to love over the years. Tampa Bay Damage is asking all paintball players and fans that are interested in attending, to head out and wear some of your favorite paintball related gear! Let's show everyone why we love the sport of paintball so much and why they should too. In raising the awareness of paintball, we will have the opportunity to show people that this sport is more than just a hobby, but a way of living for many of us.
Paintball fans, this is the perfect opportunity to support the best sport in the world and raise public awareness, as well. Along with being able to meet one of the best professional paintball teams in the world, you also get the opportunity to meet one of the best Major League Baseball teams. Not to mention, admission cost is free and there will be free giveaways!
How could you pass up this opportunity? Be at the Tropicana Field on February 16th, 9 AM – 4 PM and show your love for paintball!
When: February 16th, 9 AM – 4 PM
Where: Tropicana Field, 1 Tropicana Dr St Petersburg, FL 33705