During the PSP Chicago event he finished as the second overall player behind Dynasty's Ryan Greenspan, and displayed an incredible offensive attack, ending with 29 confirmed kills, 0 penalties and a survival rating of 77%. His play was fluid, relaxed and controlled as he showed off his gun skills on the hotly contested dorito side, which became the sparing ground for the worlds best players.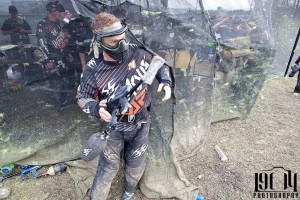 The reason for the move is unknown, however speculation is that friction has formed between the team and Siewers, as Paintball Access has reported that Siewers left the team by text-messaging head coach Todd Martinez. While texing may be a norm in society and media outlets may be over analyzing the situation, it is hard to argue with the skeptics due to the incredible year Infamous had. The 2013 season was one of the most successful years in the organizations history, but the way Siewers left the team does not speak well for this coming season.

There are also rumors floating around the professional division that Impact is willing to "break out the piggy bank." While no dollar sign has been attributed to Siewers, it is safe to assume that there are some greenbacks behind the motivation.

Only a few days after declaring "The fact that we are bringing back the same crew from last year goes to show that we all want to be here and we believe that this team can and will win." on Facebook, Team Infamous has lost dorito-star Greg Siewers to Edmonton Impact. During the 2013 season Siewers was an integral part of Infamous' success as he elevated his game during the second half of the season to spearheaded a two tournament win-streak (one in the PSP, one in the NPPL) at Infamous home field at CPX Sports Park in Joliet, IL.