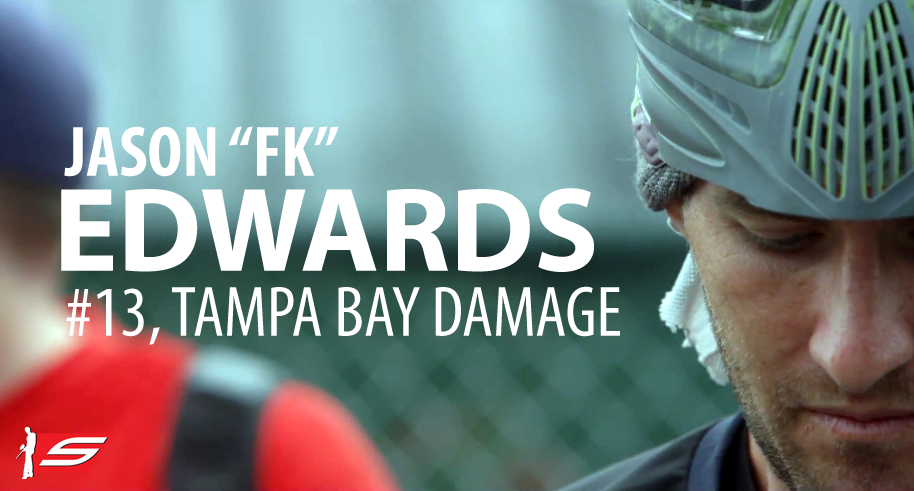 1. "People's Choice MVP 2012" – 4th ranked pro player of the year and 2nd place overall in the PSP with your team Tampa Bay Damage. I would call that a great season; are you personally satisfied with those results?
Over all on paper the season looks amazing and I can only imagine most people would think of this as the season to be remembered. For me however, I have always been my biggest critic and with those numbers not being number 1 in everything means more fuel for the fire.
2. Damage was supposed to compete in the Millennium Series in 2012 but after two events, both ended with a disappointing 7th place, the team pulled out of the series again. Why?
As far as I was concerned the Millennium Series was a blast and our placements were disappointing. However the reasoning for pulling out of the series was all upper management and I do not have a direct answer for that. Rumors speculated that there was a sponsorship conflict, our owner was told something and was not received the negotiated term. Also we felt we needed to focus more on PSP considering that was our main focus.
3. Besides of the misunderstandings: What did you as a player think of the European Champions League, the teams and their level of play?
The only misunderstandings we had dealt with certain penalties that were never justified and the pre-event practice scheduling. Other than that I loved the European league. The people, players, fans, and event organizers are amazing! The players seem to be getting better every time I go over there.
4. Will we get to see you and/or your team in Europe in 2013?
As a team Damage will not be competing in Europe in 2013, it's just not in our budget and interferes with too many US Events. Practices would have to be missed and with the European league having a different format and different rate of fire the events don't substitute the practice we would miss. You may see a few players however guest on teams if any of them were offered spots.
5. Tell us a little bit about Tampa Bay Damage and its structure. What's the secret behind a team with such a consistent performance?
Tampa Bay Damage has a thick core. It's a group of guys who started as individual great players but have become a dominant group when their skills are put together. Almost like building a house, the foundation was set with skilled players, but the more we settled in and the more we bonded, the stronger we have become. We are not afraid to point out each others mistakes and criticize each other when the time is needed.
6. You guys picked up Alex Goldman right before World Cup 2012 and he was supposed to be on your team for this year. He's a talented player for sure but in the last couple years he was sporting a lot of different jerseys. Did you see him leaving the team before the season even started?
Alex did agree to a deal with us to play in 2013, however he stated he was offered a deal that he just could not turn down. Being a professional paintball player is amazing but the pay has always been the down fall. I do wish his decision to not play could have come sooner, but I have always been a person who loves smaller rosters and more playing time. So did we lose a talented player? Yes, am I going to lose sleep over it? No.
7. Your little brother Jacob is only 17 years old and is already doing a great job at the pro level. He is currently ranked 21st in the PBA overall season ranking and def. somebody to look out for in the future. Did you introduce him to the sport and how did you guys end up in the same team, even though you are 8 years older than him?
Yes, Jacob is by far the best 17 year old paintball player in the world. He was raised around paintball considering I turned pro at the age of 15, he basically always wanted to play. He was picked up early in 2010 and was going to just practice with us, while competing in Division 1. However he proved to be a valuable asset even at the age of 14/15 and was asked to join the team. His PBA Ranking does not do him justice. He will be the best player in paintball here shortly and will remain the best for a long time to come.
8. What's the key of being a consistent force up in the pro ranks?
Just like anything in life you cannot settle. When most people jump for joy after winning, I am already planning the next event. Even after winning an event, I think about what I messed up on. I believe that by improving even when you're considered to be doing great will only help make you better.
9. Any good advice for young players who want to go "pro" one day?
Make it fun. Paintball is a sport, but it is also a get-away. When you're playing paintball you should be having the time of your life. So many people lose sight of all of the amazing things you're doing at the moment and stress the future that they never really live and feel the greatness of what is happening right around them. If you're not having fun now, you won't have fun when your pro.
10. Thanks for taking your time Jason, I really appreciate it. Wish you a good season and see you soon!
Thanks a ton, and please check out my new website. I release weekly professional tips, videos, fitness ideas & videos when I get the chance. There is a ton of information that may help people raise their skill level and I want to be as helpful as possible! Site: www.JasonFK.com