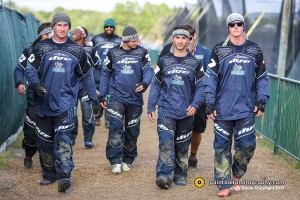 After multiple successful seasons playing both U.S. professional paintball leagues, Tampa Bay Damage has announced that they will not be playing in the NPPL this season.
The team will instead focus all of their efforts on playing the PSP.
Joey Blute, Manager, posted the following statement on the team's Facebook page:
"We have decided to discontinue playing in the NPPL. We will instead put all of our energy into winning in the PSP.
We want to thank our fans and sponsors for all of the support."
Sources tell us that a handful of the Tampa Bay Damage players will be playing in the NPPL and CXBL as free agents with other teams. We are told that while they are free to guest on teams in other leagues, the PSP is the top priority and will dictate any decision making with regards to scheduling and practices.
Our sources have also stated that Damage is not the only team that will be foregoing play in the NPPL. There are at least three other teams that will not be playing in the NPPL pro division that played in it last season.
With Damage and other pro teams deciding to leave the NPPL, albeit for this season, what will this void mean for the quality of play in the NPPL pro bracket? Better yet, what happens to those pro spots?