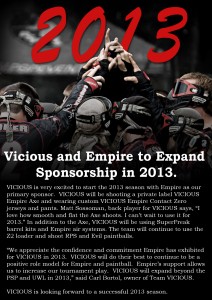 Sewell, NJ – Empire Paintball announces that pro paintball team, VICIOUS, will play the 2013 season with the Empire AXE Marker. Team VICIOUS will be shooting a private label VICIOUS Empire Axe and wearing custom VICIOUS Empire Contact Zero jerseys and pants.
"We appreciate the confidence and commitment Empire has exhibited for VICIOUS in 2013. VICIOUS will do their best to continue to be a positive role model for Empire and paintball. Empire's support allows us to increase our tournament play. VICIOUS will expand beyond the PSP and UWL in 2013," said Carl Bortol, owner of Team VICIOUS.
Matt Sossoman, back player for VICIOUS said "I love how smooth and flat the Axe shoots. I can't wait to use it for 2013."
Empire AXE Marker had the most wins in tournament paintball during the 2012 season. Empire expects to add to this winning total with Team VICIOUS. In addition to the AXE, VICIOUS will be using Super Freak barrel kits and Empire Ultra air systems. The team will continue to use the z2 loader and shoot RPS and Evil paintballs.
John Robinson, CEO of KEE Action Sports added "We are very excited to partner with VICIOUS for the 2013 season. Carl, Karen, Jake, Julie, as well as all the guys on the team are tremendous people and do a great job representing themselves, paintball and our brands. Beyond the standard tournament sponsorship, the VICIOUS team shares our vision for a partnership that encompasses product development, marketing and overall expansion of the Empire brand."
With the first PSP event right around the corner, be sure to cheer on Team VICIOUS in the pro division. Stay up-to-date on team news, by checking out VICIOUS on Facebook.
Empire Paintball is a brand of KEE Action Sports LLC. KEE Action Sports LLC is the worldwide leader in the manufacturing and distribution of paintball sporting goods and the exclusive source for Empire®, and JT Paintball® brand products.
Connect with Empire Paintball on Facebook and Twitter to stay up to date on the dealio. Stay connected with Empire on Facebook @ http://www.facebook.com/EmpirePaintball