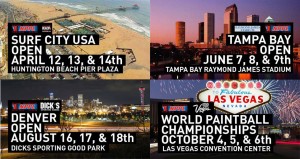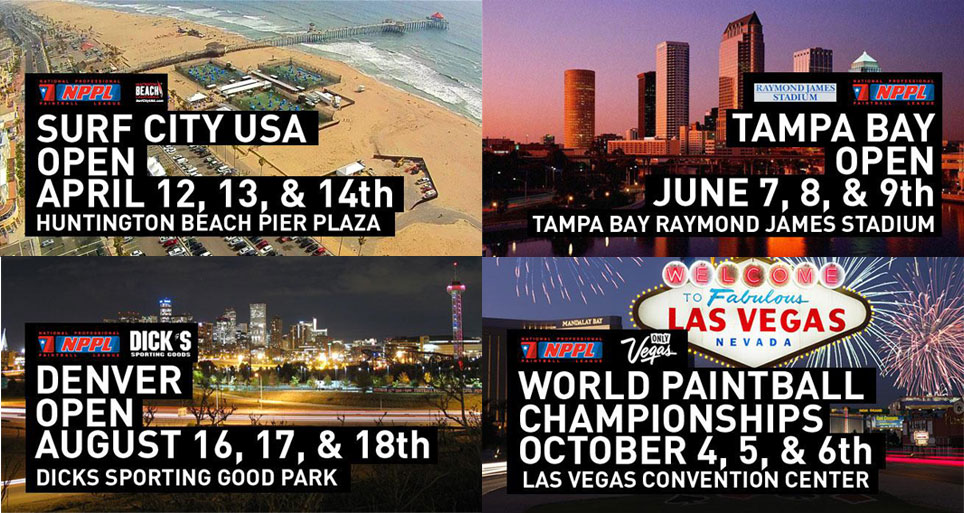 [Update: 6:00 PM ET, 1/1/2013]: The NPPL has officially re-released the event dates. The NPPL tournament dates that we mentioned "leaked" yesterday, are in fact the correct dates for the 2013 season. The only schedule change was the Denver Open, being moved to August 16th – 18th.
In addition to these "Major" event dates, NPPL has released "Minor" event dates for regional/divisional teams to play. All details are available on our website.
A special thanks to everyone that continues to support Social Paintball throughout the 2013 season, you guys are awesome.
Posted on the NPPL's website is the following message:
The NPPL is excited to announce dates and Premier Venues for 2013. Paintball is a lifestyle and we intend to make Paintball Life the best it can be.
In addition to the Four Major Paintball World Series Events the NPPL will be hosting 4 Minor events where Divisional teams will compete and earn NPPL World Series Points at a regional level. These points will count towards the over all NPPL World Paintball Series Title.
The NPPL will be hosting live music at each major event this year along with incredible player parties and other extreme activities. Bigger Prize packages will be offered this year along with a set prize purse for Divisional levels. Entry fees, prize packages and registration will be announced January 25th 2013.
Official Event Dates:
4 Major World Series Events
Huntington Beach – April 12, 13 and 14 – HB Pier Plaza
www.surfcityusa.com
Tampa Bay – June 7, 8, 9 – Raymond James Stadium
www.tampasportsauthority.com
Denver – August 16, 17, 18 – Dicks Sporting Goods Park
www.dickssportinggoodspark.com
Las Vegas – October 4, 5 and 6 – Las Vegas Convention Center
www.lvcva.com
4 Minor World Series Events Dates and Venues
Hawaii – Feb 23 24 – Hawaii Extreme Paintball
www.hawaiiextremepaintball.com
Chicago – May 11,12 – Paintball Explosion
www.pbbomb.com
Vancouver – July 20, 21 – Venue To Be Announced
Wash DC – September 14, 15 – Pev's Paintball Park
www.pevs.com
[Update: 6:20 PM ET] As per Frank Connell, Vice President of the NPPL, Social Paintball has been banned from NPPL events. It is unfortunate that we will not be able to provide news and information about the league to the fans and viewers. We will still try to provide updates about the league throughout the year, as we can. The dates provided below are incorrect, as soon as they are released by the NPPL, we will update the page. We repeat, the dates are incorrect (they were incorrectly posted on the NPPL website and Facebook page by the NPPL).
[Update: 5:50 PM ET]Frank Connell has posted on our Facebook stating, "Please delete this the dates are worng." It appears that the reason for the NPPL abruptly removing the dates/photos from their website and Facebook page is that they were prematurely and incorrectly posted. We have asked Mr. Connell to provide us with the correct dates. Stay tuned for more information.
The NPPL just posted their 2013 schedule on their Facebook page and website, but abruptly removed it. We were ninja-like enough to snag them.
The 2013 NPPL season schedule is in folks!
As you can see, the NPPL has decided not to host an event in Chicago, IL this year, unfortunately. Chicago held one of the biggest turnouts for the NPPL series, making their decision not to host an event in the area quite baffling. Another thing you'll notice is that they've decided to scrap the "DC Challenge", which was held in Pevs Aldie, VA last season. In place of the two removed Chicago and DC events, are two new additions: The Tampa Bay Open and The Denver Open. We definitely love the idea of an event held in Tampa Bay and Denver, that's for sure!