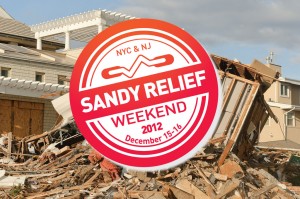 SEWELL, NEW JERSEY – In the wake of Hurricane Sandy, twenty paintball fields from all over the country have banded together in order to raise money for victims of Hurricane Sandy – the fundraiser, "Sandy Relief Weekend" paintball event will be held on December 15th, and 16th.
Behind Professional Paintball players Nicky Cuba and Pete Utschig, the paintball community has pledged to participate in the paintball event where paintballers around the country will hit the field on the same days and raise money for their fellow enthusiast that might have suffered. Empire Paintball formulated a special red, white, and blue Marballizer paintball just for this event just for this event and donated all profits to the Red Cross.
Already $31,200 has been raised through the production of a special "Sandy Relief Weekend" Marballizer paintball – each participating field also received an Empire Axe Marker combo package (valued at over $895) with each order of paint. The Empire Axe Marker combo package will be raffled away at the events with all profits from the raffle being donated by the respective field to the charity of their choice.
Even in this struggling economy over 20 paintball fields prove that together, the paintball community can help out the victims of Hurricane Sandy and make a difference.
"I have always known the paintball community to be a tight knit family who would do anything for one another. They have always had my back and it makes me proud to be a part of an organization that also has the back of my East coast family in their time of need. Sandy devastated so many lives including some of my closest friends and family so this fundraiser touches very close to home for me. Seeing paintball come together in support of this cause has made me prouder than ever to be a part of such a great sport and caring group of people." – Nicky Cuba, Professional Paintball Player for Team Infamous
The list of fields below will be participating in the "Sandy Relief Weekend" paintball event. Only official Red Cross Marballizer, being sold on-site will be permitted.
Paintball World
Boston Paintball
Commando Paintball
Dynamic Paintball Inc.
FC Paintball LLC
Quick Shot Paintball
Paintball Charleston
Cru Paintball
Boss Paintball
Paintball Wholesalers
Fox 4 Paintball
Hogans Alley Paintball
Lehigh Valley Paintball
High Velocity Paintball
Cousins Paintball
Paintball Sports and Supply
Top Gun Paintball
P and L Paintball
Operation Stingray
All Star Indoor