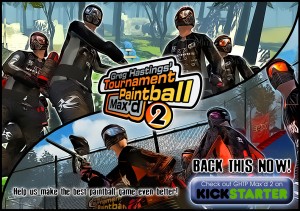 For immediate release – Greg Hastings reunites with original developer, WXP Games, to make the best paintball video game even better!
Greg Hastings and WXP Games tap Kickstarter.com to fund an exciting new revamp of the number one paintball video game franchise, with focus on PRO LEVEL MULTIPLAYER GAMEPLAY!
It is certainly exciting to be a part of the crowd funding revolution on Kickstarter.com. This is the perfect opportunity for fans of the Greg Hastings video game franchise to help fund the game without the control or influence of a major publisher. Gamers and the fans of this long running franchise will now have the opportunity to directly help recreate the game that was once ranked in the top 5 on Xbox Live!
HUGE REWARDS!
The GHTP Max'd 2 Kickstarter campaign rewards are amazing! Paintball's elite playing fields from around the world are stepping up to support this project by providing the project Backers incredible amounts of free paintball incentives at their events! Look for rewards such as free Day passes, Season Passes and even free entry for you and your friends, for LIFE!
GET IN THE GAME!
Speaking of incredible rewards, a team can also get their entire roster into the game as playable characters, with all their real sponsored gear and logos. It is easy to see the value of each reward far exceeds the amount a Backer may contribute.
The game has already made great strides and the team is in place to take the project to the finish line. Many new features are on tap, including the use of the new virtual R7 RePlay kill cam. Record, edit and share your virtual kills with your friends. Look for some serious competitive paintball to be back ON LINE! Gamers, and fans of paintball, should most definitely check this campaign out on Kickstarter.com!
About the Greg Hastings Paintball video game franchise: Producing games since 2003, this family friendly "shooter" was the first to establish the ESRB rating of E for Everyone for this genre. Emulating the sport of paintball, GHP was the first to take paintball to the mainstream gaming world with Greg Hastings Tournament Paintball for the original Xbox. This franchise's latest offering, Greg Hastings Paintball 2 that came out in 2011, is still available world wide on the PlayStation3 via the Play Station Network and available this holiday season on all iOS devices.
Want to be in the game? Click here to help.
Contact: Greg Hastings
E-mail: Greg@r7usa.com