Goldman had a breakout 2011 season, winning four straight tournaments with Dynasty and arguably becoming the best paintball player in the world. At the end of the last season, Goldman announced his "retirement" from paintball. Although paintball is one of the best sports in the world, the pay isn't all that great, which is why Alex dedicated to put the sport on the back burner in pursuit of a "bill paying" career opportunity. Shortly after, he returned to the grass and turf to sling paint with Dynasty once again. After playing a few tournaments with Dynasty, everyone noticed Goldman (and his teams performance) were lacking the luster they had last season.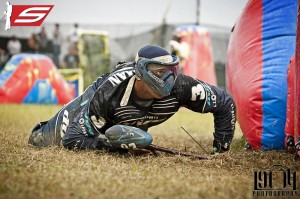 Goldman felt it was time for a change and decided it was in his best interest to sign with the boys from the east coast. Goldman's performance contributed to Tampa Bay making it to the finals for the first time since Galveston. He has shown that he can perform in the prelims, but we all know that the finals are where champions are born. In one of the longest points of the finals against Houston Heat, Mouse had a clutch performance, shooting out Sam Monville and wrapping around to shoot the remaining Heat player, forcing them to concede the point. Of course, Houston Heat would go on to win the match, but it was shown and proven that Alex Goldman is still one of the most dangerous players in the game.

Is this roster addition just what the doctor ordered for Damage's troubles?

Update: There was a misunderstanding about the actual salary and Tampa Bay Damage prefers it remains undisclosed at this time.

Tampa Bay Damage's manager, Joey Blute, has given us the official word that they have signed Alex "Mouse" Goldman to the team for a 1 year, for an undisclosed salary. You'll recall, just before World Cup began, Damage made the last minute addition to their team. According to Blute, Mouse has decided to sign with Tampa Bay for the duration of the 2013 season. Goldman had a subpar performance prior to World Cup, of which, he is in total agreement. Whether he would perform to Damage's standards during the 2012 World Cup was truly a mystery.