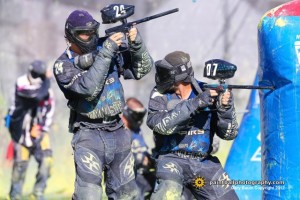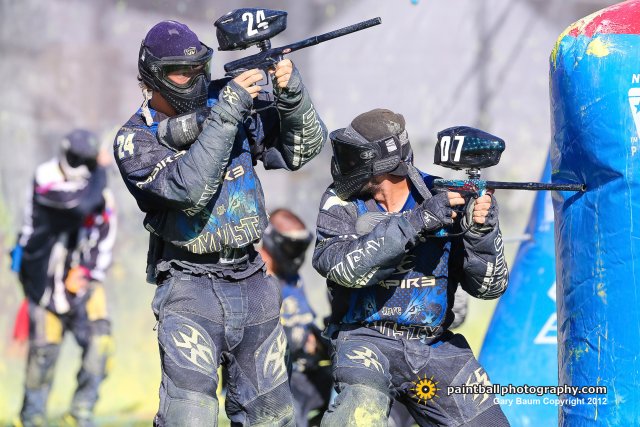 The National Professional Paintball League finished the 2012 season with the World Paintball Championships at the Riviera Hotel & Casino in Las Vegas, Nevada. San Diego Dynasty took home the Pro Trophy, putting the League's 2012 Series Winners, Sacremento XSV, in 2nd place at the Vegas event. Oliver Lang was unable to make the third NPPL event at the DC Challenge, but did make it to Vegas. Also on Dynasty's roster was Marcello Margott. Coming in 3rd place was Edmonton Impact who defeated Chicago Legend, putting Legend in 4th.
PRO Team NPPL World Paintball Championship Top 4
1 – San Diego Dynasty
2 – Sacremento XSV
3 – Edmonton Impact
4 – Chicago Legend
PRO TEAM 2012 NPPL Series Top 4
1 – Sacremento XSV
2 – Tampa Bay Damage
3 – Edmonton Impact
4 – Infamous
No rain in sight for the Vegas event, and believe it or not, as hot as Vegas can be, the weather was bearable, bringing in the highest temperature of the weekend in the high 80s and a low in the mid 60s. Those teams scheduled in the morning may have had to get up before sunrise, but playing in cooler temperatures is always better than playing in what can sometimes be a scorching Vegas heat. Registration was held inside the Riviera's air conditioned hotel and casino and many of the event's teams stayed at the hotel for a small price of just around $70 a night. Three paintball fields, all with the same layout, were placed on turf atop the Riviera's parking lot. Parking was available for free in covered self-parking garages, which gave players extra money to spend during their time in fun-filled Las Vegas. Games on all fields began as early as 7AM during the prelims, and every field started on time.
In Division 1, TCP Machine took home the D1 Championship. TCP Machine had a 2nd place finish at the previously held DC Challenge. In 2nd place, Texas Storm came ahead of 3rd place finishers Camp Pendleton Raiders and 4th place team, Joint Force.
Division 1 NPPL World Paintball Championship Top 4
1 – TCP Machine
2 – TX Storm
3 – Camp Pendleton Raiders
4 – Joint Force
Division 1 NPPL 2012 Series Top 4
1 – Camp Pendleton Raiders
2 – TX Storm
3 – TCP Machine
4 – Dynasty 2
We will bring you more details on the event's happenings from the weekend and what the future holds for the NPPL, so stay tuned. In the meantime, here are your divisional team finishers. Congratulations to those who made it to the Semi-Finals, especially the World Paintball Divisional Champions.
D2
1 – Arsenal Kidz
2 – High Octane
3 – Max'd Kidz
4 – Tombstone
D3
1 – Avalanche D3
2 – Sacremento Royals
3 – Damage Inc
4 – Tropix Hawai'i
Division 4 had three different formats:
1) D4 5-man, 2) D4 7-man, and 3) D4 5-man Race-to-4
D4 7-man Traditional
1 – West Coast Sharks
2 – CEPP Damage
3 – NVP
4 – NBK
D4 5-man
1 – SPOG
2 – Boise State Paintball
3 – DGaF
4 – TBK
D4 5-man Race
1 – PDX VexX
2 – Destiny
3 – Colorado Allstars
4 – University of Missouri
Pump
1 – West Coast Sharks 2
2 – West Coast Nation
3 – Wraith
4 – Infectious
NPPL YouTube Videos from Vegas:
http://www.youtube.com/user/NPPLWORLDSERIES?feature=CAQQwRs%3D
NPPL World Paintball Championships Vegas Team List Link:
http://nppa.npplnetwork.com/team-list.php
Event Scores Link:
http://www.npplnetwork.com/2012LVWorldPaintballChampionships.htm