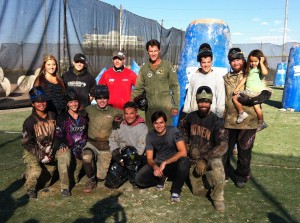 Part of Greg Hastings Tour of Duty this year included a paintball outing with Turner Motorsports Drivers and SPEED TV On-Air talent. On September 29th, the NASCAR Camping World Truck Series (NCWTS) took place at the Las Vegas Motor Speedway (LVMS) and just a couple of days beforehand, drivers Miguel Paludo, Nelson Piquet Jr., and James Buescher played paintball with Greg Hastings, Mike Paxson, Sonny Lopez, and Destiny Paintball's Kat Secor and Linh Truong. To add some more fun to the mix, Ray Dunlap and Rick Allen, SPEED TV's on-air talent, took to the paintball fields, as well. Of the three drivers that played paintball before the race, it was Nelson Piquet Jr. that won for the second time in the NCWTS this year, coming in front of 33 other drivers racing at the LVMS. During the race, Miguel Paludo carried the latest release of Hastings' video game franchise, Greg Hastings Paintball 2. Paludo finished in 11th and for James Buescher, it would be a 6th place finish.
Held at Las Vegas Premier Paintball located at the Las Vegas Sports Park, Greg Hastings did what he does best and planned a very fun paintball experience for all involved. Hastings briefed the drivers on how to use the equipment, which included the new Tippmann Crossover marker, VForce Visible Impact Goggle Systems, and the R7 Replay Cameras attached to both the goggles and markers of each player. The action started out with mixed teams of paintballers and drivers on the scenario concept field with "Attack and Defend Games."
Then, the Turner Motorsports drivers and staff would play against each other in 3-on-3 games on the air ball field, each with their own paintball coach. They played games where the drivers were the only ones with markers and the experienced paintball players ran around as targets, coaching their teammates along the way. Destiny's Kat Secor found herself in a tricky situation where she was in the snake without any assistance against LA Hitmen's Sonny Lopez & No. 31 Chevrolet Silverado Driver, James Buescher in the center 50 and LA Ironmen's Mike Paxson & No. 32 Duroline Brakes & Components Chevrolet Silverado, Miguel Paludo, in her mirror, sharing the snake just a couple of yards away. Secor goes for it, effortlessly crawling on all fours (remember, she doesn't have a marker), and managed to hand tag both Paludo and Paxson, who were both taken by surprise! Unfortunately for Secor, hand tagging didn't count as an elimination, so she respectfully pulled herself out of the game since Paludo was pointing a Tippmann Crossfire in her direction! Just a second later after all the commotion in the snake, SPEED TV's Ray Dunlap made a big move down the center of the field, taking out Lopez and Buescher, but managed to get shot by Paludo in the process. Paludo and Paxson were the last men standing, winning that particular game.
The final game of the day at Las Vegas Premier Paintball would be the girls of Destiny against the Turner Motorsports "boys" in a 2 on 6. Linh Truong, a new member of Destiny and also a member of LA Hitmen, teamed up with Kat Secor to face off against Team Turner Motorsports. Destiny took off for the opposing tapes and gradually made their push down the field, eliminating player after player. Even with a mad dash down the doritto tape by Miguel Paludo, it wasn't enough for them to eliminate either of the girls – Truong and Secor were the last women live at the end, eliminating all six on the other end.
You can see some of the action that took place at Las Vegas Premier Paintball on SPEED's NCWTS Setup prior to the race at Talladega Superspeedway on Saturday, October 6th at 3:30 p.m. EST. Greg Hastings Paintball 2 is available worldwide for PS3 on PSN and will soon be launching an iOS version. Congratulations to Nelson Piquet, Jr., for winning the NCWTS Race at Las Vegas!
YouTube Videos:
Greg Hastings and Kat Secor coaching teammates, Kat Secor in the snake.

Kat Secor and Linh Truong in a 2 on 6 against Team Turner Motorsports.