Mail-in promotion provides strong incentive to purchase three of the company's most popular markers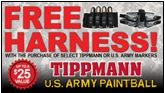 Fort Wayne, Ind. – Anyone who has been considering the purchase of a new paintball marker will want to act soon becauseTippmann is offering a great new incentive. The company will be providing a FREE harness to anyone who buys an eligible 98 Custom, A-5, or Alpha Black marker between October 1 and December 31, 2012. To participate, consumers simply need to visit a participating paintball retailer to purchase a marker, secure the receipt, and complete an online Rebate Form. The completed Rebate Form, receipt, and UPC from the marker's box are then sent to Tippmann and – within weeks – the harness will be delivered to qualified participants free-of-charge.
"This promotion allows us and paintball retailers to thank Tippmann fans and also give them a great incentive to purchase during the busy holiday season," said Ron Goldblatt, director of marketing for Tippmann Sports. "We'll be promoting this heavily through web banner ads, social media, and outreach to key industry influencers. So, we anticipate strong response."
Consumers who purchase the Tippmann 98 Custom or A-5 markers will receive a free NXe 4-pod harness, while those purchasing the Alpha Black will receive a 4+1 harness from U.S. Army Paintball. The retail value of each harness is approximately $25.
In addition to online exposure for the new program, Tippmann will also be providing participating retailers with counter cards and other in-store promotional items to help build awareness and generate excitement. For additional details, or to participate in the program, paintball retailers are encouraged to speak with their Tippmann account representative or call the company at 1-800-533-4831.
About Tippmann Sports:
As a paintball leader for more than 25 years, Tippmann Sports is dedicated to quality manufacturing as well as advancing paintball technology and design. The company serves the global paintball industry from its headquarters and manufacturing facility in Fort Wayne, Indiana as well as its warehouse near Tournai, Belgium. Tippmann Sports' complete line of paintball markers and related accessories can be found at paintball stores and fields as well as mass retail and sporting goods outlets throughout the world.