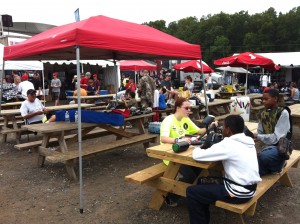 The second day of the NPPL's DC Challenge's 3-day event started off on time. The day would call for possible rain showers, which finally fell during the late afternoon, but thankfully stopped in time for the 3rd Annual East versus West All Star Game.
Obviously, the weekend would bring more foot traffic to Pev's Paintball Park. Pev's stayed opened for business, allowing walk-on players to get a first hand look at what national tournament paintball competition is like. The Park has five different fields available to its customers during this national event, including the The Town, The Fort, Rock/Boulder/Cave, Scrapyard, and Logyard. Once the event has concluded, the Park will reopen its three airball fields; two Turfed Airball fields and an Airball field atop grass.
Both local and touring paintball players also have the chance to play at the JT SplatMaster 100×50 enclosed netted compound (featuring a Target Range and Obstacle Course) for free this weekend. This concept was created so new players as young as 9 years old and up can easily cock, load, and shoot the specially designed JT SplatMaster (z100 Pistol and z200 Shotgun paintball markers). These spring action markers shoot .50 caliber sized paintballs and travel at half the speed of a usual .68 caliber paintball. Pro players like Thomas Taylor, Nicky Cuba, Travis Lemanski, and Rich Telford will be at the JT Splat Masters Experience to mentor up and coming players.
East Coast Wins!
The Preliminary Round ended just in time for the 3rd Annual All-Star Game, which began right at the scheduled 5 o'clock time. The West Side have won the first two All-Star games in the past, but it was undoubtedly the East who took the Win with a 5-0 final score. The Player's Party soon followed. The DC Challenge Charity Concert was held at the top of the hill at Pev's Paintball. Earlier in the day, that same hill was used as both parking and as a spectator spot. People got an aerial view of the venue and watched Pro and D1 prelim games from that area.
The Charity Concert aka Battle of the Bands brought in popular Virginia based bands like Daycare Swindlers, Brother Bill, and Gold Top County Ramblers. Entry fee was just $10, but free to participating NPPL players. Proceeds went to benefit Northern Virginia Spay Neuter Clinic.
D1 and Pro
This Sunday morning, only eight D1 and eight Pro teams are in the Quarter-Finals. The D1 teams will take to the Main Stage on Field 1 first, starting at 8am. The first D1 match up will be between Avalanche EVOLUTION and Giant Sports Factory followed by TradeMyGun and Mean Machine. At a scheduled time of 8:50am, the next set of D1 teams will compete, with TCP Machine (undefeated in the prelims) and Impact Echo facing off, followed by Texas Storm versus Camp Pendleton Raiders.
Then, the Pros will take to the Show Field after that. Starting at 9:40am, those Pro teams moving on are: Tampa Damage vs New England Avalanche, Infamous vs San Antonio X-Factor, XSV vs Vancouver Vendetta, Edmonton Impact vs Chicago Legend. Only D1 and Pro Teams will compete on Field 1.
Sunday Pro and D1 Schedule:
http://www.npplnetwork.com/documents/2012.DC.F1_SUN.pdf
D4, D3, D2 and Pump Teams will finish off the event on Field 2, located right next door to Main Field, closest to the Concession Stand and Walk-On Players Staging Area. Equipped with picnic tables, spectators can view Field 2 along the snake tape line only. The dorito side of the field is only available for competing players.
D4 7-man
Field 2 will start off with D4 7-man teams at 8am. The 8 D4 teams making it into the DC Challenge Elite Round are:
1. Farside Kids
2. Philadelphia Misfits
3. Devotion
4. CEPP DMG
5. P4 Posse
6. Miami Devious
7. West Coast Sharks
8. Machine
D3
D3 7-man teams will take to Field 2 at a scheduled time of 9:24am. D3 Teams making it in are:
1. Sacramento Royals
2. DC Onslaught
3. Justice
4. EFFECT
5. Damage Inc
6. Syndicate
7. Farside
8. Avalanche D3
D4 5-man
Before the D2 Final 4 takes place, D4 5-man semi-finals match up will commence between the Colorado AllStars (2) and Dirty Kids (3) at 11:02am. The winner of this match will move on to the finals Against the University of Missouri (1) at around 2pm. During the prelims, only 5 teams competed in D4 5-man.
D2
Only 5 teams competed in D2 during the preliminary round. D2 Semi-Finals will begin at around 11:23am, with High Octane (1) vs Camp Pendleton Raiders (4) followed by Hawaiian Heat (2) vs Palm Beach Vipers (3).
Pump
Congratulations to West Coast Sharks 2, the DC Challenge Pump Team Champs. The pump division competed on Field 3, a grass field located across from Field 1. West Coast Sharks 2 beat out two other pump teams that entered the event.
Twitter – http://twitter.com/npplcom

TwitCast – http://twitcasting.tv/npplcom
Live Scores will be posted throughout the Final day at https://www.facebook.com/NPPLFANPAGE and via their Twitter page at http://twitter.com/npplcom.
Schedule & Previous Scores
http://www.npplnetwork.com/2012DCChallengeSchedulesScores.htm