The National Professional Paintball League brings the 3rd of 4 national events to Pev's Paintball Park in an unincorporated village known as Aldie, located between Gilbert's Corner and Middleburg in Loudoun County, Virginia. The closest major airport to Pev's is Dulles International Airport, located just about 12 miles away and Washington DC is around 40 miles away.
Teams
Approximately 70 teams were registered to play this event near DC, however, a couple of teams caused a slight delay to the schedule and didn't show up to play. There are 13 pro teams in the 7-man Race to 5 Format, with 14 Division 1 teams in the 7-man Race to 4. Just 5 teams are competing in D2, 16 in D3, 19 teams (14 7-man and 5 5-man), and a Pump Division with just 3 teams competing. Games commenced yesterday morning (Friday) at 8 AM on two turfed fields. There's a total of three fields at the DC Challenge: a main field where only Pro and D1 teams will compete during the prelims, with Field 2 hosting divisional team competitions, and D4 and Pump on Field 3 (non-turf).
Pev's Paintball Park & Pro East vs West All-Star Game
This marks the 3rd year that the NPPL makes a return to Pev's Paintball Park and is also the host of the 3rd Annual Pro East versus West All-Star Game. The All-Star Game will take place at 5PM today (Saturday, Aug 25th) followed by the Player's Party and a Battle of the Bands, a Benefit Music Event raising awareness and funds for the Northern Virginia Spay Neuter Clinic. The Battle of the Bands and Player's Party is free for NPPL Players participating at the DC Challenge and just $10 entry for those non-paintball event participants. Captaining the East Coast Team will be Damian Ryan and Tim Montressor and for the West Coast, Captains are Ryan Greenspan and Rich Telford.
Ed Poorman's Return to Paintball
For those paintball historians, the name "Ed Poorman" is most famous for what he did for the paintball scene with Professional Team Avalanche, rostering rock star players like Chris Lasoya and Rocky Cagnoni. Since the days of playing at the professional level for Poorman, he had since left the scene for a bit. Then, a couple years ago, he was diagnosed with liver disease and told he would only have a few years to live. Poorman has a 25-year old son, Alex, who didn't want to give up hope and gave up part of his own liver, giving his father, a whole new outlook in life. Poorman is now the NPPL's Team & Sponsor Liason and has much to offer. If you're at the DC Challenge event, Poorman wants to talk to the players and find out their input on what they would like to see from the NPPL.
NPPL Sponsors
The venue at Pev's Paintball (NPPL Sponsor) is a smaller location, however the benefit of having an event such as this is what it can do for the local economy. It also means customers of Pev's Paintball Park can get a good look at professional paintball at its best, encouraging up and coming players to have the hopes and dreams of becoming a national tournament player. Other sponsors like Valken, NXe, Custom Products, Ninja, JT Splat Masters, Understood, Raza, PB Machine, Virtue, and HK Army have set up shop in the vendor area.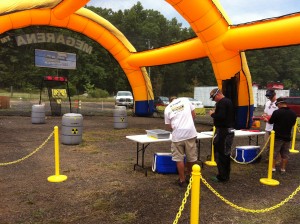 JT SplatMaster
JT SplatMaster have an enclosed inflatable target-shooting range where pro players like Infamous' Travis Lemanski can be seen demonstrating the JT SplatMaster Experience. Lemanski shared with the NPPL, "JT SplatMaster is a HUGE deal as far as Infamous is concerned. This is a revolutionary step for the paintball industry. We see JT SplatMaster as the gateway for new & younger players to our sport. The markers are super affordable, they don't hurt, don't require any type of air fills and MOST OF ALL THEY ARE FUN. We can't put them down! The introduction of JT SplatMaster should create an entire new wave of .68 caliber paintball players. The fun of the JT SplatMaster .50 caliber spring loaded guns will naturally leave the players looking for the bigger and better option out there in the paintball world. These kids will have a great JT SplatMaster experience and graduate into traditional .68 caliber paintball. This grows the paintball pie and helps the entire industry."
Pro Division
After games concluded right before sunset yesterday, Tampa Damage, X-Factor, XSV and Legend won both their matches. Impact, Arsenal, Critical, Infamous, Explicit – all went 1-1. Uprising, Vendetta, Avalancge and Dynasty lost both their matches. Oliver Lang didn't attend the DC Challenge, and Mike Hinman isn't coaching Dynasty any longer. Yosh Rau is playing with a broken hand.
Twitcasting and Facebook
To keep abreast of all the happenings at the DC Challenge event, the NPPL has turned to social media like Twitter, TwitCasting.TV, and Facebook. Earlier this morning, the NPPL posted this, "We want to thank everyone for being patient with us as we are rebuilding the NPPL. Reminder that the NPPL still being rebuilt after change of ownership. This is your league and not funded by LARGE CORPORATIONS. We are funded by the player and the industry sponsors. We will have a Webcast in Las Vegas for the World Paintball Championships in Oct 5-7th. Meanwhile for the DC Challenge we are doing the best with what resources we have. You can watch videos of the games from field one at the following link: twitcasting.tv/npplcom."
Live Scores will be posted throughout each day on Facebook and via their Twitter page.
Facebook – https://www.facebook.com/NPPLFANPAGE
Twitter – http://twitter.com/npplcom
TwitCast – http://twitcasting.tv/npplcom
Schedule & Previous Scores
http://www.npplnetwork.com/2012DCChallengeSchedulesScores.htm
All-Star Game Roster
Find out who's playing during the Pro East vs. West All-Star Game – http://www.nppl.com/news/346