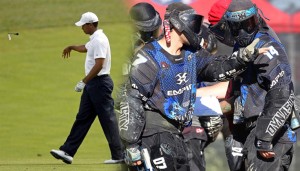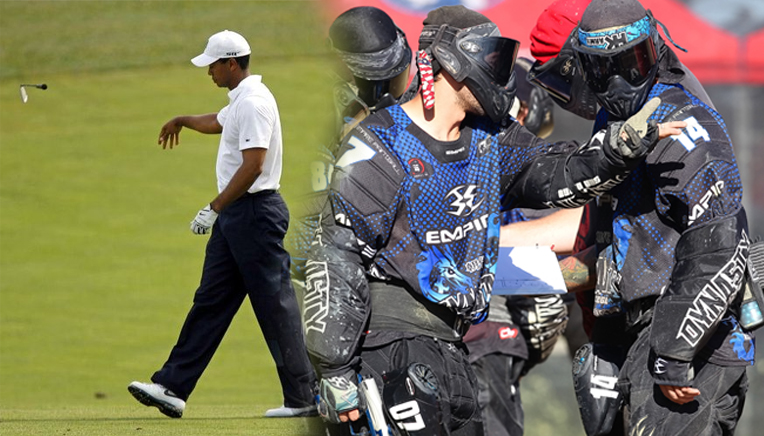 Outside of going to the 2008 Masters (if you claim to be a sports fan, or have an affinity for landscaping, you should at least make an attempt to visit Augusta National. It's a very Fenway-esque experience) I have never played golf — outside of recreational put-put — and do not claim to be a fan of the sport. The most I keep up with the game is through The Mother Ship's (pronounced as ESPN) Top 10 Plays and what recent drama is unfolding in the life of Tiger Woods. I am not sure that I could sit through a whole tournament on the television; it's too slow, sort of like the MAO webcast, however it struck me a few days ago when watching the tournament recap how similar our two sports are. We both play in a tournament format, the costs involved can be rather staggering, both sports fight to be seen as a true sporting event, both a golfer and paintball team pretty much need to be perfect in an event to take home first place, and we both have our version of the prodigiously talented, extremely accomplished, under-performing, former wunderkind(s). They call him Tiger Woods, we call them San Diego Dynasty. Which got me thinking…
This season we've seen Dynasty fall to a level of mediocrity that I don't ever remember coming from the team. In the PSP they have placed third, eighth, sixth and seventh which puts them right at seventh place over all. In the NPPL – which they have had a virtual lock on from the 2003 season – they have fallen to a dismal sixth over all place by placing third and ninth. You read it; ninth place in the league that Dynasty basically called their whipping boy for years. Unfortunately I cannot tell you how many times they have fallen past that in NPPL play because the NPPL has no public records upon which to view the historical standings. However, I think I have accurately illustrated how dismal this is for the Boys in Blue. It's important to keep in mind that this is not the first time that we have seen Dynasty struggle. In the 2010 season when we watched them place fifth, ninth, seventh, fifth in the individual tournaments. But, after that lack luster season we saw a monstrous 2011: first, second, second, third. How much more consistent can you be? Coming into the 2012 season Dynasty looked poised to repeat their efforts from last year and all of us in the media/spectator group was anxious to see how the team would gel with their new additions and watch how Oliver Lang (#17, Front; 35 PBA rank) would continue to assimilate back into the Dynasty camp.
And in all this, while watching golf highlights, it hit me that San Diego Dynasty is having the exact same problems that Tiger Woods is currently facing. These two entities dominated their sports (almost in congruent time lines; which makes the parallel even more eerie) for years, but have recently fallen flat. In my opinion, it's a coaching and mental issue. Nobody should doubt the talent level on Dynasty — any one of their starting five, and even those in their reserves, could find a starting spot on any other team in the league — nor should anyone doubt the talent of Tiger Woods. He's won fourteen majors. Incredible. But I am not convinced that coach Mike Hinman has total command of the teams focus, or that the team is focused on the right things. To say that Dynasty is not focused on winning would be naive, and to say that they have finally reached a point where they have won everything and could care less is more of an excuse than a diagnosis of what is wrong with them. I believe that the team is not focusing on their play.
In an interview after a disappointing third round of golf at the Kiawah Island tournament where Tiger fell to -2 under par (tied for 6th and thus missing the cut), Woods had this to say about his performance: "I was right there, and I was telling Peter over there, that I came out with probably the wrong attitude yesterday," Woods said. "And I was too relaxed, and tried to enjoy it, and that's not how I play. I play intense and full systems go. That cost me." The columnist wrote earlier in the article that "…we've heard him talk around his swing issues and tell the media his swing is a "process" and he's "close to putting it together." Those words right there, friends, are what we like to call "Tigerisms," and Woods usually puts them in play when he doesn't want to show his hand".
Have you seen or heard any interviews with San Diego this season? If so, you'll recognize the torment in their words and quickly come to the realization that it all sounds very similar to these so called "Tigerisms". My favorite "Dyanstyism" — and for that matter "paintballism" — is the proverb: "We've just got to play our game; play smarter, more aggressive paintball and it will all work out." I am convinced that is the most cliched combination of words ever to grace the game of paintball, but that's another article for another time. The point is, I'm convinced that Dynasty is focusing on the wrong thing and the evidence is in their play. It's been slow, and uninspired which is not the Dynasty way. Dynasty made a name for themselves by tearing up the field with dynamic elusiveness and overwhelming speed; but where has that been this season? Where are the jaw dropping points and plays that make you look in awe of how well this group of players play the game? Why is this team, which has forced other teams to adjust to their play since the beginning, allowed their opponents to dictate the speed of which the game is played and force Dynasty to make the adjustments? Although hearing Matty Marshall get emotionally upset when Dynasty is not playing well may come across as a bit "homer-ish", I completely share in his frustration. Especially considering that there is no real talent, or physical reason why this group of players are struggling as a team.
One last thing: honestly, just as golf is better off when Tiger Woods is playing well, paintball is better off when Dynasty is in the hunt. Hopefully the boys can get back into form, and quick.
(I'm sure there are a few good sports psychologists in the San Diego area.)
Source: http://sports.yahoo.com/blogs/golf-devil-ball-golf/video-tiger-woods-admits-saturday-approach-pga-championship-024511152–golf.html
Photo: PaintballPhotography.com