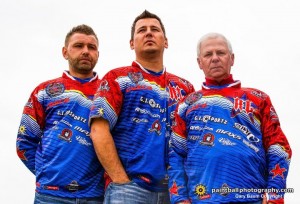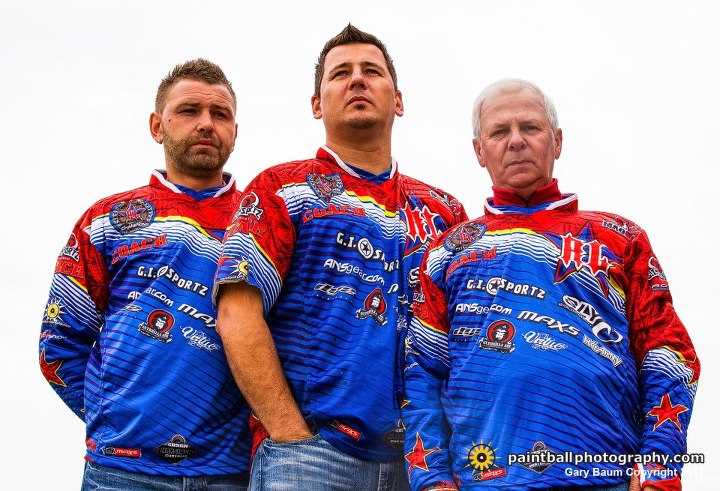 There are times in your life where you wake up and wonder how you got so lucky to be where you are.  The morning I woke up and heard from Maxim Preobrazhenskiy, Head Coach of Russian Legion, was definitely one of those mornings.  I have been wanting to interview Maxim for quite some time but I wanted to be able to interview him in Russian.  I have not been studying the Russian language long enough to be fluent in it.  Thankfully Maxim's English is far better than my Russian so this interview was possible.  I assure you, Social Paintball fans, I will continue to work diligently to improve my language skills so we may get you more interviews and better coverage as time goes by.  That being said, here's what I consider to be the most incredible opportunity I've ever had to learn more about the history of Russian Legion and what the future may hold.
Marjee: Hello Maxim.  It is an honor being able to interview you, my most favorite paintball player and coach of all time.  Please tell me about when you played for Russian Legion and how it all began.
Maxim:  Hey, it all began in 1996, along with 99% of all of us who play paintball.  Sergei Leontiev gathered his friends and colleagues and we played on the weekends in the woods.  The time came when Sergei, and people who shared his passion for the game, felt like it was not enough so we decided to form a sports team.  We played in camouflage, and even while playing on the Air-ball field, we did not play without it.  I managed to convince Sergei, who was the captain and the owner of the team, that we had to go another way.  Hiding, with the help of camouflage, in the open field did not make sense.  We formed a sports team, bright with stars.  Our formation of the team caused a lot of ridicule in the country, but that would take more time to explain everything.  This probably determined the future path of development teams.  By that time, we had formed the backbone of the team.  There were a lot of people who joined and left the team.  This is normal for any team.  Legion has been involved in international tournaments since 1998, previously winning everything in our country.  I played until 2006 for the team as a player who performed in all roles.  I played positions of attacking the flank of the low (the snake), on the high flank (Dorito), and shutters (back center).  I ended playing for the team as a back center player.  The peak career was in the days when my team, winning Europe, went to play in the United States.  We have long played in the U.S., the tension in the inland team grew, we suffered no luck in the finals, and things were not good as we could not win.  Many could not stand it and left.  But, in their place came the young and hungry players, much like our presently playing players Axel and Jason.  At that time, one of these players was Alexander Berdnikov.  The highest point occurred in 2006. That year we were strong and won almost everything against everyone.  I, to my regret, tore the meniscus in my knee a month before the World Cup 2006.  Thanks to what we had in the team appeared Dave Bains.  Thus, Sergey decided to err on the case, if I could not recover.  My personal motivation was high, my whole sports career was on the line because, leading up to this championship, I had played competitive paintball for 10 years.  After the operation, I started, with zeal, my knee's rehabilitation and after 18 days I was involved in the fight for World Cup 2006.  So, all those who suffered, and went ahead, got what they wanted most.  We won the series NXL and World Cup 2006!  After that, I took it upon myself to decide to end my playing career.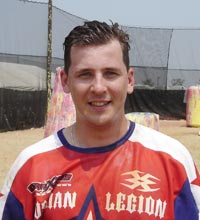 Marjee: What happened after that and how did you become head coach of the team?
Maxim: 2007 for the team was not as good as 2006.  Sergei did not have time to manage the training process and had the idea that a team must have a real head coach.  The head coach would be responsible for everything that is done within the team.  Of all the candidates, he chose me, and in 2008, I started to my coaching career.
Marjee: Coaching has got to be very difficult.  With all of the responsibilities, schedules, organization, and many other duties, did you find it challenging?
Maxim: Very.  First, there is the big change in the relationship, with both players and coaches of the team.  Secondly, I knew the work of head coach is not, as now.  And it's really complicated my work.  As a consequence, the team did not play very well in 2008.  I brought to the team several innovations.  Players have the right to play on loan for other teams to gain extra tournament experience.  This could have a positive impact on results in the future.  And, in consequence, this gave us the ending win in 2009 with a new league record.  Also in 2010, when had a confidence and were triumphant.
Marjee: Who determines how you select your players and how do you select them?  I've noticed that sometimes there are players in the Legion that the American teams didn't even look at and you have turned these guys into stars.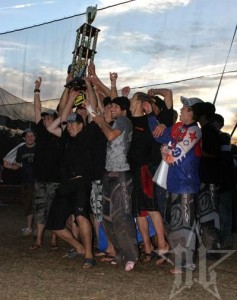 Maxim: Earlier on, Sergei made the entire selection.  He knew every player in the league, and even arranged clinics and tryouts where he would choose the players.  Then, when he actually put everything in my hands, this responsibility passed on to me.  Justin Rabakoff was selected for the tryouts by me as a player with the second division.  And so, as I have the opportunity to participate in European tournaments, I was watching all of the playing, and thus we had Axel Gaudin (France) and Jason Wheeler (England).  Today, I answer for everything except for organizational matters, which are dealt with by our director Alexander Tarando.  If you want to win, then during the change of generations of players, you must also learn to manage.  Thus, as the situation is always different, such as the player may have lost the motivation to play for our team for various different reasons; the trauma, the greater wages competitors use to entice the players to part ways, and so on.  All of this must be anticipated and you must have a clear vision of what awaits you tomorrow.  But the principles are always the same for the team, "Whoever wants the moment more, he takes the field."  And all the talk that it is not simply false due to the fact that it is not always possible for the player to be in their best form.  Therefore, I do not give players a chance to show bad paintball performance by not letting them on the field.  As for becoming a star, it will always contribute to the internal processes of the team.  This can be positive or negative.  As an example, Dynasty in 2012.  Everyone said that this team is a favorite.  In the roster, there are solid stars but we need to know what's going on inside the team and that would say why they did not win.  We are so on the turn.  Although we did not win, until the new lineup, but showed a good game that was contrary to predictions.
Marjee: Maxim, what's your assessment of the current state of the team in the PSP?
Maxim: See the ratings table!  There is a pronounced favorite.  Teams are going smoothly.  All of this suggests that the off-season has seen a dramatic change in how the league is positioned and within teams.  We have replaced half of our roster, "Heat" was increased to a weak half, "Dynasty" – it is not clear about them.  Here, as I said before, the problem must be sought within the team.  "Damage" was a new player, but lost more than that.  Their game, especially in Europe, leaves much to be desired.  "Infamous", as always, is so-so.  A relative newcomers league was added.  In general, everyone has a chance.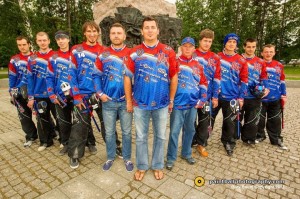 Marjee: What changes in the PSP do you not like?
Maxim: The fact that they increased the field, which was not appreciated by the owners of paintball fields that had to rebuild everything.  I do not like the fall in the level of refereeing but it's not only PSP, it's the European series of Millennium as well.  We had a situation with only one goal games.  Teams arrive, pay the money, and cannot even ask about what they did to get withdrawn from the field.  Judges should help the game and not spoil it.  In situations where a player gets defeated in the subcategory of the tube, he is given a one or a yellow flag!  Is this true?  What is the work of judges?  And if they understand that the findings of two players from one flank, they demolish the team's play.  Such situations lead to the rise of negativity that develops into a brawl between players and referees.  And in regards to the conceptual reconfiguration of the field on the PSP, I think that this is not the best.  So, points are prolonged.  Teams sit.  It's missing the action, for which we have always loved X-Ball.
Marjee:  What's with your European projects?
Maxim: All good so far.  We won in 2 out of 3 cases.  Such a brilliant start was not even had with "Art-Chaos".
Marjee: What's Next?  What are your plans?
Maxim: I want to sell Americans on the idea that they need to train rather than sit their pants in front of computer.  Olympics are just around the corner.
Marjee: How are you going to accomplish this?
Maxim: I might have to change my whole life and even to move this to the U.S.
Marjee: Wait!  Don't you understand? What about Moscow Red Legion?
Maxim: So far, things are not clear.  In the U.S., there have been no offers yet, but I hope so.  A legion might be developed, and we will remain partners.  Change is inevitable.  The next season will show where I'll be and with whom.  In the meantime, I need World Cup 2012.
All photos provided courtesy of Maxim Preobrahzhenskiy and PaintballPhotography.com.