The number one ranked team in Division One of the PSP — the division below Professional — entering the upcoming Mid Atlantic Open is T1 Topgun Union out of Jackson, New Jersey. In the past seven PSP events they have five top-four finishes. The two events they missed the top four, they placed fifth. That kind of consistency is hard to come by, especially in the divisional ranks where rosters are fluid and funding is flaky. Despite consistently reaching the top four, T1 has shockingly never won a Division One tournament. The conversation concerning the top Division One team usually focuses on the question, "Are they ready to take the plunge?" In the past three years Omaha Vicious, Chattanooga C.E.P. and upTon 187 cRew have gone pro with varied results—Vicious stumbled at first but has found their stride making their first Sunday at World Cup last year; C.E.P. appears to have made little to no progress midway through year two; 187 has been surprisingly competitive in their rookie season. When it comes to T1 though, the conversation seems to sound like, "Topgun sucks," or "Money cannot buy wins" or "Topgun chokes again," so the real question is, why all the hate?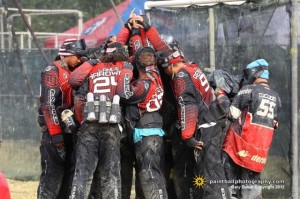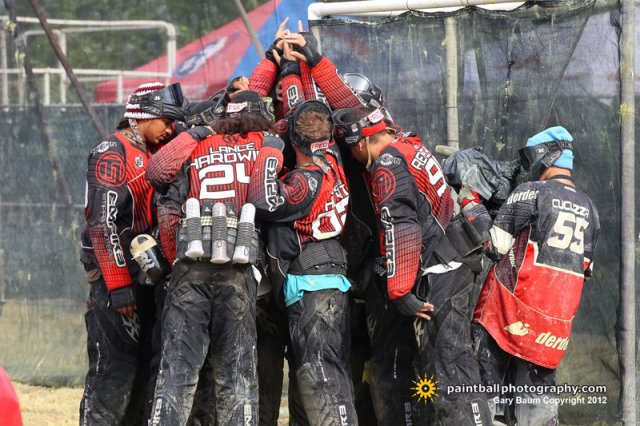 The reason for the animosity is hard to explain. The main explanation is the belief that T1 pays former professional players to play for their team thereby making them a consistent contender. In the past two years Ryan Martin (former Dynasty, now Ironmen, #12, Mid, ranked 23 in paintball access player rankings), Steven Lasher (former Infamous), Michael Mesa (Dynasty, #11, Front; 125 PBA rank), Hamen Chapman (former Russian Legion), and Gino Benedicto (former Raiders, Infamous, Vicious) have all played events for T1. Some insist that Jim Renschler, who manages Topgun's facility in Jackson, New Jersey, and son Matt compensate these players in hopes to build a winning team. On top of these former pros, Lance Hardwick and Jermisen Ezell have played the last seven events for T1 despite being located in California.
T1 does not do anything wrong, by having former pros and out-of-towners play for them: their roster has always been within the PSP's rules. What seems to bother the "haters" is that T1 goes against the grain of how a paintball team should be formed. Players absolutely love to throw around the terms "family" and "brotherhood" when describing their teams. The idealized paintball team is made up of friends who grew up playing at the same local field, continued to grow as players and friends, and eventually end up, in the best case scenario, like Dynasty. T1 on the other hand is compromised of players from all over the country, do not regularly practice together, and some believe, are glued together by money.
T1 is hardly the only team in Division One with former pro players on their roster. Tampa Bay Notorious has former Damage players Brandon Rittinghouse and Mike Carthy rostered for the upcoming event. New England Avalanche has Frank Connell, formerly of the Philadelphia All-Americans, as well as Benny Carroll, Keith Devitt, Matt Darula, and Gibby Quick who all play professionally in the NPPL (and therefore are not ranked Pro in the PSP because of different ranking systems). RNT All-Starz has XSV star Thomas Taylor and Impact stand out Ryan Moorehead on their roster. There are plenty of professional level players playing in Division One, but the main difference between these teams and T1 seems to be that T1 has cycled through so many different pros at various times who seem to have no connection to T1. The aforementioned Carthy and Rittinghouse are Tampa Bay based so Notorious makes sense as a landing place, the Avalanche guys are playing together in a different league, and it seems like everyone just really loves playing with RNT Captain Jerry Desvarieux — anyone who has ever met Jerry can understand why.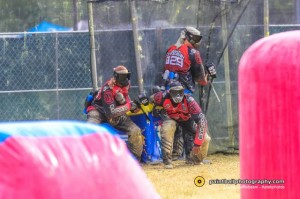 It has been suggested that T1's "hired guns" have kept them from being able to win their first event together—because the team is not a "family" they have never been able to get over the hump. Current player Alfred De Los Santos sees it differently, "I just believe it is a lack of preparation before events." Alfred understood why some think flying in players is a bad idea, but said on T1 it is been nothing but a positive experience for him thus far. He has learned from the extensive experience of Chapman and Lasher, been comfortable in the team environment he describes as low-key yet focused, and feels that the team has the skill, organization, chemistry and teamwork necessary to win an event. According to Alfred the out-of-towners are "a part of the team regardless of their location and when they come to practice or the event it feels as if they had never left."
In talking to Alfred it does not seem like T1 is a team comprised of prima donna paid superstars and lower-skilled submissive players riding on their coattails. Rather, T1 seems like any other paintball team in its culture, but highly atypical in the varied location of its players. The issue of flying players in got me thinking about my own playing experience. The hate directed at T1 seems less based on the fact that the players come from California, and more on the belief that those players' plane tickets are getting paid for. Whether it is true or not, I am not sure if I have ever played on a national level team where someone did not have their plane ticket paid for. The issue was never enticing a hired gun to play for the team, it is just a fact of paintball that the sport is expensive and not ever key player on every team will have the resources to fly to multiple tournaments annually. The "laid-back environment" that Alfred described therefore seems conducive with putting together a team with players from around the country and, for a former pro player without a team, an ideal place to land.
T1 is hardly the first team to have seemingly unwarranted hate directed at them. Long Island Fight Team (LIFT) has been the subject of relentless criticism over the past few seasons—if you stayed up to date on paintball hate you may believe that LIFT stood for Losers In Five Tournaments. Alfred also played on LIFT, and as a former member of the New England Hurricanes I practiced against LIFT frequently over the past three years. The first time we practiced LIFT, based on what I had read on the Internet, I was expecting a bunch of loud assholes from New York who played dirty and loved to fight. If you have met John Christ or any other LIFT players, you quickly learn that this is astronomically far from the truth. Although no paintball scrimmage goes on without some fireworks, our practices with LIFT were always productive, professional, and personable.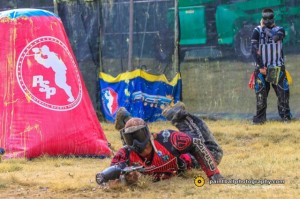 So is the hype and hate all smoke-and-mirrors? It has been suggested that some if not all of the hate on the message boards is done by one person trying to stir the pot or hype their own team, or even motivate their teammates. It could just be a regional thing as well. T1, LIFT, Jesters, and the Hurricanes all received disproportionate hate over the past few years, and they all happen to be located in the Northeast. Maybe the presence of Divisional farm teams under a single organization could lead to some more trash talk? T1, LIFT, Jesters and the old Palm Beach Vipers teams all seemed to have polarizing effects on the paintball community and all had feeder teams playing in lower ranks. Perhaps it was the players on the Division 3 Topgun, LIFT, Jesters, and Vipers teams who offered up the passionate dissidence against the divisional rival of their mentor teams. There are many explanations for the hate, but I think Alfred said it best in saying simply, "Haters gonna hate."
You can watch a replay of the PSP Chicago Division 1 Finals at www.paintballaccess.com/video-on-demand.