[pullquote_right]TEAM: Together Each other Achieves More.[/pullquote_right]Well, it's the middle of the season. Some would say they are surprised, but we are not. We knew we would be contending for first place eventually, it was just a matter of how quickly we could come together. From the very first practice I knew this was a winning team. Seeing the hard work this organization puts in, there was no doubt in my mind that we would be playing for the gold medal this year.
The Russian Legion organization has forever been known as a prestigious club and I now have seen first-hand why this team has been at the top level for so long. The coaches know how to turn any player into a star and the team is made to make others around you look good. With us, it is all about the team: doing the job that is necessary to help the TEAM succeed. Individual play is frowned upon and we strive to help each other and do what we can to make the guy next to you better. Whether it be hold a lane, get into a spot to draw attention, or wipe off hits [from a previous game], fill paint, and get your player ready for the next point. I wouldn't be playing at the level I am if it weren't for the team. They do things that allow me to make moves and get kills, and vice versa. That's how we operate and that's what we are taught.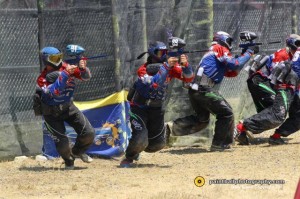 TEAM: Together Each other Achieves More. We have had two very good tournaments this season unfortunately falling just short of first place. We accomplished one of our first goals, that is coming together and realizing we have what it takes to beat any of these teams out there. It is just up to us to stay focused and do our jobs. Our next goal is to win with each other, we really need to get over that next hump. Once we learn to win with each other I feel we can be very powerful for a long time. We just have to stick together and keep growing as one. I am still learning how the players on this team play and we are all still getting used to each other. I'm pretty sure I have shot out my own player in the back multiple times this season which is VERY unlike me. I am still learning the teams body language and figuring out when they want to make moves. In paintball, the longer you play with someone the more you can communicate just by body language. I will know the situation and understand which players will want to do what and can act upon it instantly. That's with any sport though, knowing your team and what they want to do without any words is a key to success. We will get there.
This team is being built for the long run. Sure, we all want to win now and we truly believe we can but we also see the big picture. As long as we take it one step at a time we eventually will climb up the podium ladder in the first place spot. I'm very happy to be apart of the Moscow Red Legion. It is an honor to play with these guys and be taught by some of the best staff this sport has ever seen. I know for the Mid-Atlantic Open we will be even better than before. Our goal is to not make the same mistakes twice and to always be improving. If we can do that and continue to believe in each other then I feel we will put ourselves in position to fight for first again. I know when I look around in the huddle, I am confident in every single player. I know together we can beat anyone because of the hard work and dedication that we all have. Like I said before, it's all about staying focused and trying to accomplish the main goal, only by accomplishing the little goals first, one by one.