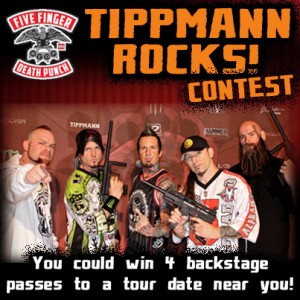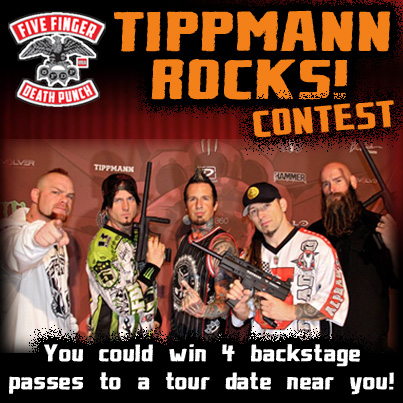 New Facebook contest to award free VIP tickets to popular concerts across the country
Buffalo Grove, Ill. – As part of Tippmann's ongoing effort to help grow paintball by tapping into new markets, the company is partnering on a Facebook promotion with Five Finger Death Punch (5FDP) and other popular bands including Killswitch Engage, Trivium, and Pop Evil, which are currently touring the nation as part of the Metal Hammer presented Trespass America Festival Tour. Weekly winners in the Tippmann Rocks! promotion will receive VIP passes to see 5FDP – the Los Angeles-based heavy metal band with nearly two million Facebook fans – and other Trespass America participants. To drive interest in the new promotion, Tippmann is encouraging paintball dealers and teams to help spread the word. Plus, eligible participants in the U.S. and Canada who post about the promotion on their personal Facebook page will increase their chances to win. Enter today at: http://bit.ly/TippmannRocksContest.
"We've seen tremendous initial response to this program because we're linked into the social channels for these popular bands and we're reaching millions of new people across the country," said Ron Goldblatt, director of marketing for Tippmann Sports. "This promotion has been a great way to reach beyond a traditional paintball audience. And, it's been a lot of fun because Five Finger Death Punch are big fans of paintball and Tippmann."
To learn more and view complete contest rules and regulations, simply visit Tippmann on Facebook at www.facebook.com/tippmann, or click directly into the contest entry page here: http://bit.ly/TippmannRocksContest. More details about the Trespass America Festival Tour can be viewed online here: http://trespassamerica.com/. Of course, complete information about Tippmann Sports and the company's line of paintball markers and related products can always be viewed at www.tippmann.com.
-more-
About Tippmann Sports:
As a paintball leader for more than 25 years, Tippmann Sports is dedicated to quality manufacturing as well as advancing paintball technology and design. The company serves the global paintball industry from its headquarters and manufacturing facility in Fort Wayne, Indiana as well as its warehouse near Tournai, Belgium. Tippmann Sports' complete line of paintball markers and related accessories can be found at paintball stores and fields as well as mass retail and sporting goods outlets throughout the world.