With 60% of the season complete, and only two PSP tournaments left in the year, we've witnessed paintball played at the highest competitive level to date. Teams have honed in on their strengths and weaknesses and star players have emerged from the depths of dozens of highly skilled peers. After witnessing disappointment and amazement from unexpected players and teams, we have composed part one of our mid-season analysis.
Moscow Red Legion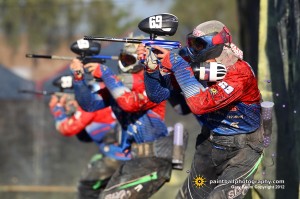 A team that most deemed down-and-out for the 2012 season, Moscow Red Legion has silenced all of the critics – placing 2nd in the Phoenix Open and Chicago PSP Open. Their sub-par performance in Galveston, taking 7th place, can be forgiven considering the fact that it was their first tournament together after losing several key players: Justin Rabackoff, Konstantin Fedorov, Mikhail Knyazev and Sergey Solnyshkov. Upon losing nearly half of their roster, a majority of onlookers (including myself) completely doubted whether Moscow Red Legion would be able to field a competitive team for the 2012 season. Moscow has received quality production from several of their key players including: Marcello Margott, Alexander Berdnikov, Axel Gaudin, and Kirill Prikhidni. All of which have had big games all season. Needless to say, Red Legion's coaching staff as well as their players, have stepped up and shown that they can put together a winning team despite the turmoil they've had to face. In order for Red Legion to win an event this year, they will need the players we've mentioned above, to perform to a higher degree in clutch situations.
San Diego Dynasty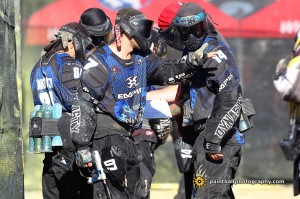 The issue that's plagued Dynasty is not that their performance is getting worse, but that the competition within the PSP Professional division has increased exponentially since last season. Last year, Oliver Lang said "The scary thing is that we'll only get better", after Dynasty smashed teams at the beginning of the 2011 season, taking four straight first place finishes. Well, if Dynasty has improved since then, other teams have been working twice as hard to make sure they're ready to compete against the best teams in the league. Dynasty has received a slightly decent amount of production from their more talented younger players: Alex Goldman and Dalton Vanderbyl, but these two players need to step up and dictate the pace of the game against their opponents if Dynasty wishes to attain a spot on the podium during the remainder of the season. Alex Fraige and Ryan Greenspan have been carrying the team on their backs all season long, but Goldman and Vanderbyl are in a position to lighten the load for both of them.
Upton 187 Crew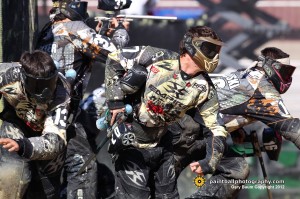 Earning your first win as a professional rookie team could take numerous matches and several tournaments, as we've seen previously with Omaha Vicious struggling their first and second year as Professionals. Upton 187 Crew has raised several eyes and earned plenty of fans showing that they have what it takes to win matches at the professional level, beating several teams, including: L.A. Ironmen, Omaha Vicious and San Antonio X-Factor. Players such as Max Traylor, Greg Lizotte and Daniel Zaleski have had several game breaking points, performing at a level that no one expected of them their first Professional year. Although 187 Crew continues to go 1-3 overall in the prelims every tournament, a majority of their games have been very close and competitive. If 187 Crew wishes to break their continuous 1-3 overall record, they need to focus on keeping their composure when winning matches and keeping their star players alive long enough to do damage. We've seen 187 crew lose concentration a few times this season, once against Moscow Red Legion in Galveston and again against the Ironmen in Chicago. Winning those crucial points comes with experience and having the mental ability to analyze what needs to be done mid-game. Upton is adjusting to the learning curve quicker than most teams, so we wouldn't be surprised if they honed that ability soon. Does 187 Crew have what it takes to make it into the finals before the season's over? We definitely think so.
Jon Woodley, Ronnie Dizon, and Ryan Smith of Houston Heat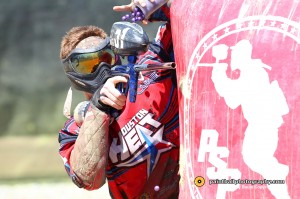 When you surround good players, with great players, those "good" players have no choice but to elevate their skill level to match that of their peers. That's exactly what these three rookies have done in the process of being on a team with some of the best players in the league. The performance we've seen from the Midwest trio: Jon, Ronnie, and Ryan, has been nothing short of amazing this year. The three friends that won a Division 2 World Championship just last year with their previous divisional team – Distortion, has shown that they have what it takes to play against some of the best teams in the world.
Jon Woodley has demonstrated that he can play every position on the field with as much intensity as players that have been in the league for years. Not only is his in-game I.Q. off the charts, allowing him to foresee openings and make smart decisions on the field, he also possesses a confident swagger each time he takes the field that demands respect. His coast-to-coast run, demolishing Chicago Aftershock was definitely one of the highlights of the year. So far, Woodley continues to prove to the world, he is a force to be reckoned with.
Ryan Smith, one of the more quiet players out of the group, has also shown that he can play multiple positions on the field with enough expertise to win games. Ryan is good at inserting into key spots on the field when his team has lost bodies and holding it down, as well as aggressively pushing up field when needed. We've seen some nice performances from Ryan, but we believe this kid has a ton of potential and will show us more of that late in the season.
Ronnie Dizon has also displayed performances whereas he's dictated the pace of the game against his opponents, moving up the field aggressively and shooting multiple bodies per match. Though, Ronnie has shown that he can be a worthy snake player, his true potential is unleashed on the dorito side of the field, where he's made a name for himself in the divisional ranks over the years. Currently, Houston Heat's coaching staff feels that Ronnie should run most of his points on the snake side of the field. This isn't a bad decision, given the fact that the Heat are deep in talent on the dorito side, but Ronnie has a natural killer instinct on the dorito side of the field; and we believe his true potential rests there.
Their first year as Professionals, these three have already collected two trophies, placing 2nd in the Galveston Open and 1st in the Phoenix Open. The sky is the limit for these three young rookies.
Axel Gaudin – Russian Legion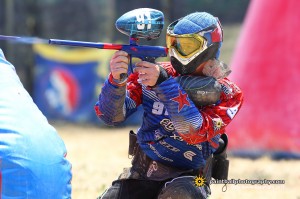 One of the more underrated players at the beginning of the season – Axel has made a strong statement his rookie year with Moscow Red Legion; proving that he can be a dominant force on the snake side of the field. Although this is his first year playing a full season in the PSP Professional division, this is not his first year playing the sport at the professional level. At 19 years of age, Axel has been playing at the professional level since the age of 15, competing in the French Millennium series – winning four championships with the Tigres and the TonTons. Needless to say, the kid's got skills. Not only does he play with a hyper aggressive mentality that allows him to blow games wide open, he plays mentally calm and collected at all times, constantly making highly intelligent decisions on the field. One of the main improvements we would like to see from Axel is an increase in field awareness. There have been several times when Axel has kept his head down when running on the field, not allowing him to see things he would've noticed with his head up. We believe this small improvement could help boost his skill level even further. Supported by arguably the best paintball coaching staff in the world, Moscow Red Legion has bred this young player into a monster his first year with the team.