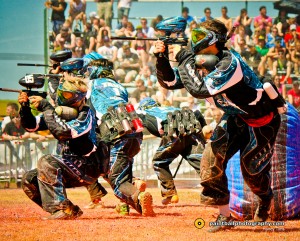 For the first time in history, a team hailed from France, takes first place in a Millennium Series event. The TonTon's have been a renowned name in the tournament paintball scene for years, so this win comes as no surprise. From the prelims to the finals, the TonTon's crushed each of their opponents every match, not allowing any team to win more than two points the entire weekend, finishing with a win-loss ratio of 30-7 overall.
Scoreboard Breakdown:
TonTon's Defeat…
Paris Camp Carnage 5-1
Copenhagen Ducks 5-1
Ranger Warsaw 5-0
Marseille Icon 5-1
Outrage Valence 5-2
San Diego Dynasty 5-2
Two players you'll recognize on the TonTon's roster are Axel Gaudin and Jason Wheeler; players who currently compete with the Russian Legion in the American PSP series. Having two players that are heavily trained by the Russians on your roster can never be a bad thing. In the TonTon's final match, they faced a team composed of San Diego Dynasty & Edmonton Impact players – Dalton Vanderbyl, Ian Trainer, Tim Montressor, Ryan Moorehead, Zachary Yachimec and Zane Yachimec. Despite this, the TonTon's played them with the same intensity as their previous opponents, smashing them 5-2 in the finals. The San Diego Dynasty franchise can't manage to taste that podium sensation in the United States, but their mojo has been working for them in the Millennium series this year. Maybe Dynasty should become a full fledged Millennium team?
To find out more about the TonTon's, feel free to visit their Facebook page & website below.
http://www.facebook.com/pages/TonTon/278279158863666
2012 London Masters Finishes:
1st – Toulouse TonTons
2nd – San Diego Dynasty
3rd – Art Chaos Moscow
4th – Outrage Valence