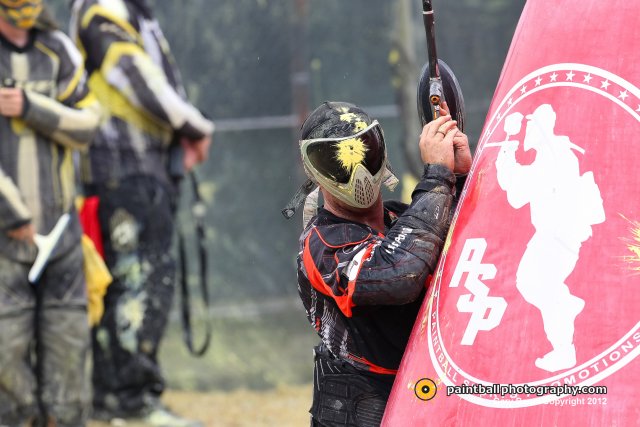 As Saturday comes to a close, all eyes come into focus on the APPA and score cards to see who will make the cut to Sunday. While Thursday through Saturday is important for any team, the real competition begins this coming morning and exposes every crack in the armor of even the best paintball teams. In the professional division teams moving on include: Tampa Bay Damage, Houston Heat, San Diego Dynasty, Los Angeles Ironmen, Moscow Red Legion and team Infamous. Lawrence stayed up to burn the midnight oil to give you the "keys to victory" for each of these teams.
Tampa Bay Damage
Start fast, don't look back and stay out of the penalty box. When the team struggled it was because of stupid penalties and a lack of confidence. This event they are 3-1 with wins coming from X-Factor (7-2), Chattanooga C.E.P (7-1), upTon 187 cRew (7-1) and a single loss attributed to Los Angeles Infamous. The team seemed to be clicking late in the day and really found their stride against the upTon 187 cRew. We spoke to several insiders at the event who all said that Tampa has found a groove and if they can pull the momentum from Saturday into Sunday, they will make a good case for the number one position at the end of the day.
Houston Heat
The keys of success for Houston are very similar to Tampa in regards to penalties. Team owner and coach spoke to us and told us that the worst enemy for Houston is themselves. If they can stay out of the way of their own success, they should find a way to win. I am curious if Houston decides to speed up the tempo of this field, or if they will slow play it, which has been common this weekend. Heat comes into the finals with a record of 3-1, defeating Seattle Thunder (7-0), Chicago Aftershock (7-0), Omaha Vicious (5-3) with a lone loss to San Diego Dynasty (7-2).
San Diego Dynasty
Dynasty has had a really rough event, yet you would not know it by looking at their scores. With wins over teams Seattle Thunder (7-3), Houston Heat (7-2), Chicago Aftershock (7-2) and a lone loss to the Moscow Red Legion (0-7) a viewer may believe that the team is playing superb paintball – save for the skunk. But something doesn't fit just right with the Dynasty squad. I believe for them to have success against the top teams in the division they are going to need to be able to be more authoritative in their game plan, forcing teams to make adjustments due to their aggressive play.
Los Angeles Ironmen
The Ironmen barely got into the final day of play, going 2-2 on the weekend with wins against Chattanooga C.E.P (7-0) and another hard nose match against San Antonio X-Factor (4-3). Their two losses came by the hands of upTon 187 cRew who shocked the world early in the weekend, and Infamous who has been playing lights out (4-3). For the Ironmen to win, I feel that they are going to need to really pull deep into their lines as they will need the second and third squads to be able to produce just as well as their first.
Moscow Red Legion
Moscow has won all four of their games: San Diego Dynasty (7-0), Omaha Vicious (5-4), Chicago Aftershock (6-4), Seattle Thunder (7-0). Moscow looks very good, but as the scores indicate, they struggled against Vicious and Aftershock – two games which they should have dominated easily. The key for their success: listen to the coaches and don't let off the gas.
Infamous
Infamous has played lights out this event as they have ridden the wave of success from the last NPPL event which was also held at CPX Sports. They also won all four games: 7-3 against Tampa Bay Damage, 7-2 against 187 cRew, 4-3 against the Ironmen, and 7-3 against Chattanooga C.E.P. The question for this event is can they keep it going for another day? Infamous has had tendencies in the past to completely lose control and pull an "Infamous." Nicky Cuba and Greg Siewers have played out of their minds this event with Cuba doing incredible work in the A and Siewers on the dorito side. For Infamous to win these two are going to have to have big games, and not let the other teams get into their heads.
Finals Schedule:
Sunday, 9:20 AM – Tampa Bay Damage vs Houston Heat
Sunday, 10:10 AM – San Diego Dynasty vs Los Angeles Ironmen
Sunday, 12:00 PM – Moscow Red Legion vs Pro Seed #4
Sunday, 12:50 PM – Infamous vs Pro Seed #3
Sunday, 3:00 PM – Pro Seed #1 vs Pro Seed #2