Morning Impressions: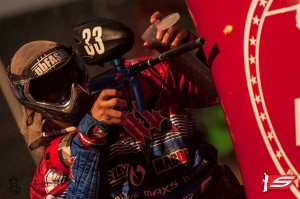 To start off, San Diego Dynasty was completely dominated by the Moscow Red Legion in every facet of the game, in their 7-0 loss. This is the first time that San Diego has ever been skunked which must sting badly for the veteran team. On the other hand, Moscow started blisteringly fast and looks poised to do well this event. Kirill Prikhidni (#75, Mid; 18 PBA rank) said the team was completely dialed in with what the coaches were attempting to put together and that their lanes were spot on. He also said that they do not believe that this is the "true" Dynasty and that San Diego seemed to not be awake during most of the match. During the second game against Seattle Thunder they looked a little better, however when a team acquires two major penalties and allows three "give away points," any game is going to look easy. I am still not convinced that Dynasty is in top form, but the style of play employed today looks more natural and fluid to them. At one point in time Ryan Greenspan (#18, Mid; 33 PBA rank) pulled a great run-through, moving down the inside of the snake side of the field whilst eliminating three players, which is reminiscent of Oliver Lang's famous ESPN move. However, the team still gave up several points. They are done for the day and we will be able to better judge their performance tomorrow.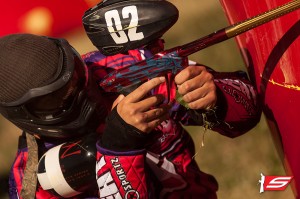 Just a few moments after Moscow demolished Dynasty, Houston Heat put a complete beat down on rookie team Seattle Thunder. This was a virtual clinic in off the break production as Houston was able to do pretty much what ever they wanted on the field, and still win. Coach Jason Trosen went so far as to say that "everything was working for us…we were able to try out a lot of game plans during this match." Not the way Seattle wants to start. Also in their last game of the day, Houston routed Chicago Aftershock in a match that was punctuated by a run through by Jon Woodley (#1, Mid; 27 PBA rank) who went dead box to dead box in one motion, and a 28 second match. Houston looks incredible, but they have not had any real tests this event – yet.
Omaha Vicious had an exciting game against Chicago Aftershock, beating them 7-4 however the game was closer than the score indicates, but Vicious dropped (what is being heralded as the best game of the day so far) their match against the Moscow Red Legion. We predicted the score to be 5-4 with Vicious winning, but Moscow ended up getting the flip. Final Score: 5-4, Moscow in OT. I am incredibly impressed by the work of the Vicious squad and I believe they have a great shot at making it to Sunday play, so long as they get past Seattle Thunder tomorrow. The entire team has really stepped it up this year and it is obvious that they are becoming comfortable as a team in the professional ranks.
Finally, Chicago Aftershock is having a series of very unfortunate events…everything from freak gun issues to untimely penalties have plagued the young team. I think it is important to remember for Chicago fans that this is a rebuilding year and that it will get better, given time. Coach Bruno is a great motivator and seems up to the task. However, it feels like the current crop of Aftershock players feel that they do not belong yet. I even caught one coach yelling: "Let's go BOOM! I mean 'Shock!" Before a match (Boom! being the name of the divisional team many of the current 'shock players came from). Although this is just a simple slip of the mind, it still speaks to the way this team views itself: as the good D1 team that is not yet pro. Chicago is in desperate need of a statement victory, but it may not come this event.
Afternoon Impressions: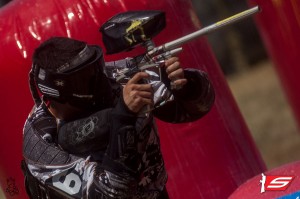 The afternoon group saw some very exciting play from rookie team upTon 187 cRew as they demonstrated that they were a force to be reckoned with by defeating the Los Angeles Ironmen 7-2. The game quickly got out of hand with 187 building a 6-0 lead, however the Ironmen were able to save some pride and force another three points until the final nail was put into the coffin. 187 is young, hungry, and will be a good paintball team in a short amount of time if they continue on the same trajectory that they currently are on. That being said, Infamous was easily able to dismantle the Crew. Damien Ryan (#69, Mid; 24 PBA rank) said post match that they were able to scout 187 very well which allowed them to make the necessary adjustments between games to beat them.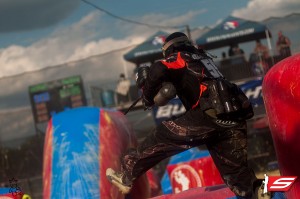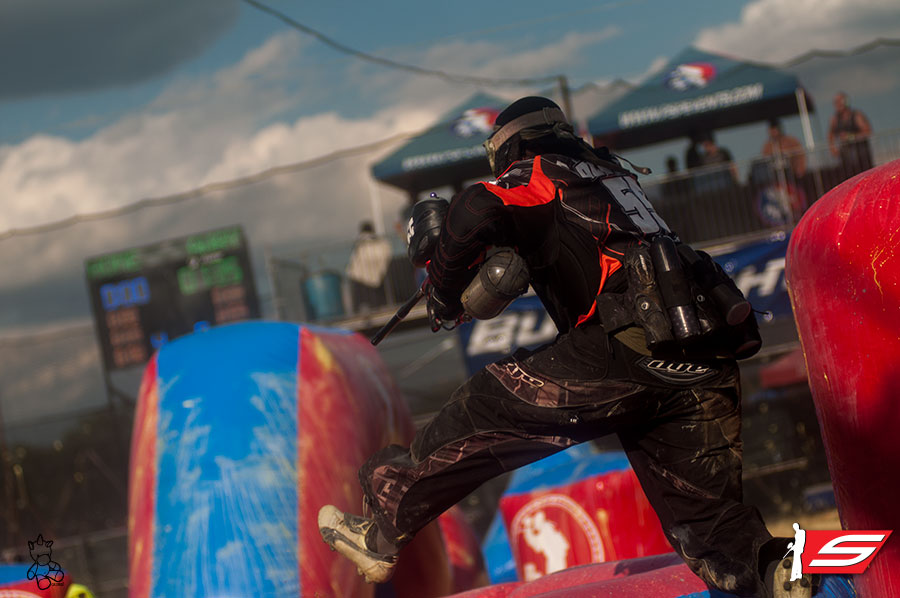 Tampa Bay Damage is a team that runs almost completely off of momentum. When the team is playing well, they will steam roll through every team they play — as they did San Antonio X-Factor (7-2), however when the team is not confident they play weak and rather putrid. Their entire game plan has been to lock the snake side using the small dorito (or mini-a) and then push through the dorito side or mid, which is rather conservative for master mind Coach Paul Richards. Surely we will see them open the play book a little more tomorrow. They dropped their first game against Infamous in a bad fashion (7-3), however looked to regain their poise in the second game of the day against San Antonio X-Factor.
Not all was lost for X-Factor today as they easily handled Chattanooga C.E.P, who (guess what!?) only received one penalty in their game. This is a step in the right direction for the boys from Chattanooga and everybody we spoke with at the event said that if they can learn to play penalty free, it is only a matter of time before the team begins to click. Unfortunately, they have drawn another difficult bracket and lost to the Ironmen, 7-0 in the last match of the day.
Stay tuned to Social Paintball as we continue to provide you the best coverage in paintball of the 2012 PSP Chicago Open. Also, make sure that you check out the live webcast found here: www.socialpaintball.com/psp or www.paintballaccess.com – Invite your friends!