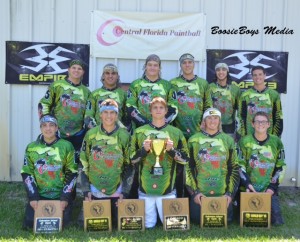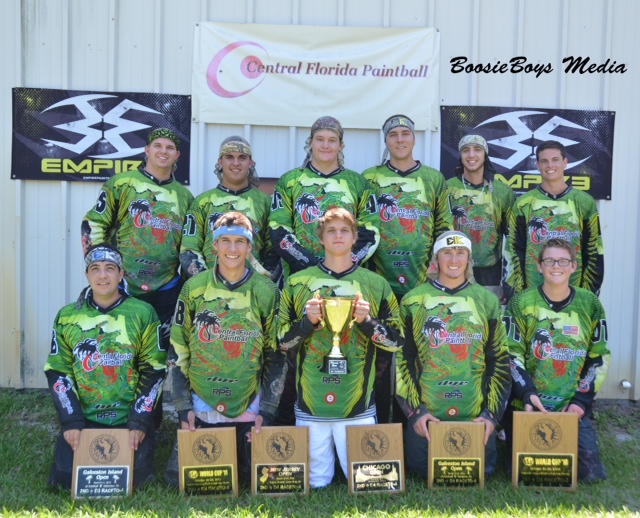 I am Billy Pearsall, number 15, one of the 2 captains on CFP D3. I have been with the team since day one. I'm the half that keeps the guys in line and makes sure everyone is doing what they're supposed to, when they're supposed to. Some history on the team: we have been together since 2010. For the most part it has been the same people on the team with the exception of a few guys. We have never gone out and scouted talent to bring to the team. We all started out with no tournament experience, playing D6 and D4 3 man tournaments at Oasis Paintball Park in Fort Myers, FL. We decided we were going to try our luck in D5 5man at World Cup 2010.
[pullquote_right]A team that knows how to work, lose, and win together.[/pullquote_right]So we started practicing every Sunday and Monday during the Summer and every Sunday when school got back in to session. We did not take a single weekend off before World Cup rolled around. We didn't know what to expect going in because we had taken first place at every 3 man we played in which was 4-5 of them, but we knew competition would be much better. So we went into it nervous (which I think is better then cocky) and we took 1st place. We were so excited but knew that Xball was where the real excitement was. Afterward, we got back on our grind, nervous now because we had only played one tournament, and now we were about to make the move up to D4 Xball. Getting to practice with our fields D1 team, Static, was a big help, because I am a firm believer that you're only as good as the teams you play.
PSP Galveston 2011 comes around and next thing you know we're playing in the finals which came down to overtime with an 18 min 2 on 2 point with myself on my knees crouched down in the snake for about 15 min of it. After all that we lost but yet we were still pretty excited to take second place in our first D4 Xball tourney. Little did we know that was the beginning of what some would look at as a curse and some a consistent team. I say this because after that we took second place at PSP Chicago, PSP New Jersey and World cup. That's right 2nd place at every event in our 2011 D4 Xball season. Which I've heard  has never happened in the history of PSP in any Division. Well, needless to say we did win the 2011 D4 Xball Series Championship. By doing that we won half off every entry for D3 Xball in the 2012 season. We know the competition is much stiffer in D3 and there are so many more teams. So we get back on our grind playing every single Sunday. We probably only took off one maybe two practices until 2012 PSP Galveston. Now we are trying to go into it with a different attitude this season because of all the second places in our D4 season. We all mostly felt like we're going to do just okay in D3, but here comes Galveston and once again next thing you know were playing in the finals yet again, but this time its pouring down rain.
We played one match on Friday like we were scheduled and then got rained out Saturday then had to make up all our matches on Sunday. Which was a lot of matches to play in one day. It came down to us and the Palm Beach Vipers and we were out playing them, but then our guns started going down due to the rain and it was all down hill from there. So here it is first tournament in D3 and we take 2nd place again. We were crushed: five 2nd places in a row now! But what could we do? So we spend the time in between Galveston and Phoenix wondering, what's it going to take to get a first place? I think it took us realizing that five 2nd places is not necessarily a curse but it's a team that goes out on the field and gives it 110% every time which in return makes them a consistent winning team even though we haven't won the match in a tournament that really counts yet. We also realized that we're not a team of all star players but just average players, no one really better then the other on our team, a team of brothers.  Not guys that come and go, a group of guys that won't hop back and fourth to different teams, a group of brothers that is either with their brothers on CFP or they don't play paintball at all. A team that knows how to work together, lose together, and win together.
Now comes Phoenix with its 100+ degree weather. It was tough battling that heat and we had a couple close matches that could have went either way and took us out of the tournament, but we some how pulled them off and made it to finals again. But this time was different we came to terms with our so called "curse" and realized how many teams would love to be in our cleats sitting on our record. we started appreciating the fact that we have such an impressive record. Now we knew that we deserved this win and nobody was going to take it from us. When it was all said and done we came out on top with a 4-0 victory over DC Devastation. Words can't express the joy we were feeling at that time cause we didn't only win a 1st place at PSP Phoenix, we broke our streak of five 2nd places in a row. We now know the feeling of the teams we watch celebrate time after time from beating us. We have all finally broken our own personal goal that we have been so close to so many times. It is an amazing feeling.
We are currently sitting in first place for the PSP D3 Xball Series Championship and we're hoping to take it down go D2 next season and keep moving up from there in hopes of one day playing in the professional division with the same group of brothers. But who knows what will happen? I think also what keeps us as strong as we are is the Central Florida Paintball organization. Just being part of something bigger then just one team. We have a D1 team (Static), a D3 team (us) and a D4 team (CFP D4) who all do very well in the PSP. In Phoenix we took home a 1st from the D3 team, a 2nd from the D1 team and a 3rd from the D4 team. So we're not the only ones doing work in this organization. Well sorry for the book I get a little carried away sometimes.
Thanks,
Billy
CFP D3X Roster:
Billy Pearsall
Kyle Walsh
Joey Martin
Evan Jones
Caleb Spires
Daniel Pena
Austin Thomas
Nick Sears
Daniel Despenza
Tyler Joseph
Stephen Valvo
//
Thanks to Billy and the guys at Central Florida Paintball, and good luck to all the teams as they compete in the 2012 PSP Chicago Open this weekend.