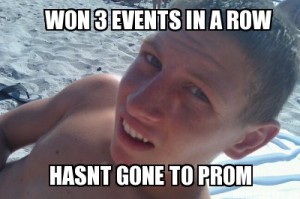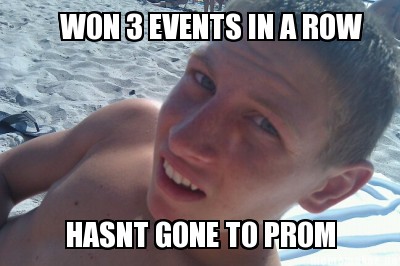 If you have not noticed, there is a new sheriff in town. He is a baby-faced killer who lurks on the dorito side, eliminating targets in tandem with his brother in crime. He is known for making stunningly accurate and meaningful moves just at the right moments in a match that can break it open for his partners, and for sporting an awfully swag, white Social Paintball beanie.
Figure it out yet?
Jacob Edwards (#31, Front) is his name, he is currently ranked the number one paintball player in the world by PaintballAccess.com, and he is not quite 17 years of age. How does that make you feel? It made me feel pretty inadequate as a paintball player – but luckily there are no stats in writing! Before we digress any further, check out these numbers:
Jacob has a Gross Win Rating of 68.97%, a Gross G Rating of 98.92%, and a Survival Rating of 68.54%. He currently has 62 eliminations in ten matches (a 6.2 eliminations a match average), with a season high of thirteen eliminations in one match which came against Upton 187 Crew during the Phoenix Open. Amazingly, these thirteen eliminations do not lead the team – that record goes to Justin Rabackoff (#9; Front; PBA Rank 7) who amassed sixteen eliminations against the Ironmen during the Phoenix Open semi-finals. However, the rest of his play has been spectacular all season. Just to rub it in some more, Jacob may be the youngest, most winningest professional in paintball history. In his two and a half short seasons (nine events) he has placed first in the PSP one third of the time, has at least made the podium another third, and the lowest he has ever placed on the professional level is seventh: all before his junior prom.
So we know what he can do, which is shoot a paintball gun and move on a paintball field like a total ace, but what can't he do? Luckily for you, the Social Paintball staff got together (feeling completely worthless as "paintballers") and figured what the majority of us can do that Jacob cant. Just to rub it in, we put these into meme form.