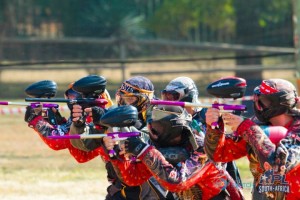 May 27th saw the second leg of the SARPL (South African Regional Players League) 5-man series, which is the only PSP affiliated series in South Africa. The event drew 13 teams who played in two divisions at Adventure n Beyond, in Gauteng, South Africa.
Div 3 saw four well known and established teams battling it out for the number one spot, while Div 4 saw nine newer teams playing for podium finishes. Noticeably missing from this event were Apocalypse and M.E.S. The day started off early with the first teams hitting the field for the first game at 9am, and saw Div 4 teams Corrosion take on Dragon Raiders, followed by Demon Crushers and Johannesburg Firestorm to kick off the Div 3 games.
The final prelim game saw Megan Pretorius hit the buzzer for Battle Bros to secure them the final point. But it wasn't enough to send them through to the second round. After a long day of games, FreeRunners and Dark Legends stepped onto the field to play for first and second in Div4, with FreeRunners taking victory with a 2-0 win over Dark Legends.
The Div 3 finals saw a very familiar sight with two of South Africa's oldest and best teams battling it out to take the win. Reaper took the first point in just over a minute and then sealed the deal with a second point, beating Johannesburg Firestorm with a clean 2-0 victory.
Division 3
1. Reaper
2. Johannesburg Firestorm
3. All Stars
4. Demon Crushers
Division 4
1. FreeRunners
2. Dark Legends
3. Dragon Raiders
4. Carnage
Photographs by Gaston Roulstone