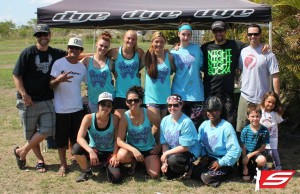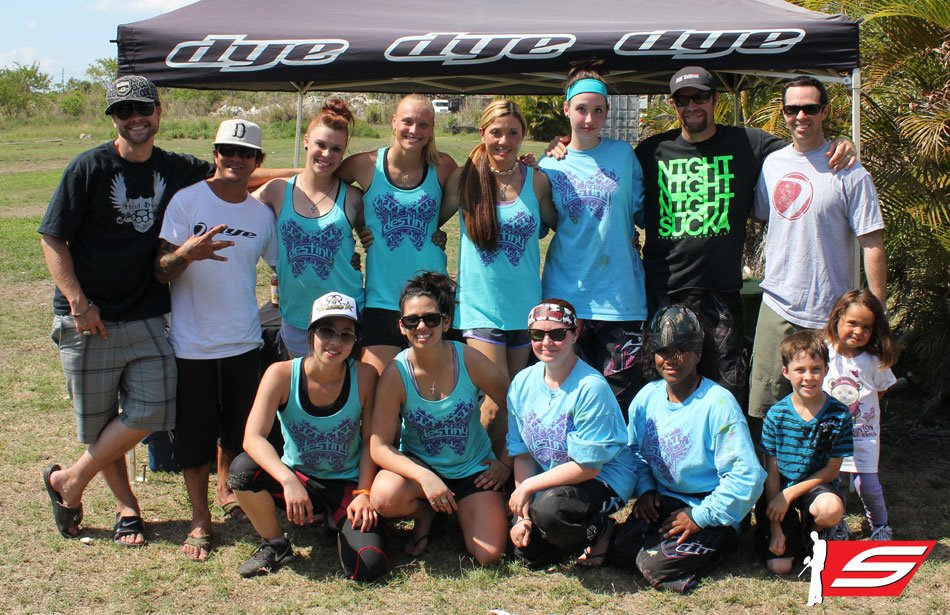 The last event Destiny played was the 2008 San Diego Super 7 NPPL event. Don't know about Destiny? Powered in 2004 by Bea Youngs and Mike Paxson, this Division 2 team, Destiny, was founded as an all-female paintball team. As time progressed, it would soon turn into a mostly-female team, with at least five girls competing on the field in a 7-on-7 game. It's no big secret that it is difficult to find females that are fast and experienced enough to play front player positions, so you can imagine that 8 years ago, this was especially challenging back during the early years of Destiny's inception. When this change took place, Destiny started making it to Sunday more often and by 2006, the team finally won its first championship at the NPPL San Diego Super 7.
The team continued to be a successful paintball team during 2007, but in 2008, Destiny would give an all-female roster another chance. At the 2008 NPPL Huntington Beach Super 7 event, Destiny made it to Sunday and finished up in 15th Place out of the 53 D2 Teams that competed. The rest of the 2008 season, Destiny made a positive impact in the tournament scene by proving they could compete, but unfortunately, due to personal circumstances that Bea experienced in her family life, the team would be put on hold – Bea's father died and she was also pregnant at the time of her father's death.
Bea's father, Jeff Youngs, was diagnosed with Parkinson's Disease in 2005 and she made the decision to move back to Florida after living in California for four years. She became his primary caregiver, which meant that she would take care of his every need. Mr. Youngs lost the ability to take care of himself in
2006, losing the ability to talk and walk and was basically paralyzed, but he still had his mind. Bea still did her best to remain active within the paintball world and when she had to leave her father, other family members and a hospice staff would be there to help. It was at the 2008 San Diego Super 7 event
when Bea got called home early. Leaving the event immediately on a Saturday, Bea made it home in time. Two days later, with Bea and her mother at his bedside, he passed away. Before he would pass, Bea was able to tell her father that she was four weeks pregnant and when she did, he looked at her, and she could tell by the way his eyes lit up, he was happy.
For obvious reasons, Bea would put paintball on hold. She was extremely close to her father, especially in the last years of his life. There would be a couple of times they would have to call 911 because Mr. Youngs would have a couple of pneumonia cases. This one particular scare would put them in a situation where Bea felt she had to share final sentences with him, telling him how much she loved him, and said, "Dad, you're the reason why I am who I am. I want to be like you. You're my best friend." And he would say, "And you're my best friend." Both would break down in tears and as the ambulance arrived to pick him up, she would go with him and slept in the hospital for the two weeks he would be there. Episodes like this would happen often where Bea would find herself spending many sleepless
nights worrying about what the next day would bring. During this whole time, Bea still did her best to stay in the paintball loop because paintball was her only escape from the difficulties of caring for a dying parent.
After Bea's dad was gone, she did everything she could to avoid falling into a severe depression, but sadness and guilt still consumed her. She tried to do some paintball events and even attended the 2008 Wayne Dollack Grand Finale event and had a Destiny Army Scenario team there. She also attended the 2009 Paintball Extravaganza, working for the event promoters. It was also during this time that Bea was still the Editor-in-Chief at Paintball Sports Magazine. Right before Bea would give birth to Bebe Paxson, the magazine went out of business. After this, Bea couldn't handle doing anything else but focusing on having a healthy pregnancy and that meant doing nothing else. In July 2009, Bea gave birth to 9lb, 12 oz. Beatrix Catherine Paxson aka "Bebe". From that point forward, all Bea did was take care of her family by being a stay-at-home mom and managed Mike's professional paintball life.
Bea's life changed dramatically when her father died and when Bebe entered her womb. She went from traveling alongside Mike every other weekend to abruptly stopping all travel. Mike would continue his paintball career, whereas Bea made the decision to remove herself entirely from the scene that she knew for eight years straight. Given her circumstances, losing her father and getting pregnant in the same year, that can be a tough thing to swallow. It just didn't make sense for her to do anything but take care of her family and enjoy the early years of her first and most likely only child's life.
Now that Bebe will be three in July of this year, it feels like the right time for her to come back to joining the paintball world. So, in December of 2011, Bea started playing paintball again and every weekend until the first 2012 event of the season, she trained. It was at the 2012 Surf City USA Open when she
decided it was time to bring back Destiny, especially after competing with two of her former teammates, Kat Secor and Katie Kelley. Playing alongside them made her happy and the passion for paintball returned deep within her heart.
And now, Destiny is back, with former Destiny players who have played on her team before. Coming back to the team are Kat Secor (2007 Female Paintball Player of the Year), Brittany Wagoner (2008 Female Paintball Player of the Year), Katie Kelley, Jackie Lon, and Becky Rai. With six girls on Destiny's roster, they plan to compete in the NPPL and PSP as a D3 team. If all goes well, they'll be back to playing at the D2 level in 2013. Other former Destiny players have been invited to play again, too, so don't be surprised if you see others that have previously played on the team as far back as the 2004 original roster like Kaarin Schroepfer, Ashley Noble, Michelle Chavez, Evelyn Choi, Seanette Taylor, or Mona Hejazi. Destiny also plans to compete at the PSP World Cup event this season.
Destiny has some new faces to the team this season. These girls were invited to attend the Christian Lon Charity Event and participate in a tryout during the clinic and tournament. These new girls will be competing at the D4 level not just on a national scale, but on a regional level by playing in the Central
Florida Paintball Series. Destiny has brought on a couple new Canadians and Floridians, too, which are: Hailey Adrienne, May Lynn Zhang, Meme Mader, Mikeala Wilkins, and Azuree'D Tucker.
A month after the Surf City USA Open concluded, plans to host The Christian Lon Charity Event began. Team Sponsors and Supporters like DYE Paintball, Extreme Rage Paintball Park of Fort Myers, Guerrilla Air, Social Paintball, PaintballPhotography.com, quickly came to Destiny's aid in an effort to raise money for MPS Society. With the help of LA Ironmen's Pro Player, Mike Paxson, who co-owns and coaches Destiny, he led the two-day event with a clinic teaching basic fundamentals then a 2-on-2 tournament the next day. Former pro players were also in attendance like the Legendary Rocky Cagnoni, who also helps coach Destiny, Billy Wing (LA Ironmen), and Eric Dearman (formerly with the Philadelphia All-Americans). The Christian Lon Charity Paintball Event raised $3000 for MPS Society. Because of all the supporters who volunteered and made donations and because of two very special families that made two separate $1000 donations, the Charity Event hosted by Destiny Paintball was able to help the MPS Society in honor of Christian Lon.
Click here – http://socialpaintball.com/2012/05/01/the-christian-lon-charity-paintball-event/ – to learn more about Christian Lon's story and MPS Society.
Destiny Paintball will be more than just a paintball team, but an organization that helps people in need by hosting events like the Christian Lon Charity Event. Destiny will not only compete in the tournament scene, but will cover all aspects of paintball. Destiny Army will be participating in the woodsball/scenario scene and in pump gun events, too. Stay tuned at DestinyPaintball.com for more information and how you can join Destiny Army and run alongside Mike Paxson, Rocky Cagnoni, and the Girls of Destiny.
Visit Destiny Paintball often and learn about the team and its players at www.DestinyPaintball.com. Destiny also has a Facebook page at www.facebook.com/DestinyPaintball.