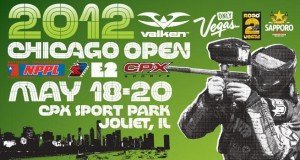 Another month has passed and the teams are gearing up for the second NPPL event of the season, taking place at CPX Sports which is located in the Windy City of Chicago, Illinois. Again the event is being paired with the Living Legends scenario game, produced by master-producers at Viper Paintball. And of course, with this event comes another set of questions – 5 questions for the NPPL Chicago Open.
1.How will Tampa Bay Damage perform without superstar Justin Rabackoff (Front, NPPL score of 57, ranked 20th, 7th PBA)?
If you missed it, last event Justin Rabackoff was charged with being the main contributor in some "'extra curricular activities' of the overshooting variety" (as Tampa Bay coach Paul Richards had to say) in the final point against XSV. In his blog, ViewFromtheDeadBox.com Richard's went on to say, "It has been dealt with and public apologies have been offered" and that "It was an unfortunate incident but it's over. Unfortunate in that it shouldn't have happened, unfortunate in that it provides cover for and overshadows other events and actions…" The punishment handed down from the NPPL excludes Rabackoff from two matches. Will Tampa Bay be able to play to the extremely high level that we have all become accustomed to, or will this loss hurt them more than expected?
2.What is up with Dynasty?!
San Diego Dynasty finished a disappointing third place on their "home turf" of Huntington Beach in the last NPPL event, and looked awful at the last PSP event. No, third is not bad by any respect, but you can be sure that the boys in blue wanted the opportunity to play for the big trophy, and we all expected big things from them this season. Will Oliver Lang (Mid, NPPL score of 79, ranked 1st, 34th PBA) and company be able to get the train back on the right set of rails in Chicago?
3.And what about XSV?
XSV played out of their mind last event, winning the event in stunning fashion against a Tampa Bay Damage team that many thought was superior in every facet. Tampa did encounter the wrath of the officials at the most untimely points in the finals match, but that allowed XSV to slam the door shut for Tampa. The big, obvious, question is will XSV be able to continue their winning ways, or will the paintball gods blow the wind of Chicago against their sails?
4.Will any of the new teams give us a surprise?
Last event happened exactly as predicted for the most part: the mature, well known teams did fairly well while the new additions to the professional ranks suffered. I was able to talk to San Fransisco Explicit owner, Rob Montiero, and he said that the new format was definitely a switch from traditional seven man which his team was facing. He felt that all the new teams would play a little better in the second event as many now feel comfortable with the addition of clock management as part of their game-plan. The Race2/Xball teams still have a leg up as their pits are probably more refined, but perhaps this second event will be good for the rookies!
5.And finally, how will the stress of thousands of paintball players be handled by both the NPPL and Living Legends crew?
They have experience with this in the past, but every year is new and we are sure that with a new event brings new worries and pieces of the logistical puzzle that could go wrong. Reports from Chicago indicate that everything is running smoothly, but will it last all weekend? Possibly most importantly: will the weather hold?!