Upton 187 cRew is making a name for themselves as a hard working, talented, young group of players on the PSP professional circuit. Although they have only won two matches in their young pro career, their overachieving play has turned many heads and it is doubtful that anybody will be taking them lightly in the near future. We asked the cRew to open up to our readers about their experiences, here is what they had to say.
---
upTon 187 cRew: This being the conclusion of our first pro event I figured it would be a good opportunity to share our thoughts on the transition from D1 to PRO and the event(s) as a whole.
[pullquote_left]We're confident in our ability to hang with the best teams in the world.[/pullquote_left]First let me start out by saying we are a "Small Market" team – meaning we have a limited/small budget to work with and have always focused on local talent instead of big name pros. Fundamentally our sponsorship support has not changed significantly over the past several years. That's not to say we're not happy with the support we get, but more to say we've gotten great support since our migration from the AXBL to the PSP in 2010. By focusing on local talent we are able to practice every weekend without the travel costs. Additionally the players can, and do, hang out together on a regular basis which helps create a strong team bound. We are a family. We'd like to thank Empire Paintball and Planet Eclipse for all the support they've shown our team over the past several years. The world's best paint, Ultra Evil, and the world's best paintball markers, EGOs and GEOs, make for an amazing combination. Not to mention all the other great products they've provided, such as Z2s, Pure Energy tanks, awesome padding and custom jerseys. And not to forget the other folks helping get the word out there – Social Paintball and Paintball Photography, thank you.
One of the first major differences we noticed in moving from D1 to Pro was the Race-To 7 vs 5. Had it still been a race to 5 we would have won our first match in the pro division – against Moscow Red Legion. Unfortunately the game did not end at 5 and we lost 6-5 in overtime. It was somewhat of a heart-breaker for us and we allowed that loss to impact our play in the following game against LA/Detroit Infamous – also a loss. The second major difference we noticed was: these guys don't miss.
The largest disappointment with the Galveston event was not finishing the event, in Galveston. However, this also was the most beneficial to our team. Being the youngest team with the most to learn the extra time would most likely benefit us the most. We fully understand and support the decisions Lane made regarding the postponement of the Galveston Prelims. It is amazing that the PSP was able to complete the divisional games in Galveston. The amount of people hours that went into putting the venue back together, multiple times, is not seen by many outside the folks that were there. It was simply amazing and my hat goes off to all that stepped up to help out.
Looking forward to the PSP Phoenix event we began practicing every Saturday and Sunday following the Galveston event. The Sunday before Phoenix we ran 60+ points in about 4 hours against a few top level local teams, NEAA, Gunfighters and TNN. This practice allowed us to fine tune our breakout plans and began to prepare us for the energy needed to compete in the heat with a limited amount of players. Due to personal and/or work issues we could only bring 7 of the 10 players that played Galveston. This meant a lot of playing time for everyone in an environment that might not be that forgiving.
As one of the sideline coaches for our team, not the loud one, I noticed that most/all the other sideline coaches were supportive and helpful. While not totally surprised by this, I thought it would be a bit more cut throat then it was. Joey Blute has been very supportive and has offered advice and observations, after beating us into the ground, to help make us a better team in the future. I feel that the sidelines on the Pro field are more of a friendly environment then a hostile one. There is no counter coaching (that I heard anyway) and there are always friendly handshakes and fist bumps between points as you switch sides, even the occasional offering of a cough drop or bottle of water.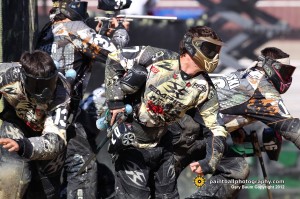 On Thursday we played our two remaining prelim matches from Galveston. Our first match was against Omaha Vicious, a team that's been in the pro division for several years now and had made the Sunday club at World Cup just last season. We managed to come out strong and win a few points – easing our nerves and allowing the players to start and feel the groove. We pulled off a 7-3 victory and managed to win our first pro match. Having a 1-2 record and needing to beat out next opponent, Tampa Bay Damage, to have even a remote shot at making playoffs, we knew we had to come out strong and put some points on the board. Unfortunately for us the Experience of both the Damage players and coaches was far more than what we could handle and we lost quickly 7-1. Our 1-3 record was good enough for a 9th place finish and as we look back we feel that we managed to do what no other 1st year pro team coming out of the divisional ranks as done in quite some time, win a match in their first event. We chalked this event up as a success but we were not satisfied with the results and we know we can do better.
Having had the advantage of playing the field on Thursday in the conclusion of the Galveston prelims we felt we were better prepared to come out and compete on Friday. Our first match of the day was against Tampa Bay Damage, a team that had beat us easily in a 7-1 match the day before to conclude the Galveston prelims for us. While I feel the points were much harder fought the end result was still the same, a 7-1 loss to a tremendous Tampa Bay Damage squad. The second match of the day for us was against LA/Detroit Infamous. We didn't let the Damage loss affect us this time around and we came out strong for the first 5 or 6 points. Our inexperience showed through a few times in those early points – losing a 4 on 2 with individual moves instead of team moves. After 6 points the score was 3 to 3 and we felt pretty good with our play. That's when the wheels on the bus fell off. We started collecting penalties, mostly majors, and Infamous rattled off the next 4 points and won the match 7-3.
Friday night we hooked up the computer to the Big Screen in the hotel room and reviewed all the game footage from the day's play, thanks to paintball access and their great coverage. Our matches as well as the matches of the teams we'd be playing on Saturday. While we were disappointed with our inability to close out some tough points against Damage and our lack of focus (penalties) against Infamous, we were encouraged by our play overall and felt we could learn and improve for our matches on Saturday.
We came out swinging on Saturday – playing X-Factor in our first match of the day. We had adjusted our breakouts and lane shooting and were able to capitalize on a few miscues to win the match 7-2. The second match of the day, verse the Los Angeles Ironmen, was a big match for us. We felt that a 2-2 record would possibly get us to playoffs, but just as important would help earn us the points needed to get out of the bottom 4 teams in the pro division and possibly create a more favorable schedule at subsequent events. The Ironmen match was by far our best playing in our young pro careers. Every point was hard fought and the score went back and forth till it was 4 to 4 with only 3:45 remaining on the game clock. While we had good field position for the last point of the match the Ironmen showed their experience and worked their way back into the point and not only won that point but also the match, 5-4.
We're disappointed with where we finished but not discouraged with our play. We're confident in our ability to hang with the best teams in the world and will continue to work hard to improve our game and earn their respect. Two events in and we've won two matches. Not exactly setting the world ablaze, but hopefully putting them on notice that upTon 187 cRew is no push over and that teams will have to work hard to earn their wins against us.
---
We want to thank upTon 187 cRew for sharing their experience with us, we wish them luck this season as they battle it out among the professional ranks.
You can follow upTon 187 cRew on Facebook at: https://www.facebook.com/187crew