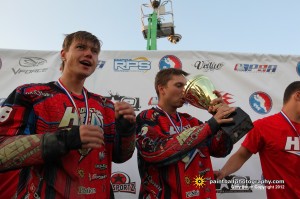 This weekend was the second event in the five part PSP tournament season, stopping this time in Phoenix, Arizona. The weather was as hot as the play was intense and we saw everything from 7-0 poundings from the likes of the Los Angeles Ironmen and incredible upsets of teams such as Tampa Bay Damage and San Diego Dynasty. However, making it to Sunday play was Houston Heat, Moscow Red Legion, Los Angeles Infamous, San Antonio X-Factor, Omaha Vicious and the Los Angeles Ironmen. At the end of the day we saw a grudge match: The Moscow Red Legion versus Houston Heat.
2012 PSP Phoenix Open Champions. Thank you for all of the support. We want to thank all of our fans and sponsors from the bottom of our hearts. – Houston Heat
The first match up in the quarter-finals was the Moscow Red Legion versus Los Angeles Infamous. Los Angeles came out swinging in the first point, putting three guns in the back center and getting that all important off the shot elimination. From there it was a bit of a swing game: 1-1, 2-1 Legion leading, 2-2 Infamous ties it up, 3-2 Infamous leading, 3-3 tied, 4-3 Legion, 5-3 Legion, 6-3, and finally 7-3. Ultimately, Moscow was just the more organized team and made the right moves at the right time. This was still a great showing for Infamous as they have made the Sunday cut for the second time this season, and the team has to be happy for their success. Things could be much worse for this team by this point in the season and they seem to be a few points away from putting it all together.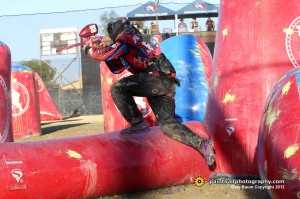 Next up we saw San Antonio X-Factor burn through Omaha Vicious, 7-4. Vicious, sporting their Sunday "reds" for the first time this season, played very well in the preliminaries beating Houston Heat (4-3), and Seattle Thunder (6-2); plus they provided the "woah" moment of the event by providing a dominant performance against San Diego Dynasty, winning 6-1 which gave them an average win margin of two. I am very impressed with how Omaha was able to pick themselves up off of the ground from the pounding they received at the hands of Upton 187 cRew (7-3) and Moscow (7-2) on Thursday morning. However, they were not able to finish the job against X-Factor – who also looks like they are on the cusp of a good season if they can keep focused.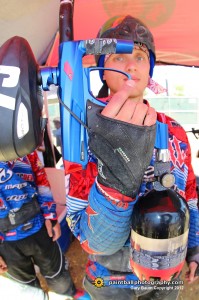 In the semi-finals we watched the Los Angeles Ironmen get littered with penalties early and they almost pulled off the point which would have tied up the score (at six) with around a minute to play, but a super aggressive move caused a major penalty, which gave the game to the Moscow Red Legion. I am not sure I agree with the ruling on the field as I think it is a really crappy way to end such a back and forth match, but it is what it is. What is scary to think is that the Red Legion are starting to look like they are getting back to form. The team is starting to gel and the play of Axel Gaudin has been superb in the snake during his fifth ever visit to the States. The one thing that Moscow lacks at this moment in time is a killer back player, à la the Ironmen's Mike Paxon. But does this team really need one? At the end of their match up, Moscow came away with the win, 7-5.
The last semi-final match was Houston Heat versus San Antonio X-Factor in a "battle for Texas." San Antonio is the best team to ever come out of Texas and they have made a living with home grown, "locally sourced" players who have come through the ranks of divisional play. Houston Heat is the newest team from Texas and showed up today with an obvious goal to prove that the reign of San Antonio may be over. This match had everything that you would want: crazy fast points, stupid plays in open space by Konstantin Fedorov (which has become something of a trademark) and even X-Factor player Todd Morrow had to pick up paintballs from the ground to win a 2v1. When the replays of the webcast come up, you have to watch this game. It was absolutely nuts.
Thank you to everyone for the support. We will work harder for the next event. – Moscow Red Legion
Which finally brings us to the finals match, the ultimate grudge match: Houston Heat versus the Moscow Red Legion. For those of you who do not know, before this season started, there was a bit of an exodus from the Russian Legion program as they saw several key players leave to either join other teams – such as Tampa Bay Damage – or start a new program, Houston Heat. While there might not be any "bad blood" between the two teams, you can be certain that neither wanted to lose to the other. Also, this is the third time that these teams have matched up in two events. Currently, Houston has the advantage, winning both games by a combined score of only three points. The biggest thing about this match is that the super consistent players from Moscow, were not.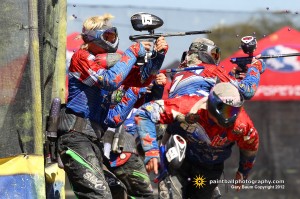 This looked like a totally different team that showed up for finals as they were not crisp, looked a little tired and had no answer for Houston for the first several points. All weekend they had been relying on the stellar play of Axel Gaudin and a few others, but it was obvious that Houston's game plan was to contain Axel in the snake – which they did excellently. One thing that does show from the Red Legion is that they are the most disciplined team in the game. Down 4-2, Moscow slowed down their game-plan and played a more methodical style which seemed to suit them better.
All weekend we saw that if a team wants to play fast points, Houston Heat will be able to match them point for point. Several times they were forced to play very aggressive and they simply murdered. I do not think that anybody can hang with these guys if you are trying to play at their tempo. On the flip side, for Houston to win they must dictate the tempo and they were only able to do that several times. For instance, being up a point snake player Chad George gets an elimination on his mirror, then wraps much too quickly and gets clipped on his shoulder. This team does not play well slow. However, they were able to relax and play some of the most clutch paintball ever seen. Sam Monville had one of the most intense snap shooting battles ever seen with Alexander Berdnikov, clipping him on right shoulder which forced the Moscow Red Legion to blow the horn, putting Houston up 5-3 with fifty five seconds remaining. We had a perfect shot on the webcast – check it out ASAP. Houston went on to win the match 6-3, holding off the Moscow onslaught.
Congratulations to all the teams who competed in the blazing heat this weekend; the PSP did a great job with the entire operation this event. The webcast was phenomenal and we are looking forward to see how the statistics change, and what we can extrapolate from them. The PSP will be taking the month of May off, but will be back June 21-24 in the Windy City of Chicago, Illinois at CPX Sports Park. See you all there!
Final Results:
Professional RaceTo-7
1. Houston Heat
2. Moscow Red Legion
3. Los Angeles Ironmen
4. San Antonio X-Factor
Division 1 RaceTo-5
1. Texas Storm
2. Static
3. San Diego Pirates
4. Fuzion
Division 2 RaceTo-5
1. Revo
2. Denver Fury
3. Scottsdale Elevation
4. Boom
Division 3 RaceTo-4
1. Central Florida Paintball
2. DC Devastation
3. Golden State Knights
4. OutKast powered by LVPP.net
Division 4 RaceTo-4
1. Imperial
2. North Texas Shockwave
3. Central Florida P8ntball
4. TKO
Division 3 RaceTo-2
1. IE Unseen
2. Kansas Vengeance
Division 4 RaceTo-2
1. Az Cooch powered by Battery Acid
2. Cowtown CaBalleros
3. DM ARMY Texas
4. Houston Legends
Pump RaceTo-2
1. TGP AllStars
2. Blitz
3. Tennessee TrueBallers
4. Kamandag Fatal Hit
Also, if you were wondering, in our staff picks Lawrence was 0-2 (picking Los Angeles to win it all), David went 1-1 (picking Omaha Vicious to win it all) Israel went 2-0 by being "torn between Moscow and Houston." Not that it matters. On his defeat, Lawrence had this to say: "meh." We would also like to send a shout out to the guys at PaintballAccess.com. They have done the best job to date on providing an awesome webcast. Head over there to check them out as they continue to update the paintball statistics!
For our complete coverage of the event including scores, schedules, rosters, event chat, live updates, field layout, and photos, visit our PSP Phoenix Open Event Hub at: http://socialpaintball.com/psp/
To view a complete set of photos of the event, please visit our official photo partner, PaintballPhotography.com.