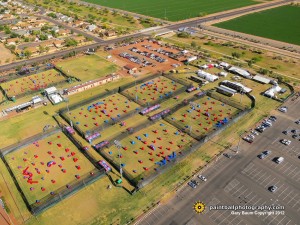 This weekend the second event of the 2012 Paintball Sports Promotions series is making their stop in Phoenix, Arizona. Yesterday saw the closing of the first event (Galveston Island) with Tampa Bay Damage winning their third PSP event in a row, with the rest of the teams gearing up for the Phoenix portion which started this morning. Instead of doing a traditional recap of the day with our commentary, we at Social Paintball have decided to play a little game of "hot, or not?" on a 5 star scale for your Friday coverage. As this is an article about what was "hot, or not" these are just the events and teams of the day that stood out from the rest. Five is hot as the sun, and no stars is cold as ice. Hope you enjoy!
Phoenix, Arizona.

This is a beautiful setup that the PSP has created. There are five divisional fields that are connected together with the professionals playing on a football field which is allowing the PSP to use the existing bleachers as the grandstand. Also, because it is already a sports complex, there are enough lights to play through the night if necessary. The turf looks to be holding up well and is beautiful on the webcast. Also, it has been a little warm during the event. Today was a toasty 94 degrees, tomorrow is scheduled to be up to 96 and Sunday is up to 99! Better stay hydrated guys.
Final Verdict: Beautiful and Hot!
The Webcast.

With only a few delays, the webcast garners a smoking four and a half stars. The quality has been great at times, with only a few moments of lag, the commentary has been incredible – as all of the talking heads have provided accurate information that has been interesting, insightful and meaningful to the story-telling of the game. However, there have been some problems with the servers being overloaded, but PaintballAccess has done a good job at fixing them in a timely manner. Final Verdict: Smoldering like a BBQ!
Tampa Bay Damage.

Tampa Bay Damage won their third PSP event in a row yesterday, beating Houston Heat who has been playing very well. Today, they continued their pounding of the PSP Pro division as they "beat the brakes off" of Upton 187 cRew (7-1) and welcomed the rookies of Chicago Aftershock to the pro division with a (7-1) mauling. The team looks poised for another victory this weekend.
Final Verdict: Hot as the Sun!
Chattanooga C.E.P.





On the webcast, a commentator said: "Know what C.E.P stands for? Constantly Earning Penalties" which seems true (again) this event. In their first game against Houston Heat they seemed to constantly be in the penalty box, with Robbie Goldsmith being the main target of the zebras. It was so bad that Davey Williamson even went on to say "Oh, they're just cheating now." I really hope they can pick it up later this weekend and have a respectable showing.
Final Verdict: Oh come on guys…
Steve Rabackoff's Bald Head.

Steve has been down on the fields interviewing teams all day for our viewing pleasure and man, does the sun glisten off of that beautiful, bald head. Some people look sexy bald – I am not one of them – and while some of us would love to have Laura McKeeman of Fox Sports, and the NCPA back on the field, we all appreciate the job that Mr. Rabackoff has done (even through the occasional stutter and unintelligible word).
Final Verdict: Face melting!
Los Angeles/Detroit Infamous.






This bi-city team is currently having an identity crisis. At times, they play like the workhorse Infamous team of old that was dominant, and then the next point look like C.E.P could give them a good pounding. Maybe it is the name thing? Are they LA? Or are they Detroit? Either way, their play needs to be more consistent.
Final Verdict: ?????
Seattle Thunder.




Seattle Thunder made some waves last event by holding their own and even making the "Sunday cut" where they were knocked out in the quarter-finals. Unfortunately, they were given a flogging by San Diego Dynasty (7-0) who was routed yesterday by Houston Heat – this was definitely a statement game by Dynasty. Also it is becoming apparent that Thunder needs a solid snake player, as soon as possible.
Final Verdict: Jury is still out…
Los Angeles Ironmen.
The Ironmen continued their dominance on this field today, shooting players out off the break left and right. They are playing very well, which I do not think anybody has anticipated for a team that had such a large turn-over this off season. In a recent SocialPaintball interview, retired player Billy Wing said that recruiting has been a priority for the squad, and by all accounts it is paying dividends for them.
Final Verdict:
As red hot as Mike Paxons beard!
So there you have it! Tomorrow play begins again at 8am PST – which means 11 EST – and you should stay tuned to SocialPaintball and PaintballAccess for the best coverage in paintball. Tomorrow we may have another "hot or not" special, but until then: stay cool and enjoy the event!
For our complete coverage of the event including the free live webcast powered by Paintball Access, scores, schedules, event chat, live updates, field layout, and photos, visit our PSP Phoenix Open Event Hub at: