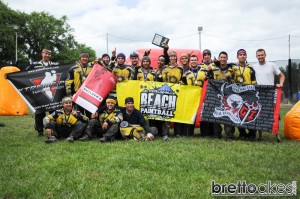 On Sunday, the best college paintball teams in America faced off to see who would be crowned champions. What's awesome about these college games, is that there is no prize, no fame or monetary reward to being here. In fact, the majority – if not all – of these players and teams are losing money being here, but you would never know it by the play. When you hear Matty Marshall and Co. talk about how much heart and desire these guys have, they're not joking: it's astounding how hard the college players push, just for the sake of playing paintball and gaining some pride. Of course, for the Class A teams there is always the knowledge that a camera is watching and that they may garner some much appreciated and well-earned face time on national television come June when Fox College Sports airs the NCPA Championships. Does this make the competition more fierce in that division? Well, the play is a touch or two bit better in terms of game planning and such (Class A is college Xball btw), but in terms of drive and put-it-all-on-the-field-attitude, not at all.
The Class A championships was a bit of "Clash of the Titans" – or "Fall of the Empire," depending on how you look at it as it featured the two undefeated teams: University of Nebraska at Omaha versus California State University Long Beach. All weekend UNO dismantled some of the top teams in college paintball, winning with an average margin of around 8 points. UNO vs Kennesaw State: 9-1, versus Northeastern 10-1, versus Maryland 8-1, versus Purdue 13-0, versus Uconn 11-2, versus Florida Atlantic 4-2. Word got around quickly at the event that this team was comprised of professional players from the Omaha Vicious program which soon garnered a heated debate on Pbnation.com, and a the slick nickname "University of Vicious."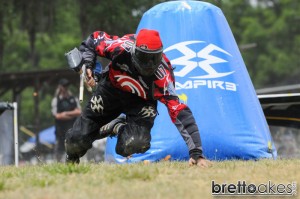 Everybody, including myself, thought that nobody was going to beat UNO (I also thought that Tennessee was the only team that had a potential to pull off the upset), but then along came California State Long Beach. Coached and captained by snake player Christopher Tregarthen and professional player Corey Borentsein this team became a virtual brick wall to the counter-punch attack of UNO; stopping them dead in their tracks. It was very apparent that the game-plan for CSULB was to shut down UNO player Bryan Bortol who had been on fire all event, and they executed their plans to perfection. The "west coast offense" of CSULB completely overwhelmed Nebraska and when that was combined with an untimely penalty and unfocused play of the Mavericks it created a perfect recipe for disaster. CSULB ended up winning the match 8-4. Usually it is CSULB who hears the songs of the boo-birds: last year the crowd was chanting "East Coast! East Coast!" but in a strange twist for this year the crowd was shouting "Lets go Long Beach!" It seems that the underdog story resonates well with anyone, at any event. Nobody, I mean nobody wanted to see UNO win other than the UNO team and fans. You have to give it to Nebraska though: they battled back during this game and almost pulled off the win, which was an incredible feat of paintball to watch. During the points that they were focused, UNO was dominant. When they even blinked, CSULB was at the A, ready to strike.
While this is their first NCPA Championship, I feel that it is safe to say that CSULB is the best college paintball team in the recent past as they have been featured in the finals the past three years and in the two years that they lost it has been by a combined total of 7 points. Last year, they lost by 1 to Tennessee. Congratulations guys!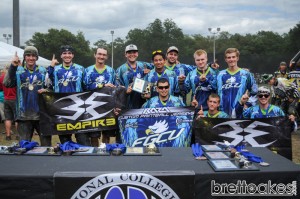 In the Class AA we saw Florida Gulf Coast University take first, beating out Texas A&M University, High Point University, Texas Tech University, University of Wisconsin-Stout, University of Wisconsin-Platteville, and University of Wisconsin-Whitewater (in the finals). Congratulations guys, you worked hard – we are all looking forward to seeing pictures and videos from your division!
Final Standings
Class A
1. California State University Long Beach
2. University of Nebraska Omaha
3. Liberty University
4. Florida Atlantic University
Class AA
1. Florida Gulf Coast University
2. University of Wisconsin-Whitewater
3. University of Wisconsin-Platteville
4. Georgia State University
High School 3-Man
1. Cooper City High School
2. Southwest Christian High School
3. G.E.C.A High School
4. MHS Hurricanes