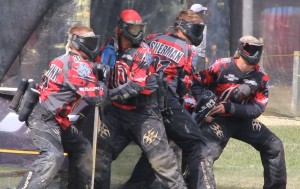 Day two of the NCPA Championships saw more exciting action as the Ocho-Finals and Quarter Finals were played out in sunny, South Florida, and Social Paintball was there to catch the action!
One of the big questions coming into the day was how would the play of California State at Long Beach would be affected by the injury of snake player Christopher Tregarthen. While the scores indicate that the team did not miss a beat – they rolled through Ohio (9-3), Maryland (8-2), and Liberty (8-5) – it was obvious that their game plan was tweaked a little. Granted, Tregarthen has shown no signs that the injury is hampering his play and he is filling into his modified role very well.
Congratulations to Florida Atlantic University and Liberty University for making it to the Semi-Finals. This is the first time FAU has has broken into Sunday play, and the second time in two years that Liberty has had their presence felt. Unfortunately both of these teams were beaten in the Semi-Finals – FAU by Nebraska and Liberty by CSULB. A big tip of the cap goes to FAU for making a real game out of their match up with Nebraska; they lost by 2 points which is the closest game of the event for Nebraska. Also, I cannot express how dominant Liberty looked against Tennessee. UT took the first two points – the game going into halftime 2-1, UT leading. But after the break, Liberty looked possessed and stormed down field the rest of the game, winning 9-3.
A big topic of discussion about the event, both online and off, is the play of the University of Vicious, aka Nebraska at Omaha. There has been some sentiment that while they are in bounds of the current NCPA rule-set to play, that this team is sandbagging the event. On Saturday it even got to the point that when a Nebraska player was shot out a roar of appreciation was given from the crowd. Their scores have been ridiculous: 9-1, 10-1, 8-1, 13-0, 11-2, and 4-2. I am not going to comment about the ethics of professional players playing in amateur events, however what is strange to me is that Vicious has a PSP event next weekend yet four of their players are playing an event this weekend. We will see if this decision pays off, or becomes a hindrance next week at Phoenix. Either way, Nebraska is bulldozing through the competition and while FAU was able to hold them to only 4 points, will CSULB be able to pull off the upset?
In the defense of Nebraska: Somebody has to play the villain right?
So there you have it! The stage is set for the finals which take place at 2pm EST. Will Nebraska continue their roll, or will California State Long Beach take the title from them. What is known is that one of these teams will be walking away with their first NCPA title – good luck everybody!
For complete scores and standings, and a link to the webcast check out www.ncpapaintball.com