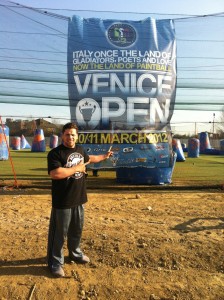 "Italy, once the land of gladiators, poets and love, now the land or Paintball." This slogan speaks a thousand words. This past weekend I made quite a unique step in my paintball career. Instead of playing the US major paintball event, PSP, I took the 15 hour trip to Italy to compete in the first ever Italian based tournament paintball series, Champions Paintball Series in Venice, Italy. Let me first start off by saying the airplane trip wasn't as bad as I thought. Being taken care of by Italian and German stewardesses was awesome, too.
I was brought over to play with the "Italian Idols" made up of the youngest and most talented kids and players in Italy. Based in Padova and comprised of Andrea, Fredrico, Enrico, Arjan, Ludovico, and team manager Pierpaolo, this team has a lot potential and talent. They brought me in a few days early to grind and play at the field the tournament was being held at in Venice. We got the opportunity to play against teams like Icon, Empire Venice, 2easy, and RMG for practice. We played all day Friday trying to learn the field and me trying to learn what the hell they were calling bunkers and saying to each other, besides pizza and gelato, I was trying to learn full scale Italian in one day. I speak a little Italian but when playing fast paced paintball the last thing I want to do is try to remember how to communicate with my team. The language barrier played a little difficulty in training but my team did a great job speaking mostly English with me. The team ( Italian Idols) is normally coached by Slava, the captain of Empire Venice. The field set up was complete Friday after our practices and the site looked amazing. Clean astroturf, Supairball bunkers, location, and great netting. I was very excited for the event. The team took me all over Italy Friday night. We ate gelato in one town, dinner another, and partied in another, something like right out of a movie.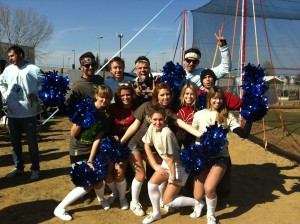 Saturday morning came and our prelim schedule came out, we drew some great teams, RMG kids, Flying Lions, Hallucinate, and Avengers. I couldn't believe how great the competition was in Italy, these kids are all ballers and play with tremendous heart. Our first game was against Hallucinate, beating them 3-0, in the race to 3 format, the second match was against Avengers beating them 3-0 in the race to 3 format, and our 3rd game was against Flying lions and we beat them as well. Going into Sunday our team was playing great, we had great chemistry on field and our sideline coaches Slava, Dino, and Pierpaolo were doing a great job. We knew going into Sunday we were already playing the quarter-finals, but we still wanted to beat RMG kids. We ended up loosing to RMG kids. This put us at 3-1 in the prelims going into the quarters as 2nd of our bracket. We drew Vienna United for the first quarter-finals game. We ended up beating them 3-2 for match point. They were a very strong team and put up a great fight. We then drew ACT from Vienna, the winner of this match would go on to play for 1st or 2nd against Collesium Dei 2, We started off the match very strong winning 2 points extremely well played. The idols were playing great paintball, we then received a penalty for sidelines talking from our pit and lost the third point and had to start the next point with only 4 guys. We lost that point as well. This put us at 2-2 going into match point. We ended up loosing that third point. Although it was played extremely tough by both teams it was a good point, but we still lost. The match ended 3-2. ACT went on to play for 1st or 2nd and we played RMG Kids for 3rd or 4th. RMG kids is a great team, with great field pressure and presence. We played a great game and so did they. We ended up beating them, winning 3rd place.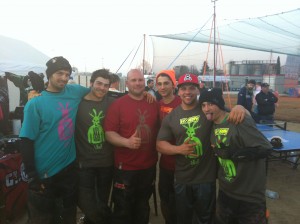 Though being my first time with this team, learning all the calls and in Italian, having a language barrier, and this team being brand new, this being their first event, I felt like we could have easily won 1st place. We messed up a few crucial points by getting unnecessary penalties and not fully attacking as a team. Empire Venice went on to win first place against Collesium Dei. Empire was winning 3-0 and allowed Collesium Dei to come all the way back to a 3-3 match. Erik from Collesium Dei was playing extremely well this match and Empire had Duma and Alex running down the field like crazy wild animals, taking out players left and right, and making this game very exciting. The Empire team ended up wining the match though, while Collesium took a heavy 1 for 1 penatly off the break really hurting them.
The event went so smoothly with the brand Idol, having a team of cheerleaders come out supporting the event and the brand, I was debuting the new 2012 HK ARMY pro pants which everyone can tell you are the lightest and greatest fit pants in paintball. The refs were extremely consistent and did not put up with any cheating making the event run smoothly. My luxe was shooting amazing as always, my Sly goggles were perfect and the turf was excellent for my HK shredders.
The Idols on my last night took me out on the town it being my last in Italy, we went to a few bars, and "discoteca," Italys version of US nightclubs. I met some awesome Italian girls and tons of great players from Italy. With teams like Extreme Napoli, Milano Scorpions, Venice Rage, RMG, the French team ICON, and Flying Lions, I really enjoyed playing in Italy. The event was great and this series is going to be awesome! I am really excited for the next event in Vienna! Thank you to Italian Idols, and the Champions Paintball Series, keep pushing paintball in Italy, you guys are doing a great job!
To learn more about the Champions Paintball Series, please visit: http://www.championspaintballseries.com