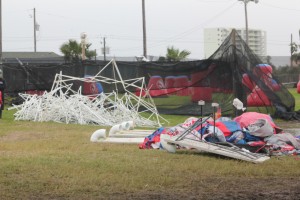 What an event. From the beginning we knew that the weather was going to be an issue, but I am not sure anybody anticipated the deluge that incurred. My hat goes off to the PSP for being able to continue the event on Saturday, let alone run something of quality and provide a free webcast. I was sure when I woke up and heard about the damage on Saturday morning that the webcast was kaput for the event, but eventually there was a little flicker of life on the screen and I was watching professional paintball again (for free).
Divisional Champions:
Division 1 RaceTo-5: San Diego Pirates
Division 2 RaceTo-5: Coalition
Division 3 RaceTo-4: Palm Beach Venom
Division 4 RaceTo-4: TKO
Division 3 RaceTo-2: Gainesville Gridiron
Division 4 RaceTo-2: Pound Town
Pump RaceTo-2: Dallas Notorious
On the docket for Sunday was another full team analysis and predictions, but due to postponement of games we missed several. Here's what we have for the teams that played on Saturday!
Professional Team Analysis:

X-Factor: San Antonio X-Factor had another bloody knuckles match against San Diego Dynasty and showed off all of their hard work from the off-season. I said this before, but the team looks fundamentally sound and poised to take a podium in an upcoming event. Though they did not win they showed patience – something that the X-Factor teams of old have been missing – as from the start Dynasty played a very defensive game. Against Seattle Thunder, X-Factor really struggled and dropped the game. I am not sure what else to say about that game. X-Factor just got plain beat by a rookie team. The thing to watch for: will X-Factor be able to rebound from this loss?
I am not worried about San Antonio. Although they sit at the bottom of the pack, in a weak division, they barely got beaten by the overall number one seed LA Ironmen; trounced C.E.P and almost squeaked out a win against Dynasty. I believe that the Seattle Thunder game was a fluke and Thunder has been playing out of their minds this event.

Los Angeles Ironmen: The Ironmen really came into their own against Seattle Thunder. They are not an overly athletic or quick team, but they are very good shooters off the break; make crisp, well timed moves (such as Kyle Spicka's assassination at the 50 A in the 5th point of the match); and force the other team to play at the Ironmen's tempo. For this field layout, that tempo has been methodical and smart, using the blind spots off the break masterfully. Against Chattanooga C.E.P the Ironmen continued to assert their dominance off the break by using a quick stutter step by a player on the snake side. I was a little worried about LA this event but they look really solid. If they can dictate the pace of the games they have a good shot at making it deep in the tournament.
It is important to keep in mind that the Ironmen are in the weaker of the two divisions this event, only playing Aftershock, C.E.P, Thunder and X-factor, so it will be interesting to see if they can continue their dominance in Phoenix against some of the better playing teams. I believe that the field played perfectly into the Ironmen's strengths this event and the play of Kyle Spicka was beautiful at times.

San Diego Dynasty: It was odd watching Dynasty during their first match on Saturday. They elected to play it slow against San Antonio who is usually a team that likes to play at the speed of light, so the decision made sense, but they seemed to be playing a little loose as well. Perhaps they were playing close the vest and not opening up the whole playbook, in anticipation for Sunday.
After giving it a day to marinade I am not overly impressed with the play of Dynasty. Although they smashed Chattanooga, they had to go to time to get wins over Thunder and San Antonio and even let Chicago put up three points. They were just very passive and content to sit in their bunkers and out gunfight the other team. Of course, Dynasty has some of the best individual talent in all of paintball so this is not an issue for them, but I was hoping to see more from the boys in blue early this event.

Chattanooga C.E.P: On Friday I challenged the entire Chattanooga C.E.P organization from the pod boys to the coaches to do better. I questioned what they were even doing in the professional division and on Saturday C.E.P won their second professional paintball match against Chicago Aftershock. C.E.P looked like a reborn team. They were fast, always rolling their guns and shooting people off the break almost every point. The most important stat of the game: 0 penalties for Chattanooga. Against LA they looked a little more like the traditional C.E.P that we know, but at least they were relativity free of penalties. I should clarify- Friday I said that C.E.P was great off the break, but they are a different "good" than LA. Chattanooga was very creative with their stunts, however the Ironmen have insane shooters off the break and were more clean in their execution.

Seattle Thunder: What really showed on Saturday from Thunder against the Ironmen was the lack of experience, and mostly depth they have compared to the more established teams. At times they call the right play at the right time which allows their players to gunfight effectively, but they are still not gelling quite as tight as they need to in order to be successful at this level. I believe that their success yesterday came from the other teams not having the advantage of scouting them and purely underestimating the individual talent on the team. That being said, Seattle did play a very complete game against X-Factor. But, what will they do with this win? In my opinion, for Thunder to remain competitive their coaching is going to have to mix up their game plans, and also continue to develop their second, and third lines. When you see another team crush Thunder on one game, then be engaged in a close fight (without changing their game plan too much) for a few more points, depth is the obvious culprit.
For lack of experience, talent and depth, Seattle has won two professional race to 7 games – something C.E.P has yet to accomplish. This event was a total win for this young program and they have put themselves into contention to making the Sunday cut, depending on the points spread.

Chicago Aftershock: One of my largest questions coming into Saturday morning was about the intensity of Aftershock. Would they be able to continue their break-neck speed? Against their loss to Chattanooga C.E.P (7-3) they looked completely drained. I cant help but wonder how much the weather affected their game. Aftershock's entire strength yesterday was their speed and in the mud I am not sure that they were able to execute their game plans as well as coach Mike Bruno wanted. When they were able to use their speed, the games were very fast and almost overwhelming. What Aftershock lacks is a reliable gun who can shoot people off the break. Once they get that piece of the puzzle in place they could potentially surprise a few teams.
Gun skills wise, this is the least impressive team in the professional division at the moment and for Aftershock to be able to execute their game-plans the way Mike Bruno wants, they are going to have to get better. I am still impressed with the balls-to-the-walls play of these guys; they threw themselves around the pro fields all weekend without hesitation and fear.

Tampa Bay Damage: A word to describe the play of TBD today would be "clutch." Down several points to Vicious, Justin Rabackoff made an incredible move down the snake, then Jason Edwards ran the flag in to tie the game at 5 points with one second left to play. The very next point, in overtime, Chad Busiere came screaming down the doritos to end the match 6-5. Due to the weather situations we were not able to get a great look at Tampa Bay – their second game, against Omaha Vicious, was broken up between two days. They are 2-0 on the event though. It will be interesting to see how the Tampa camp approaches the next event.

Moscow Red Legion: The Red Legion dropped their first, of what will probably be many, grudge matches against Houston Heat. This speaks volumes for how weak the Legion is – it is obvious that they are missing some of their key components and that their new additions have not solidified quite yet. However, with Houston looking like a dark-horse team to upset some people on Sunday, it must be noted that the Russians have not slipped nearly as far as they could. Like Tampa, we did not get a full look at Moscow because of the crazy rain.

Houston Heat: With two min left in the Moscow Red Legion game, Chad George came alive, tearing down the snake to eliminate the last two players. Incredible move. Even more incredible, rookie team Houston Heat was able to hang point for point with the Russians. Yes, the Russians are rebuilding and Houston is a "super-star team" – that doesnt take away from the fact that this is still a new team and chemistry takes time to develop. Houston is in good shape for the next event – they just need to continue to define their roles and find the perfect match ups.

Omaha Vicious: Vicious is still struggling in the professional division and I am not sure what the issue is. They did make big strides last season, placing 4th at World Cup, but so far in this event they have looked pretty stale. They did play the defending world champions and the rock star team in Houston Heat, but this is Omaha's third season in the pro divisions – time to step up and get into that second tier of teams. The good news for Vicious is that they did not get skunked in their two games. They were very competitive in both, only loosing 4-7 against Houston and going toe to toe with Tampa 6-5 (loss) in a thriller of a match.
Next up the teams will be meeting in Phoenix to finish the Galveston event. This creates an interesting paradigm for the teams because it gives them to opportunity to practice the layout more, but it may also eat into time that they would normally spend on the new layout for Phoenix. Who will be ready? Will the momentum of this event be worth anything by Phoenix? We'll see next month!
Read the recap of Day 1 here (Covers all professional teams that played Friday): 2012 PSP Galveston Open Day 1 Recap