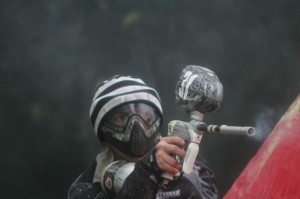 Today a record breaking 151 paintball teams flocked to Galveston Island, Texas, as Paintball Sports Promotions kicked off their 2012 season. Not only was this a first for the number of teams, it was also the first day that Sports Media Productions launched their "first" webcast (and website), and the first time that several new professional teams took the stage to showcase their talents. Unfortunately day one was littered with technical difficulties and penalties. So many penalties that webcast commentator Todd Martinez even went on to say that Chattanooga C.E.P had more flags "…than an Olympics opening ceremony!" Eventually everybody did get on the same page, and then the weather rolled in before the last two professional games of the day were able to start.
Here are the scores from today's games:
X-Factor (7) vs Los Angeles Ironmen (6)
San Diego Dynasty (7) vs Chattanooga C.E.P (0)
Seattle Thunder (6) vs Chicago Aftershock (3)
X-Factor (7) vs Chattanooga C.E.P (3)
Los Angeles Ironmen (7) vs Chicago Aftershock (2)
San Diego Dynasty (5) vs Seattle Thunder (3)
Tampa Bay Damage (7) vs LA Infamous (2)
Moscow Red Legion (6) vs upTon 187 cRew (5) – OT
Houston Heat (7) vs Omaha Vicious (4)
LA Infamous (7) vs upTon 187 cRew (3)
Tampa Bay Damage vs Omaha Vicious – postponed until tomorrow
Moscow Red Legion vs Houston Heat – postponed until tomorrow
Team Analysis:
X-Factor: X-Factor started the day against the Los Angeles Ironmen in a match that webcast commentator Matty Marshal called "…a bloody knuckles of a game." Crazy moves, penalties; you name it, this match had it. Unfortunately I missed the first game and can't comment on how X-Factor looked as a team early in the day, however their game against Chattanooga C.E.P was easily won. I am not sure it is because they outplayed C.E.P – which the did, they did score 7 points – but C.E.P was decimated by penalties all day and this match was not the exception. It is apparent that this off season has been dedicated to getting back to fundamentals for X-Factor.
Los Angeles Ironmen: After having an off-season that many could call unstable (at best), the Ironmen from LA looked good in day one of their 2012 season. The team featured several new players who all showed flashes of brilliance that you expect from the Dye factory team, and veteran players Mike Paxson and Kyle Spicka looked solid in their respective roles. Although they dropped the first game to X-Factor, LA showed great poise by being able to handle an insanely aggressive Chicago Aftershock.
San Diego Dynasty: Can the rich really get richer? One of our big questions for this event was how long would it take to integrate their new pickups, and coach Mike Hinman answered this with a resounding "No Time AT ALL!" New additions Zack Wake and Sean Mcdonald looked incredibly solid in the snake and Rusty Glaze adds a calm demeanor to this team that should help them not over-extend their reaches. Dynasty crushed Chattanooga C.E.P in a statement game, 7-0 and finished off rookie team Seattle Thunder 5-3.
Chattanooga C.E.P: Guys, what happened? I have lived in the Georgia/Carolina area all my life and have known the C.E.P name since they were playing divisional ball in the CFOA and I was embarrassed for them. Needless to say, this part of the article is a little stingy to write. However, C.E.P was riddled with penalties all day. It seemed that every time they killed a minor penalty they would receive a major. Not all is lost for Chattanooga though! They looked very good off of the break, but I am not sure that the players were buying into the coaching provided, or that their game plans were the most effective. It will be interesting to see how they transition into tomorrow's games.
Seattle Thunder: Where did these guys come from!? Thunder defeated legendary team Chicago Aftershock 6 to 3 in their first PSP professional game, ever. Yes, Chicago is rebuilding (majorly) but let me put this into perspective: this is the paintball equivalence of the 1995 Charlotte Panthers beating the Chicago Bears. A brand new team beating one of the most storied paintball teams of all time? Nothing short of incredible. The team looks good, and they even pushed San Diego Dynasty into a bit of a bind, forcing Dynasty to just run time down to 0 to win their match (Seattle lost 5-3). All this team shows potential, but fifteen year old Nico Perry shows tons of it. I do not expect this team to make waves this event, but later in the season they could end up being a thorn in the side of many teams on the bubble to make it to Sunday.
Chicago Aftershock: While 'Shock has been around a while, this team is definitely rebuilding. However, this team defines "aggressive paintball." Coach Mike Bruno has done an excellent job at getting these young kids to buy into his style of ball and it is only a matter of time before the experience and gun skills catch up to the raw energy and athleticism of this group of guys. It seemed like every time you turned around this team was making crazy moves to the snake, or 50 A off the break. This team is FAST. However, they are 0-2 for this event. I am rooting that these guys can pick up a win tomorrow.
Tampa Bay Damage: Tampa Bay Damage is a complete wrecking ball of a team that shows what it means to be world champions. They are smart, efficient, athletic, and know their identity as a team. Paul Richards may be the hottest coach on the circuit right now and his expert guidance and adjustments make this team stupid hard to beat once they get on a roll. Unfortunately, we only got a quick glance at Damage because of the rain-delays. Tomorrow holds 3 games for them, so we will have more to pull from.
LA Infamous: Another team in a "rebuild" stage, I am not sure if Infamous is the most inconsistent team in this event, or if they just had bad luck drawing Tampa Bay as their first game. Either way they did not look good against Tampa, but then turned things around on the deflated upTon 187 cRew. Honestly, I did not get a good look at Infamous today but from what I did it lead me to believe that I'd like to see more identity on offense from these guys. At several points they looked lost and not nearly as organized as they have in the past.
Moscow Red Legion: We just found out that the Red Legion plane was delayed by twenty minutes at the airport because of a freak weather event. Not really, but it seemed like the Russians showed up to Galveston thirty minutes late as they let rookie team upTon 187 cRew go up 5-1 in their first game. Like Damage, and Dynasty, Moscow is a terribly difficult team to beat once they get rolling, and it honestly looked like the flip was just switched "on" after a major penalty on upTon. They ended up winning the game 6-5 in OT. In a sad turn of events, we did not get to see what the Red Legion looked like at prime form in the grudge match against Houston Heat due to weather.
UpTon 187 cRew: Another new team on the professional circuit, upTon is no stranger to the PSP. They have worked their way up the divisional ladder, similar to Omaha Vicious. Although they did not win, upTon made a huge statement by forcing Moscow into overtime, and out playing the Russians for 5 straight points. This team seems to have the individual gun skills and decent athletes, but lack the organization and coaching that the other rookie teams have had thus far. Tomorrow will be a big test for them as they try to get their first W in the professional ranks.
Omaha Vicious: Vicious is a team that's been around a while and is about due their big breakout event. They have been steadily grinding in the pro ranks for several years, and have gone through a few roster and coaching changes; but I cant help but think that it's only a matter of time before Omaha gets everything together and smashes through event. Today they lost their first game to Houston Heat, and unfortunately their second game against the Red Legion was postponed until tomorrow.
By now you have probably picked up that the event was hit with some major weather earlier this afternoon. At the time of writing I received word that professional field was still being worked on and that some of the netting was pretty messed up. However, we are sure that the PSP will be working through the night in order to run a complete event. Good luck to all the teams tomorrow!